Ocean Shores is a unique city that often comes together in a positive and supportive fashion. Such occasions include cultural events, the arts, learning opportunities, but also support for community members in need.
The latter is well represented in the ongoing operations of the Ocean Shores Food Bank.
The current day's economy is rapidly mutating and, at times, unpredictable. It can transport even the most seemingly well-prepared individual into a frightening new territory previously thought impossible. Losing one's balance on this virtual tightrope can cause an undesirable convergence of events, one of the most dire being an inability to purchase goods for sustenance.
In this scenario, the Ocean Shores Food Bank becomes an indispensable resource.
A few days ago, I was given the opportunity to speak with the food bank's Executive Director Sandy Harley, Volunteer Coordinator Anita Rugh, and Operations Management Group Chair Jerry Rugh. All are unpaid volunteers. They began their respective journeys post-retirement, driven by a passion to serve their community and those in need.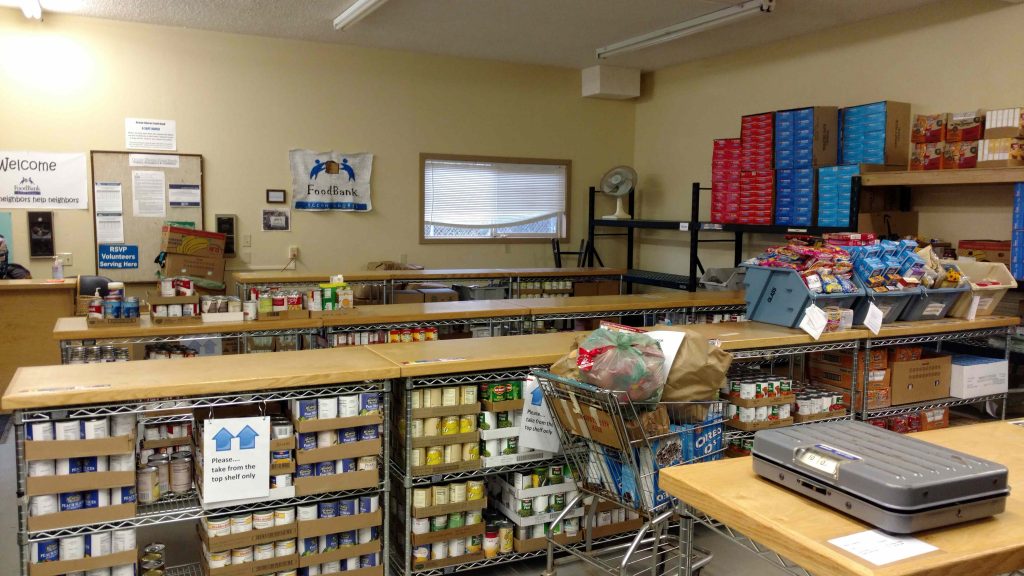 As a measure of the extent to which the facility serves its host community, I was told that last year 5,644 households were provided nutritional assistance. Of those, 40% used the services once or twice. The remainder were more frequent clients. In 2019, the food bank experienced an 11% increase in clientele compared with 2018. This figure will likely grow as SNAP eligibility requirements tighten, and will place a greater strain on such facilities.
The Ocean Shores Food Bank sources from several different agencies and organizations, partnerships with local businesses, and individuals. During the growing season, there is a community garden which provides fresh produce. Through cash donations, purchases are made of items that may be outside the scope of normal donation channels.
Cash donations are becoming increasingly important. This is due, in part, to food distribution entities receiving fewer donations as demand increases.
When entering the food bank, one notices it is set up in a "grocery-style-shopping" model. This lends itself to a consistency where guests know where they can regularly find certain food types (eggs, boxed cereals, bread, etc.). The manner of organization differs from many food bank facilities. Clientele are offered multiple choices of products within different categories. In other words, participants do not receive a predetermined selection of goods, offering more variety for personal preferences and dietary needs.
Pet foods are offered as well, a need that often goes unaddressed. A new arrival will be asked whether pets are part of the household and told that help is available. Some people visit the facility solely for the purpose of obtaining food for their four-legged companions, which they may otherwise be unable to afford or be forced to make an either/or decision.
It is equally important for potential food bank clientele to know that there is no litmus test pertaining to eligibility. The facility is open to anyone in need. While there is no income verification, etc. some data, such as name, address and number of individuals in household is collected. This information is relevant to the ongoing functioning of the facility in that it is used to determine the quantities of different food groups likely to be needed.
Sandy told me that greeting new visitors is an important part of the process. Oftentimes, an individual will find their circumstances have changed so abruptly that some confusion is involved. Many times, she has seen people attempting to garner the courage to enter the food bank, as they have never been in that state of need before. Feelings of embarrassment and failure sometimes needlessly prevail, and the volunteers do all they can to dispel such notions.
First-time visitors are routinely given a tour of the facility to help make them comfortable, and they become familiarized with the processes involved. Sandy's perception is that, among newcomers, most would rather be anywhere else than having to rely on an outside organization for assistance or sustenance. However, she finds that once they have gained a level of familiarity and find that they are among friends, their initial mood does a 180.
The Ocean Shores Food Bank reaches beyond just physical sustenance. Volunteers strive to reinforce to guests that they are valued members of society. Children's books are also offered at no charge, as the food bank believes that childhood literacy is an important factor in alleviating poverty and hunger.
The Ocean Shores Food Bank distributes food on the first and third Thursday of every month, 1:30 p.m. to 5:00 p.m. It is located at 843 Anchor Avenue NW in Ocean Shores. If one's need is more urgent, the Anchor Avenue Thrift store (the neighboring building sharing the same street address) offers emergency food in cooperation with the food bank Monday through Saturday, 10:00 a.m. to 3:45 p.m.