"High tea is really a misnomer. It should have been called low tea," is one of the many fascinating bits of tea trivia from the vast knowledge of Claire Hollenbaugh, British import to Westport. Her Fancy Accent Tea Company sells gourmet teas along with unique accessories at the Grays Harbor Farmers Market in Hoquiam, a number of retail outlets, as well as fairs and festivals. Hollenbaugh also hosts tea parties where guests can sample her delicious products while listening to her talks about the history of tea.
Claire Hollenbaugh comes from the English Midlands, "from Hobbit Country," she points out. She is an architect by profession. One of her tea labels shows a photograph of the quintessential English cottage she left behind when she followed her American husband to Indiana. Because immigration laws restricted her from pursuing her trade in the United States, she enthusiastically joined another British lady who operated a tea room – with huge success. "Tea became our superpower in the recession," she quips. "It was creative fun."
Creativity is certainly one of Hollenbaugh's major assets, one which helped her get her own tea company started after moving permanently to Westport in 2016. Starting out with a small selection of six teas at local fairs, she realized that she needed to branch out. She began to tour fairs and festivals all over Grays Harbor and beyond, as far as Seattle, the Tri-Cities, and Eugene, Oregon. Her permanent hub became the Hoquiam Farmers Market.
The amazing success of the Fancy Accent Tea Company may be explained by several factors. "I only source the best quality teas, which takes a while," Hollenbaugh explains. She blends most of her teas in her home facility in Westport from single ingredients. Some, like her Christmas blend, are ground because they contain spices.
Others, like the Buckingham Palace Garden Party Tea, she purchases pre-blended. She fills the blended teas into tea bags of her own design. The company carries a great variety of black, green and white teas as well as rooibos and other herbal teas, loose leaf and in bags.
Imaginative presentation is another success factor of the Fancy Accent Tea Company. The pretty corner at the farmers market tells many stories with its decorations and fanciful packages. British literary and TV classics lent their characters to the tea blends. The Mad Hatter from "Alice in Wonderland," for example, gave his name to an herbal detox blend. It could have helped millinery workers in 19th century England who worked with highly toxic mercury causing insanity – thus the term Mad Hatter.
Hollenbaugh does not restrict herself to British or to literary themes. A new addition is her Seattle Seahawks 12th Man Blend (green tea with blueberries) side by side with Dr. Who Time Lord Tea and The Number One Ladies Detective Agency Mandarin Rooibos. Rooibos, also known as red bush tea, is a South African herbal tea consumed in great quantities in the popular books by Alexander McCall Smith.
Customers looking for gifts love the themed tea variety packs. For a more substantial gift, Hollenbaugh has invented an ingenious accessory, the teabag boat. In cooperation with jeweler Pam Buzz, a Hoquiam Farmers Market pal, Hollenbaugh invented an attractive anchor weight made from an abalone shell that holds the teabag in place while steeping. The shell doubles as a little bowl for holding the wet teabag after use. The teabag boats are decorated with themed charms created by Buzz.
Teapots, infusers, mugs, felted cozies by Judy Hansen and other accessories round out the selection of the Fancy Accent Tea Company. Hollenbaugh likes to employ the expertise of fellow Farmers Market members. Her fancy Alice in Wonderland table cloth was sewn by Diane Tuski of Grayland, and Joshua Paquette from Taholah built her rustic wooden shelves. Nancy's Bakery scones are served at Hollenbaugh's catered tea parties.
Hollenbaugh's entertaining and informative storytelling about the history of tea contributes to the success of her tea parties. "Tea is in the British DNA," she says and it shows in the store of knowledge she has accumulated over the years.
"Don't ever lose your accent," her friends tell her. It is her company's trademark.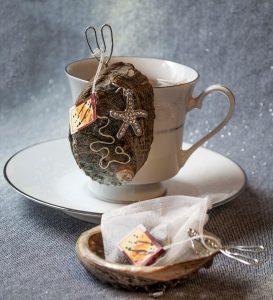 When Hollenbaugh takes to the road to attend festivals, she is limited to what she can fit into her car. Still, she tries to create a feel similar to her display at the Farmers Market. "You never know what happens at festivals," she laughs.
Her Dr. Who tea was a great success at Viking Days in Seattle. Two specially designed chocolate teas were a hit at the Chocolate on the Beach Festival. Hollenbaugh is a regular at the Elma Country Christmas Bazaar and at Seabrook's Saturday Market. Her travels also include the Grays Harbor Shorebird and Nature Festival, the Westport Winery Fleur de Lys Festival, and two Grayland events, the Driftwood Show and the Cranberry Harvest Festival.
Are you still wondering why high tea should be called low tea? Arrange a tea party and have Claire Hollenbaugh explain it to your guests in her fancy accent while sipping wonderful teas from delicate china cups.
Contact Claire Hollenbaugh at 360-310-3770 or at FancyAccentTeas@gmail.com. Purchase tea or book a tea party at FancyAccentTeas.com or the FancyAccent Facebook page.