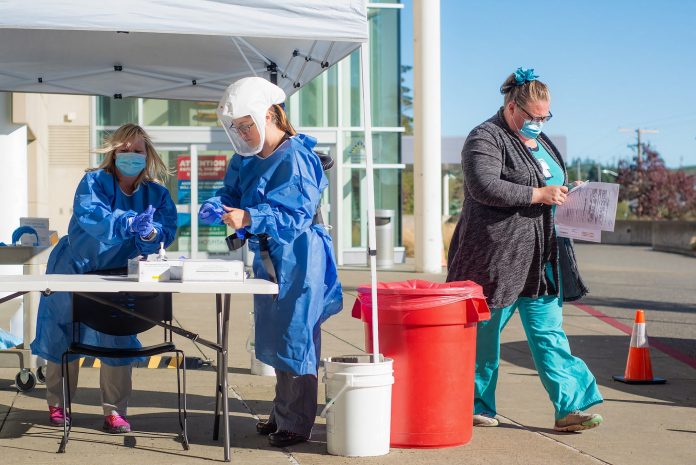 It seems like we do everything remotely these days. Thanks to the internet and our trusty cars we can work, learn, and shop from home with items handily delivered to our doorsteps or waiting trunk. Social distancing is a way of life and keeps us, our families and vital front-line workers safe. Thanks to Grays Harbor Community Hospital, you can receive COVID testing in Grays Harbor from the safety of your car as well. And they won't mind if you're in pajamas either.
Melanie Brandt, CNO, coordinates the process which sees anywhere from 20 to 85 people during their testing period. "We utilized the University of Washington's drive up testing steps to create our own based on our resources and abilities," she says. "We worked closely with the Department of Health on a referral process and set up our own triage line for staff and community members to call into for questions and appointments. As we have learned more, the process has evolved extensively thanks to input from all our teams working together to make drive-up testing a success."
As fear of COVID-19 spread and patient volumes decreased there was no extra money to hire additional staff, so Melanie sends a tremendous shout-out to all of her Nursing Directors, who provided their time and energy to this process every day of the week. "Training was crucial in order to ensure accurate testing," she adds. "As soon as we decided to do the drive-up testing, our entire team jumped in ready to take the challenge head-on. While it has all been very challenging at times, our staff has grown very close and created an awesome team because of this."
Alice Skupnick, RN agrees. "We have the option of standing still or moving forward," she says. "With the current COVID-19 pandemic state of affairs, GHCH has chosen to give our all to move things forward to benefit our region. It really does take a village. There are many moving parts to this process and everyone is important to the team. If someone is off or not available, someone else will volunteer to do any part necessary."
While the process for getting a test is fairly easy for the community, behind the scenes, many departments are working together to make it a success. Appointments are made via calls to the nursing triage line. Alice Skupnick, RN, is director of the Family Birth Center whose team has overseen the COVID hotline since late March. She estimates they speak with 40 to 50 people each day. They answer questions, provide testing information and schedule drive-up tests.
Cheryl Goodwin is the registration director and insures everyone tested is registered and their necessary paperwork is complete. Cheryl's team works to keep everything organized as patients and appointments come in from multiple sources, including Grays Harbor Public Health. They juggle registering patients coming in for scheduled and walk-in services while making the time to pre-register the COVID testing patients and then move the accounts to live status after the patient has come in for the drive-up testing, explains Cheryl.
Much of the actual sample collection is done by Christina Boice, RN, who is also clinical manager for the Medical/Pediatric and Surgical Floors. "I swab patients at least four and sometimes five days a week Monday through Friday," she says. "Normally we will need three to four people to run the booth efficiently as patients are scheduled very closely together. I believe our record of tests in one day is 88 in a three-hour period. We have really pulled together as a leadership team to make this work as we do not have extra staff to provide this service and it's important that testing is available to our community."
Once samples are taken, they go to Donna Adams, acting lab director, and her team who sort, input and log collection kits, which then go to the state's Department of Health or the University of Washington's Virology lab. Adapting to the often changing state and national reporting requirements, it took almost a month to create the section of our electronic medical records that covered all of the resulting criteria that is required, says Adams. "The lab receives about 100 specimens per day from various locations including the drive-up testing," she adds. In addition to the electronic requirements there are also paper records that are required to be kept by the lab as well. Once all of the paperwork is complete the specimens are ready for transport to the labs, and all this done by noon to assure timely results.
The lab team hopes to switch to streamline testing soon. "The lab will be getting an instrument in that enables us to do testing in-house," says Adams. "We are also looking into upgrading another of our instruments that performs strep testing to do COVID testing for the emergency department and inpatients."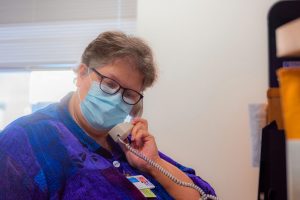 As with any big project, it's teamwork that makes things run smoothly. "I truly have the best team of people working with and for me, including Nurse Directors Jamie Tully, Shannon Johnson, Heidi Malloque, Tracie Moen, and Trauma Coordinator Jamie Gusdal," says Brandt. "It amazes me every day how we have evolved with the process. We continue to review, refine, and revise how we conduct business, always looking to streamline and provide better service. We are ready here as the hospital to care for our patients and now we have the opportunity to provide vital COVID-19 testing to our community members. There have been many thanks and appreciation given from our community members when we call them with their results."
If you or someone you know needs COVID testing in Grays Harbor, simply call 360-357-5100 today.
Sponsored