Substance abuse and prevention are pivotal issues within any community. But tracking statistics and numbers can be difficult when dealing with such a personal, private issue. Throughout Grays Harbor County, the Harbor Strong Coalition and My TOWN Coalition and are working on a confidential community survey that will help inform, update and potentially allocate much-needed resources in the fight against drugs. Both coalitions utilize it to help in planning for strategies that can improve outcomes with regards to substance use and misuse.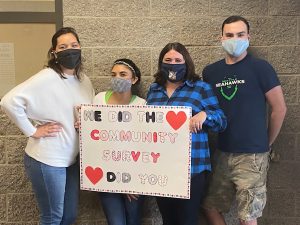 The National Institutes of Health reports that "More than 67,300 Americans died from drug-involved overdose in 2018, including illicit drugs and prescription opioids." Their numbers also show that "Abuse of tobacco, alcohol, and illicit drugs is costly to our nation, exacting more than $740 billion annually in costs related to crime, lost work productivity and health care."
In Grays Harbor, the two Coalitions work hard to keep residents strong and healthy, starting during their school years. Whether working with kids on the tough issues of violence, substance abuse and mental health challenges or facilitating safe medication disposal so prescriptions don't end up in the wrong hands, they're a tireless force within the community. These surveys, which are anonymous and take less than 10 minutes for adults to complete, are simply another way of raising awareness and to help gauge the perception of risk and protective factors within our community.
"My TOWN represents Hoquiam and Harbor Strong represents Aberdeen," explains Community Health Specialist Allegra Hood. "We distribute these surveys to community members and medical providers through social media, postcards, websites, in person conversations and reaching out to community partners such as the public library, YMCA, local school districts, faith-based communities and others to help us spread the word and encourage community participation."
Both the Harbor Strong and My TOWN Coalitions are partnerships with Grays Harbor County Public Health and Social Services. They were founded thanks to a Community Prevention and Wellness Initiative (CPWI). But more than just local, CPWI is "a partnership of state agencies, counties, schools and local prevention coalitions supporting communities in preventing alcohol and other drug abuse and its negative consequences. To date there are 82 communities in Washington State implementing CPWI. CPWI priorities include reducing underage drinking, marijuana use and opioid misuse/abuse among middle and high school aged youth."
Once input is received, it is used in many ways. "These surveys help us understand opinions about youth substance use in our community," says Hood. "Responses help inform and improve prevention programs for our youth. It's important to have as many participate as we can because then we will have more accurate results and better data!"
Available in both English and Spanish, the survey asks about alcohol, tobacco, and substance accessibility and use; bullying; depression; social media and suicide. They are especially geared towards adult attitudes regarding student and youth access. Results and information received are shared annually each spring.
The Community Survey began in 2008 with a goal to "inform strategic planning, as baseline and to monitor change, to start a conversation in the community and to encourage positive community and parent norms," says Hood.
According to the Census Bureau, Grays Harbor County has nearly 75,000 residents with more than 20% of those being under the age of 18. Aberdeen and Hoquiam alone account for more than 25,000 residents so the Survey's overall success rate is high. Keeping such a vital segment of the community healthy and happy is tremendously important to our region's long-term success.
The National Institute on Drug Abuse stresses that adolescence is a critical time in the fight against addiction. "Early use of drugs increases a person's chances of becoming addicted. Remember, drugs change the brain—and this can lead to addiction and other serious problems. So, preventing early use of drugs or alcohol may go a long way in reducing these risks…Because the brain is still developing, using drugs at this age has more potential to disrupt brain function in areas critical to motivation, memory, learning, judgment and behavior control."
Their research shows that substance abuse prevention programs can save up to $65 for every dollar invested into efforts like these. Do your part by taking the survey and sharing it by email or social media. The more voices involved, the stronger the final message.
Read more about how Grays Harbor County Public Health and Social Services is active in your community at www.healthygh.org and email health@co.grays-harbor.wa.us with questions. Survey links, in English and Spanish, are below. Please take either the Hoquiam or Aberdeen survey, not both.
Hoquiam Survey

Aberdeen Survey
Sponsored