Since 1991, Aberdeen's Windermere Real Estate office has been dedicated to providing excellent customer service to assist with all of their clients real estate desires. Along their journey of growing and evolving over their nearly 30 years in Grays Harbor, they have also given time and energy back into the community that they serve.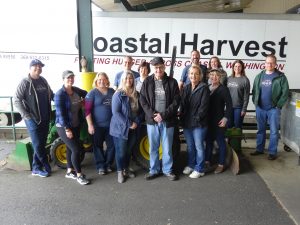 With expertise in residential, land, and commercial real estate, Windermere is familiar with every facet of the market. Since this local business is considered one of the most effective real estate firms on the Washington Coast, the brokers and staff take great pride in continuing to support the community that they are centered in.
Giving back to Grays Harbor has always been at the forefront of Windermere's mind. Over the past few years they've donated to the Grays Harbor College Foundation that enhances the academic environment of the college and champions for the success of their students. The annual downtown Aberdeen WinterFest celebration is also a time when Windemere offers sponsorship to help bring holiday cheer and support local businesses. "We're proud to be involved with multiple nonprofits in the area. It was an honor to be named Business of the Year in 2018 by United Way of Grays Harbor," says Travis.  Most recently they have donated to Family Promise of Grays Harbor a volunteer driven organization that unites the interfaith community and local resources to help homeless children and their families achieve long-term, sustainable independence.
Also important to Windermere Aberdeen is to continue to be a presence in downtown. The lease at their long-time location of 101 South Broadway Street in Aberdeen was set to expire in the fall of 2020. With the anticipation of an eventual move, Windermere began their search for a building to purchase. Although much of the real estate industry has shifted to online and meeting with clients outside of the office, they knew the importance of continuing a physical presence in downtown. After considering a few buildings, the decision was made in mid-April to circle back and make one last attempt to reach out to Chase Bank with the possibility of purchasing their current location. "For us," explains Travis Jelovich, Windermere Real Estate designated broker/owner, "it was important to stay in this location. We have been a successful business in downtown and I believe part of that is due to location. Additionally, this also provided us with an opportunity to invest in not only Downtown Aberdeen, but the community. We are excited to be here for the long term." With a cumulative feeling of both relief and excitement they are grateful to be able to remain in their well-established location.
Since the start of the pandemic, Windermere has been able to shift their focus on creating a safe, COVID-19 friendly space for everyone. Their office is currently open for appointments while following mandates to help slow the spread of the disease. Visitors are asked to wear a mask once inside as well as utilize the provided hand sanitizer and be conscious of the spot markers on the ground to encourage social distancing. Additionally, Windemere takes care to disinfect the conference centers and office spaces after each use. "We have gone through and implemented these precautions to ensure everyone's safety when they come in," states Travis. It is important that our clients feel safe when meeting at our office. We can also assist with their needs over the phone; online or however they are most at ease. We want to be the office that adapts to all the client's needs. This is an extremely busy market in Grays Harbor. Real estate inventory is currently at an all-time low and it also helps that interest rates continue to remain low. We are in a strong seller's market. It is a great time to be a seller."
The team at Windermere Real Estate/Aberdeen offers an honest assessment of market conditions so that buyers and sellers can make informed decisions. They are proud to be a part of the downtown Aberdeen community where they feel they can make a difference. For more information on Windermere, visit the Windermere Real Estate/Aberdeen website or call 360-533-6464.
Sponsored