Whether you're in a pinch for a quick lunch, starving after a long hike, or just craving something quick and simple, takeout is always a great option. A delicious meal doesn't have to take all day to prepare. Ditch the frozen pizzas and leftover lasagna for a delicious dinner with no effort at all, and no clean up! Here is where to find takeout, to-go and carryout restaurants in Grays Harbor.


Finch & Bull
101 E Wishkah Street, Aberdeen
360.637.9431
The Finch & Bull food truck can usually be found outside of Steam Donkey Brewing Company in downtown Aberdeen. With a straightforward menu of sliders, tater tots, and salads you can't go wrong. Alternate bites between honey fried chicken, blue cheese and bacon chuck, and original with cheese sliders. Enjoy your meal to-go or dig in on-site with Steam Donkey's new outdoor patio. Follow Finch & Bull's Facebook for the latest hours and their rotating tot of the day.
Ocean Palace
112 E Wishkah Street, Aberdeen
360.533.6966
Chinese food is never a bad idea when it comes to a relaxing night in. When kung pao chicken starts calling your name, head over to Ocean Palace in Aberdeen. This long-time staple boasts a wide variety of dishes spanning Cantonese to Mandarin specialties plus American options. It's easy to find something that the whole family will enjoy. Call 360.533.6966 to order takeout or sit back and let them deliver your food to you.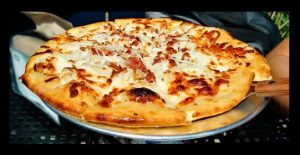 Blackbeard's Brewing Company
700 W Ocean Avenue, Westport
360.268.7662
Stop by Blackbeard's Brewing Company to pick up a hand tossed pizza and a growler of your favorite beer. You can also pick up pub favorites like chicken wings, fried pickles, and pretzels to make your own sports bar at home. Call ahead or order online to get your Blackbeard favorites. Take your food to the beach, enjoy at home, or cozy up around their outdoor fire pits and dig in.
Fishin' Hole Family Restaurant
103 Brumfield Avenue, Montesano
36.964.4109
If you can't treat yourself to a date night out, bring the date night in with Fishin' Hole Family Restaurant in Montesano. Pick up an entire dinner with appetizers, seafood, steaks and a tasty dessert. You can also take out your favorite cocktails and beer. Simply plate up your dinner, light a candle, and enjoy an intimate date night with your partner. Subscribe to the Fishin' Hole Family Restaurant Facebook to find seasonal specials and the latest hours.
The Grizzly Den
300 W Emerson Avenue, Hoquiam
360.537.9840
Bite into burger bliss at The Grizzly Den in Hoquiam. This popular spot is known for their mouthwatering burgers, crispy fries, and absolutely incredible shakes. You can also find salads, sandwiches, and baskets freshly made to order. Call in for delivery, take your food to-go, or enjoy it underneath their new outdoor tent. Follow The Grizzly Den on Facebook for daily specials, seasonal shakes and the latest updates.
Koko's Restaurant and Tequila Bar
5 W Myrtle Lane, Pacific Beach
360.276.1090
Koko's Restaurant and Tequila Bar will blow your taste buds away. Take out their carne asada plate and design your own tacos at home, snuggle on the beach with their iconic burritos, or warm up on a cold day with chicken tortilla soup. Don't worry, you can carry out your favorite margaritas and mojitos too. Call ahead or order online to treat yourself anytime.
Organics 101 Market Juice & Smoothie Bar
316 S Main St, Montesano
360.249.8371
The fast, healthy, and delicious lunch isn't a myth, it's an everyday reality at Organics 101 Market Juice & Smoothie Bar. This Montesano restaurant is a popular spot for superfood smoothies, deli sandwiches, seasonal soups and hearty salads. Inside you'll also find a market with healthy essentials. Call in or carry out to get your favorite fix anytime. Check out Organics 101 on Facebook for up to date hours and specials.
Ocean Beach Roasters
841 Point Brown Avenue NW, Ocean Shores
360.289.3100
There isn't a bad time to visit Ocean Beach Roasters in Ocean Shores. Breakfast will be met with fresh roasted coffee and delicious pastries. Lunch comes with takeout growlers and crowlers along with your favorite sandwiches, tacos, and salads. Whether you're just stopping by on your way for a cup of joe or a beach picnic, Ocean Beach Roasters always hits the spot.
Aloha Alabama
2309 Westhaven Drive, Westport
360.268.7299
After a long day of walking the beach, clam digging, or surfing, nothing is more rewarding than a meal from Aloha Alabama. This coastal eatery blends Hawaiian favorites and Southern cooking to create tasty options that you'll be sure to love. You can order at their walk-up window, enjoy your food on their colorful deck, or get one of their family meals delivered nearby. They are also offering cocktails, beer and wine in sealed to-go containers.