As 2020 comes to a close, many are eager to bid farewell to a stressful year. Although times have been tough, the holiday season brightens people's hearts and offers hope for a better year to come. To celebrate the season, many have decided to brighten their homes and businesses with beautiful twinkling lights much earlier than normal and on a larger scale to help bring cheer to the community. Here is a guide on where to see holiday lights in Grays Harbor.
Aberdeen
Downtown Aberdeen and Broadway Avenue
Begin your Christmas light hunt through Aberdeen in the downtown corridor. Local groups add holiday cheer by stringing lights from buildings, around light posts and even in flower beds, creating a beautiful scene to be admired. After driving through the blocks of downtown, head up towards Broadway Avenue, an area of the city that's regarded as one of the best for Christmas lights. The historic homes, most of which are over a century old and crafted during the city's logging heyday, are lit up with a golden light that would make even the Grinch crack a smile. Continue on your drive once Broadway Avenue ends and make your way through the winding streets of Bel-Aire that's also known to brighten the neighborhood each holiday season.
Hoquiam
Sumner Avenue
Driving the main drag, Sumner Avenue, into Hoquiam from Aberdeen is a sight to be seen during the holidays. Historic homes including the ornate Polson Museum pull out all the stops and string lights from every nook and cranny of their façades. Once you enter downtown Hoquiam, either take a left on Emerson Avenue or loop back on Simpson Avenue to continue the festive drive. Don't be shy to pull off onto any of the side streets for more extravagant displays including one on 30th Street near Casa Mia Restaurant.
Seabrook
The quaint town of Seabrook is lined with hundreds of Pacific Northwest-inspired homes complete with manicured gardens inspired by the setting around them. When adorned in their twinkling lights, these homes transport visitors directly into a Hallmark movie. Grab a meal to-go from one of the restaurants and cruise around admiring the lights throughout the intertwining streets. The locally owned businesses also go all out with their displays creating a scene unlike any other in Grays Harbor.
Westport
Westport Marina
The Westport Marina is known for stacking and decking out a crab pot "tree" in festive lights, buoys and colors that captures the essence of holiday magic on the coast of Washington. Local businesses lining the marina also string their facades with bright lights that shine and bring joy to all those who visit. Walk along the boardwalk and admire the lights or enjoy a cruise past from the warmth of your car. Many restaurants are open for take-out and the shops are also a great place to check off some of your holiday gift shopping.
Ocean Shores
Oyhut Bay Seaside Village has holiday lights galore happening nightly! If you get hungry, the onsite restaurant is open 11:00 a.m. to 8:00 p.m. with outside dining options. on December 12, Santa will arrive along with the Ocean Shores fire department. On that night, you can enjoy free hot cocoa and candy canes while taking in the lights. Looking for a holiday photo op? Take a selfie in their festive outdoor amphitheater complete with snow and Santa (socially distanced for safety). Oyhut Bay Seaside Village is located at 400 Salmonberry SW, Ocean Shores. You can find out more by calling 360-209-1886 extension 503.
Montesano
Although this year's Festival of Lights parade and celebration is cancelled, the residents of Montesano still enjoy decorating their city with holiday cheer. Cruise through the downtown corridor and admire the businesses' lights along the well-kept corridor. Most streets throughout Montesano are well-lit, which makes driving through the small town a festive treat. One of the local favorites is McBryde Avenue where it's apparent that homeowners truly value their outdoor holiday décor.
Cosmopolis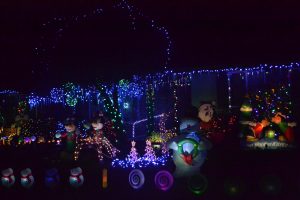 Trinity Way and Dundee
Driving around and listening to Christmas music is one thing, but have you ever seen a display that actually plays along with the music? Head down the cul-de-sac on Franklin Hill's Trinity Way in Cosmopolis for a scene that's sure to please the entire family. Directions are posted outside as turning to a specific radio station is required. Once you're on the right station, sing along to classic Christmas carols and tunes from the Trans-Siberian Orchestra while the massive light display blinks, flashes and brightens the entire street. While in the area, also head down Dundee Drive to complete a brilliant evening of holiday delight.
While checking out the Christmas light displays throughout Grays Harbor, pick out your perfect Christmas tree at a local tree farm and shop local to check off the men, women and kids on your holiday shopping list.
Would you like to see your neighborhood featured? Send us an email with your address or neighborhood and a photo to submit@GraysHarborTalk.com.