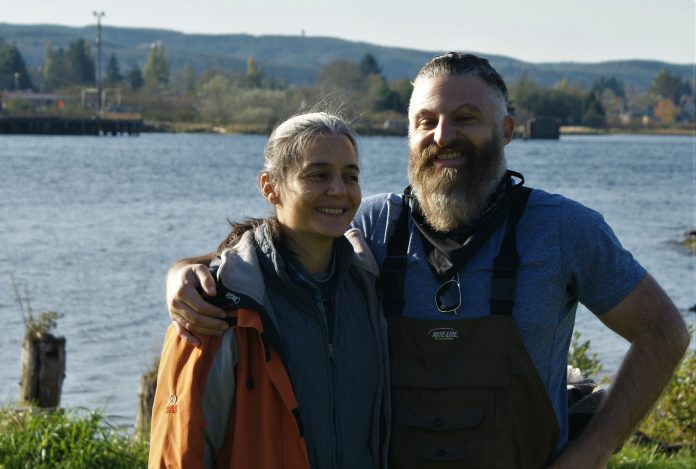 Submitted by Kathy Jacobson, for the Chehalis Lead Entity
Three years ago, Laura Lopez and her husband Sam Howell were drawn to the beauty and wildlife of Grays Harbor and moved from Houston to Ocean Shores. "I was never really a 'bird-person' until I moved up here, but the variety is amazing. And the clean air is so breathable!" said Laura.
Very soon after moving to the area, Sam and Laura became involved with Grays Harbor Stream Team volunteer stewardship opportunities in Ocean Shores, and throughout Grays Harbor. They have been active hands-on volunteers with tree planting, invasive species removal and litter pick-up events. Sam said, "Volunteering can be a great way for the community to take ownership of the health of its waterways and wild places. I love being on a crew picking up litter because when people see us, it gives them the opportunity to think twice about where they place their trash. We should be proud of how clean our waterways are, and it is wonderful to meet people who care about keeping them that way."
Laura shared that her community ethics were nurtured during her 2003-2005 training as a Peace Corps Volunteer in Samoa. Her role as a Village Based Development Volunteer was working collaboratively with the local village communities to discover better ways of doing things.
"Sam and Laura are passionate, hardworking, and inspirational," said Alexa Brown, Grays Harbor Stream Team Coordinator. "They care deeply for their community and the environment and it is always a joy to work with them. They are extremely committed to the Grays Harbor Stream Team, and have come to nearly every volunteer event for over a year, when I first met Laura at a Scotch Broom removal event at the Weatherwax Nature Preserve in Ocean Shores."
During their time in Washington, Sam and Laura have witnessed the loss of native vegetation and natural ranges of wildlife due to development. This led them to take the WSU Extension Forest Stewardship Coached Planning course. The course made Laura and Sam keener on land conservation and restoration. After research, they discovered close to 200 acres of land for sale above Aberdeen near the "Think of Me Hill" neighborhood.  The land had been logged in 2012, with plans to build a 322-home subdivision. Wilson Creek, which runs through the property and is a salmon-spawning creek, would have been dammed to be turned into a lake. Fortunately for the salmon and other wildlife, the minds behind this plan did not have a path to make it happen and the project was eventually shelved.
Wilson Creek
Wilson Creek begins in the hills above Aberdeen and drains into the Chehalis River and Grays Harbor near Morrison Riverfront Park and the Rotary Log Pavilion. According to the Aberdeen Timberland librarian, Laura Young, "Wilson Creek was named after Charles Robert Wilson, who was a turn of the century lumber baron who ran (with his brothers) the Wilson Bros. Lumber Mill that was at the junction of the Wishkah and Chehalis rivers."
Recently, Wilson Creek has been the site of Grays Harbor Stream Team clean-up events. In 2019 with funding through a Family Forest Fish Passage grant, an old crossing located in the lower section of Wilson Creek, was replaced with a bridge to provide better hydraulic function for the creek. This opened 1.65 miles of habitat for Coho, steelhead, sea-run cutthroat, and possibly chum and chinook.
Laura and Sam have a long-range plan, on how as Laura said, "We can contribute to the greater community by restoring habitat, providing ecological services, creating local jobs with a working forest, and helping to protect the salmon-bearing Wilson Creek."
"We have been receiving outstanding guidance from the Grays Harbor Conservation District and others to make this working Tree Farm possible," said Laura.
Laura also added, "Our plan calls for planting a mix of at least fourteen thousand Douglas Fir, Western Red Cedar, Western Hemlock, Sitka Spruce, Black Cottonwood and a mixed variety of Willow species. Once our plan is implemented, our Tree Farm will contribute not only healthy salmon habitat but also improve the health of the overall watershed. One of the things we learned in developing our forestry plan through the coached planning course is that it is entirely possible to improve habitat and long-term forest health with a managed forest.  Our hope for the future is that a robust population of salmon will again return to upper Wilson Creek thereby contributing to their overall comeback."
Sam said, "Laura and I are hoping to lay the foundation for a sea-change of attitude for generations to come."