You probably have one in your kitchen and don't think much about it. Maybe it's in your pantry, a closet, an alcove or leaning up against the wall. A broom is one of the oldest and most used household cleanup tools. For Shannon Graham, brooms are a piece of art, a craft, a livelihood and passion that has lasted 26 years.


Originally from Darrington, Shannon and her family—two sons, two grandchildren, (and one more on the way)—have called Westport home for 21 years. They fell in love with the beach, the fishing, the coastal lifestyle. And as a broom maker, Shannon sees all that washes up along the shore as potential. "I love to walk along the beaches and look for driftwood," says Shannon. I can comb the shorelines looking for just the right pieces to use for my broom handles."
At first Shannon started making brooms for extra money. She apprenticed for two years, learning the traditional Shaker style. The Shakers, a Christian religious sect, revolutionized broom making in the early 1800s by developing a broom vise, which allowed brooms to be sewed or stitched flat, like most every modern broom still made today.
When the woman she was working for decided to sell her equipment, Shannon made the leap from understudy to entrepreneur and owner of Traditional Broom Company. "It took me a good six months to learn how to make a really good broom," recalls Shannon. "You have to have the right tension, the right table. I learned to make my brooms while wet, so they are pliable for weaving."
Shannon has three main machines she uses for making her brooms, each one is over 100 years old. First, she sorts pieces of broomcorn, also called sorghum, by similar size. It takes an odd amount to make a broom, usually 15-17 pieces total. The broom winder holds the broom while she weaves, and a push peddle adjusts the tension of the jute fiber that holds the weave together. Next, the broom goes on the stitcher: a 2,000-pound cast iron machine that is only one of two in the United States. Two big needles slowly move in and out to help her bind the broom flat. She then uses a cutter to chop the broomcorn to a nice even finish. Once dry, the broom is ready for use. "I completely lose track of time when I'm making brooms," says Shannon. "It can be monotonous work, but I just play my music loud, dive in, and get them done. I love doing it."
Shannon makes three main types of broom. The Grandad or Father brooms are the big brooms you use in your home for sweeping the floors. She uses either regular round pole handles or crooked poles made of manzanita wood or driftwood.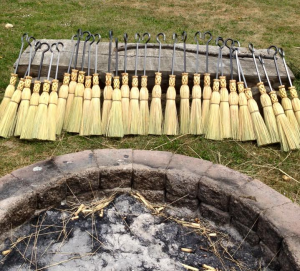 She also makes whisk brooms and fireplace brooms. The fireplace brooms have been most lucrative as she partners with Enclume Designs out of Port Hadlock. They hand forge the handles, send them to her, and she makes and connects the brooms. They are then put together as a larger fireplace set and sold in stores like Cabela's, L.L. Bean, Walmart, and Home Depot. "I have had other jobs over the years," says Shannon, who spent 10 years as the lunch lady for Ocosta schools and currently works as sous chef at Bennett's Fish Shack. "But broom making is my passion. It has supplemented my income and allowed me to help my kids financially."
There was a time when Shannon was making up to 6,000 brooms a year, traveling to festivals, and meeting other artists and craftspeople. But that level of work took its toll, and Shannon had surgery in both her hands for carpal tunnel, the result of the repetitive motion of weaving. Now she's happy to sell her brooms locally to neighbors, local businesses, and to her supplier. Recently, Shannon taught a friend how to stitch, so she can fill more orders. "Over the years it has just been me," says Shannon. "It's great to have some help. I never thought I'd be making brooms this long. At this point, I'll probably make them forever."
A well-made hand crafted-broom can be more than a household tool. It's a piece of art, a slice of history, and according to folklore a symbol of good luck. "When you get a brand-new broom, make sure the homeowner is the first to use it," says Shannon. "It sweeps away bad fortune and creates good luck in the home."
For more information, including how to get your hands on one of Shannon's brooms, visit the Traditional Broom Company Facebook page.