As much as we love them through thick and thin, kids are adorably wild little germ magnets. Whether exploring in the yard, swapping items at school or playing rough-and-tumble sports, growing up means plenty of trips to the pediatrician. Having a family doctor you can turn to throughout their childhood years is truly a blessing. At Harbor Regional Health (HRH), Dr. Hong Nguyen joined their growing family to help guide yours from infancy through the teenage years.
The Harbor Regional Health pediatrics team offers a wide variety of services, including well child visits; sports physical, hearing or vision screening; specialized treatment for obesity, ADHD, depression, anxiety or cardiovascular issue; and of course, treatment of illnesses and injuries. No matter the reason, they're happy to help.
Dr. Nguyen joined the staff on March 1, 2021 and is excited for the future. With a lifelong love of working with children, she attended Yakima's Pacific Northwest University of Health Sciences for medical school and completed her residency in Tulsa, Oklahoma.
What drew her to pediatrics and speaks to her the most? It's simple. "Because kids are the best!"
she says. "I enjoy every moment of their growth and being their advocate to a healthy future. I have enjoyed caring for children ever since I started babysitting my nieces and nephews. I went on to volunteer at a children's hospital and found that pediatrics was my calling."
In medical school, Nguyen worked a rotation with Harbor Regional Health and always knew she wanted to return to the Pacific Northwest, especially near the gorgeous Washington coastline. Since being hired, the transition has been a smooth one. "I like the cohesiveness and friendliness of the staff. Everyone has been very welcoming and made me felt at home."
When not working, Nguyen enjoys discovering new foods and recipes and hanging out with her adorable—but very active—Siberian Husky puppy. Over the next few years, she hopes to develop strong relationships with her patients and spend more time participating in advocacy programs in the Gray Harbor community.
A boisterous family of their own, the care providers of Harbor Regional Health—formerly Grays Harbor Community Hospital and Harbor Medical Group—all work towards the singular mission "To heal, comfort, and serve our community with compassion."
Their nearly 500 employees at the hospital and clinics across Aberdeen, Hoquiam, Westport and Montesano, live and work within their chosen community and strive to make Grays Harbor County strong, healthy and vibrant. Like Dr. Nguyen, they have found their unique and special calling and work hard for families across the region, especially during the long stressful months of 2020.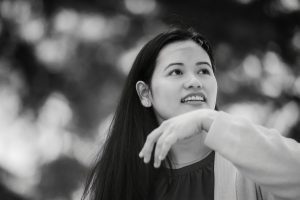 During quarantine and statewide safety mandates, many of us postponed non-emergency medical visits during COVID-19. But now's the perfect time to reach out to your child's healthcare team. Doctors report that during the pandemic "nearly 80% of children were missing their well-child, routine appointments…With fewer children enrolled in school, routine well-child visits become much more critical." Double-check your kid's immunization and well child visit schedule or set up sports physicals for newly reopened summer teams and recreation leagues. HRH staff are always happy to talk through concerns, worries and development milestones. That way your family will be healthy and up to date as schools and summer programs slowly start to reopen.
To learn more about Harbor Regional Health's pediatrics department or schedule an appointment, visit their website or call 360.537.6332 or 866.537.2778. While online, you'll find tremendous resources like articles about coping with a new baby during COVID-19, mood-boosting tips for families during the pandemic and advice on how to navigate the pandemic with your special-needs child.
During your child's formative years there isn't an awful lot of consistency. Their tastes, preferences, style, moods and hobbies will change almost as fast as they outgrow their most recent pair of shoes. Having a pediatrician like Dr. Nguyen by your side for the journey makes the inevitable bumps and bruises less scary for everyone. Let her and the whole HRH Pediatrics team be a resource from the first diaper change through their gangly high school years. You don't have to face the challenges alone.
Sponsored