Ever wondered what bear tastes like? Now's your chance to try someone of the best-tasting bear stew you will ever have, and spend the day with fun, family-friendly activities! There is something for everyone at the McCleary Bear Festival—even if you don't want to eat bear—and the weather is going to be just perfect at the beach. So, pile the family into the car and head to McCleary for the 62nd McCleary Bear Festival happening July 9-11 at Beerbower Park.
This year's theme is "Take a Ride on the Country Side." The theme is chosen every year with input from the reigning McCleary Bear Festival senior queen or king. "This is a great way for them to have creative involvement in their season and an amazing memory to add to the history of our community," says Sammi Cody, McCleary Bear Festival royalty director.
This year's Senior Queen is Koral Young, a junior at Elma High School. "Country has always been a part of my life," she shares about why she wanted this theme. "I was raised on southern ways. I have always felt at peace out in the woods or riding my horses or even just lying in a field and just thinking about many different things. I feel that it was a good theme that fit me and my life. I have always felt at home when I was out of the City. McCleary is nice, but the woods and the 'country' parts of McCleary will always have a special place in my heart."
Young has been going to the McCleary Bear Festival since she was little. "I am very lucky to be in the Bear Festival as I was crowned in 2019 as the Senior Queen for that year," she shares. "When COVID hit we unfortunately had to cancel our 2020 Festival, but I was lucky enough to be asked to come back to finish my reigning year! I love seeing everyone's faces at all our parades and I am sad to see it all coming to an end. I cannot wait to crown our 2021 Bear Festival Queen. I've made new friends and learned a lot about myself. I hope to see you there!"
Senior Princess and Reigning Junior Queen Taryn Ferrier is also proud to be on the court. "Bear Festival has been a big part of my life for a very long time," shares Ferrier, who is an eighth grader at McCleary School. "I've been to every Bear Festival since I was born!  I have really enjoyed being part of the Royalty Program for the past year, with the honor to be crowned the first ever Junior Queen. I am looking forward to representing McCleary through my role as Senior Princess and having a lot of fun this season."
Junior Princess Lola Van Blaricom is a fifth grader at McCleary School and participates in Girl Scouts. She is excited about being on the court because she wanted to make new friends and have new experiences. "Also, I wanted be a Princess while my cousin Koral is Queen," she adds.
McCleary Bear Festival Activities
After meeting the royal court, get ready for a ton of fun with the many family-friendly activities! Catch the Grand Parade at 12 p.m. July 10. Want to join? They are still taking applications and will do so until judging starts at 10:30 a.m. There is also a Kiddie Parade that takes place at 11:45 a.m., so your kids can get in on the fun too!
Whether you get a team together or just come to watch, the softball tournament is a fun time for all! And if you prefer something that revs, the McCleary Royal's Rumble Car Show begins Sunday, July 11 at 10:30 a.m. Check out the incredible classic, vintage and souped-up automobiles, talk to their owners and take photos! Have a vehicle that needs showing off? You can enter your car for just $20, registration is online. Several prizes will be awarded including Best of Show!
The kids are going to have plenty of fun in the Kidz Zone, open July 10 from 1:30 pm. to 4 p.m. and July 11 from 11 a.m. to 4 p.m. The area has tons of family games including a petting zoo, pony rides, football target, bucket tosses, squirt gun painting, frisbee tic-tac-toe, bubble station, dunk tank, jumbo board game, and much more. Get the whole family together and participate in some good 'old fashioned games, like the spoon race on July 10 at 2 p.m. and the water balloon toss at 3 p.m. On Sunday, try the sponge water relay race at 11 a.m., limbo at 12 p.m. and sack races at 1 p.m.
The crowning piece of the weekend for kids is the Box Car Race on Sunday, July 11 at 10 a.m. Bring your box car and see if you come out on top. Prizes will be award and you need a bike helmet.
When it's time to sit for a bit and rest, there will be plenty going on to entertain you! On Friday there will be a magician at 6:30 p.m. On the weekend, get ready to for the annual Music in the Park showcase, which is a highlight of the McCleary Bear Festival. On Saturday listen to Lost Soul of the Bluesman from 10 a.m. to 12 p.m. and then the Broken Sky Band from 4 p.m. to 6 p.m. Sunday get your dancing shoes on for The Dancehouse Dance Studio from 10 a.m. to 12 p.m., followed by Kennon Maurer, piano player and singer, from 12 p.m. to 2 p.m.
Be sure to check out all the craft vendors too! There will be plenty of shopping to do when you're ready for a break from the fun activities.
Bear Stew
By now you are starving, and that's great because the McCleary Bear Festival will have plenty of bear stew this year, which is what the festival is named after! In 1959, two McCleary residents claimed they made the best bear stew. To settle the argument, it was decided to have a bear-tasting contest and festival. Ever since, the people of McCleary have gotten together each year to celebrate the town, their community, and make some awesome bear stew! Some years, there is a lack of bear meat depending on population numbers and hunting permits. When that happens, the bear is substituted for beef to make an equally yummy stew. But you are in luck for 2021! "Our committee is excited to announce that we have applied for all of our permits and are planning to serve bear stew at the festival!" says Cody. "Our royalty and amazing community volunteers will begin gathering before the festival to prepare the stew ingredients. Our local fire department volunteers their time to monitor the large kettles throughout the night. Stew is served following the grand parade on Saturday of the festival."
If you are not sure about bear stew, don't worry, the McCleary Bear Festival has plenty of your favorite fair food and treats, ranging from crepes to bratwurst and kettle corn.
Coming to the McCleary Bear Festival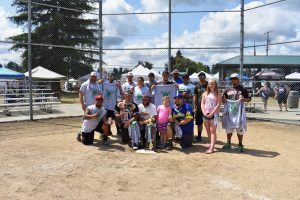 The City offers numerous public parking facilities throughout town, with a map being posted in the coming week to the McCleary Bear Festival Facebook and website for visitors to reference.
There is so much fun to be had the entire weekend at the McCleary Bear Festival you may decide to turn your day trip into an overnight trip! Located in Grays Harbor County, McCleary offers various surrounding lodging opportunities. Bring the RV and stay at the KM Resorts-Travel inn RV Resort or stay at the Elma Hotel. If camping is your style, check out the Grays Harbor Fairgrounds, which has dry camping as well as RV hookups. For added fun, camp at the Grays Harbor ORV! They have dry camping as well as power/water hookups. Bring your motorbikes and explore their trails after a fun day at the Festival.
"Our committee is constantly monitoring any regulations or restrictions assigned to Grays Harbor County in order to keep our community and festival visitors safe," adds Cody. "We will continue to follow State and local COVID guidelines."
See you at the festival!
Sponsored