For decades the world has been fascinated by the devious chicanery of spies, yet blissfully ignorant that they do exist. Hollywood exploited the genre, allowing for fantasies of thrilling cat-and-mouse games fraught with international danger and intrigue. Who hasn't heard of James Bond, the handsome yet mysterious man of a million faces, with fast cars and even faster women? While fiction allows for us to pine away for characters that literally accomplish impossible missions, a true story of espionage unfolded right here in Grays Harbor and other parts of the Pacific Northwest in the late 1970s. A twisted tale of two friends, Christopher John Boyce and Andrew Daulto Lee, that triggered a manhunt that culminated in exposing a spy who hid in plain sight.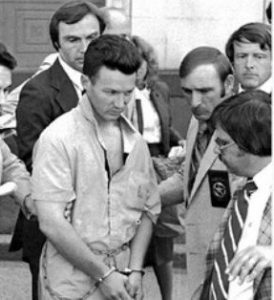 It all began when Californian-born Christopher John Boyce started a career in aerospace at a defense contractor company, working on top secret government projects. His long-time friend Andrew Daulto Lee, who was well known within their inner circle for his cocaine habit, hatched a plan to get big money to continue his vice. Boyce became disillusioned with the U.S. government and Lee used it to his advantage. Lee tapped Boyce to steal information, which he then sent to the Russian embassy, The promise of a $70,000 payday was just too good to pass up, even if it meant he'd go down in history as a traitor if caught. For 18 months Boyce sent security codes and surveillance satellite information to Lee, selling out his country until both were caught by the FBI. What happened next is how the legend of the spy who hid in plain sight begins.
The espionage uncovered, Boyd and Lee were arrested and sentenced to 40 years in prison at a medium security facility, Lompoc Correctional Institution in Southern California. However, they had no intentions of spending their lives in prison. The two traitors daringly made their escape via a tunnel and make-shift ladder. Both disappeared into the night without leaving a shred of evidence behind.The duo was quickly dubbed the "Falcon and the Snowman" due to Boyce's affinity for falcons and Lee's for cocaine. For 19 months federal authorities attempted to hunt down the pair. But without much to go on it seemed as though the two were nothing but whispers on the wind.
So how did the Falcon and the Snowman seemingly fall off the face of the earth? The two initially made it to Beaver, Washington, a small fishing and logging town on the Olympic Peninsula. Lee went his own way and was eventually caught in Mexico City, while Boyce decided to stay in the area. Although his clean shaven boyish good looks didn't really blend in well with the rugged loggers and gritty fishermen who frequented the small towns, somehow Boyce managed to win them over.
For almost two years he managed to fool the good people from Pacific Beach, Moclips, La Push and Port Angeles, who came to know him has Sean Hennessey. He bought a fishing boat and even took flying lessons in Port Angeles under a second alias, Tony Lester. Locals never gave him a second though as they sat around throwing back beer, swapping stories from their fishing adventures. No one ever suspected Boyce would turn out to be a wanted fugitive and traitor to the country.
Acting on a tip, the FBI and U.S. Marshalls infiltrated the area. In the couple of weeks before his capture, agents disguised as tourists and surveillance teams began to pique the interest of the locals. Whispers and glances at the coffee shop filled the air as residents quietly discussed amongst themselves what they had heard, each trying to figure out the mystery. Boyce's luck finally ran out when an informant advised law enforcement that he was at a café in Port Angeles. On August 21, 1981, Boyce was apprehended without incident at the Pit Stop Restaurant and Diner.
The arrest made national news, capturing the scrutiny of a nation who had the Cold War with Russia foremost on their minds. The tale even caught the attention of a novelist, Robert Lindsey, who in 1979 wrote "The Falcon and the Snowman," which later turned into a feature film starring Timothy Hutton as Boyce and Sean Penn as Lee. It premiered on January 25, 1985 to rave reviews. The saga finally came full circle when Boyce, after only serving 25 years of a 40-year sentence, was released from prison on March 14, 2003. He currently remains on probation until August 15, 2046.
Who would've thought a true story of epic proportions culminated in a small Pacific Northwest town with a fugitive wanted for espionage that sparked an international manhunt, a novel and a movie? Today, the story of a California boy who became a traitor to his country continues to be told by those who still recall the twisted tale of the spy who hid in plain sight.