Love is in the air with Valentine's Day just around the corner. We can all think of someone special to us this time of year, but it isn't always easy coming up with a gift for them that tells them just how you feel. With locally-owned and operated grocery stores Ralph's Thriftway and Bayview Thriftway, you can easily find the perfect gift with their annual themed displays full of their chocolate-covered strawberries and other locally-sourced goodies. This special Valentine's event begins on Saturday, February 12, and runs until end of business Monday, February 14, so be sure to check out one or both of these locations to get a sweet treat for your sweetheart!
Bayview and Ralph's Produce Manager Nate and Bayview Bakery Manager Amy both shared some of the exciting items you will find on this year's displays. Nate is very excited to be bringing back their house-made chocolate-covered strawberries for the seventh year in a row. "We used to do them by the pound, but I wanted to do the really big strawberries," he explains. "We now use delicious long-stem strawberries, which we dip in our very own milk-based truffled ganache chocolate and drizzle with white chocolate."
During early mornings during the event, both Nate and Amy are busy in the bakery prepping 4-5 baking sheets full of these mouthwatering treats, which will be available while they last during the event. "We try to have some on hand every day until closing," says Amy. "They sell fast, so swing in before it's too late!"
You can purchase these chocolate-covered strawberries in a 2-pack for $3.99, a 4-pack for $6.99, and a 10-pack for $13.99, so be sure to come in to get yours before they are gone!
At Ralph's Thriftway, they also have a floral department that will be creating arrangements for their Valentine's display table. There will be an assortment of beautiful bouquets that capture the beauty of love this season. Additionally, the bakery department will be putting together Valentine's-themed cupcakes that are baked in house. Ralph's will also be featuring some of the chocolates and candies sold in store, so no matter who you are shopping for, you can find the perfect gift for them at Thriftway. The tables will be conveniently located right inside the north entrance of the store next to Starbucks.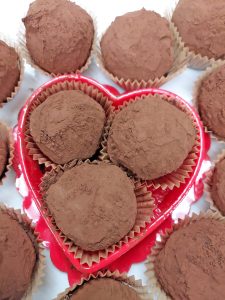 Bayview will also be featuring some local favorites to bring out the best in your Valentine's Day. "We will be making handmade dark chocolate, milk chocolate and peanut butter truffles," shares Amy. "Our bakery department will also be making handpies in the shape of opened envelopes that have a cherry pie filling in the center, plus some heart-shaped macarons." They also will be featuring some items sold in store, including a locally made Klamath Sourdough chocolate bread. "It is unexpectedly delicious," says Amy. Don't worry if you get hooked on this bread, Bayview carries it all year round! With goodies like these, you are bound to find the perfect treat for your loved one at the Bayview display table. Their table will be conveniently located near the bakery department when you first come in.
Both Nate and Amy really love events like this because they can provide something wonderful to new patrons and longtime customers in the community. "We are eager for our community to come in and experience our customer service and dedication to our craft, and of course get a lovely treated for your loved one!" says Amy.
Nate is thrilled with how engaged their team is in putting on these events, and loves that their customers know they will always have a fun and exciting experience within their stores. "It is pretty exciting whenever we do an event because the employees are onboard and really make it a fun time for the customers," Nate says. "The whole store really gets behind the event."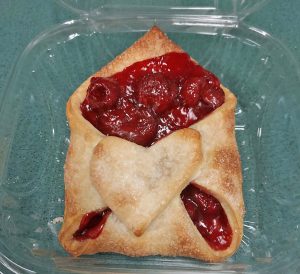 This Valentine's Day, you can take the guessing out of gift-giving by going to Ralph's Thriftway and Bayview Thriftway to explore their delectable themed displays. You are sure to walk away with a wonderful and tasty treat that your special someone will absolutely love!
Ralph's Thriftway
1908 East 4th Avenue, Olympia
360.357.8011
Open 24/7
Bayview Thriftway
516 4th Avenue West, Olympia
360.352.4897
Open daily: 6:00 a.m. to 10 p.m.
Sponsored