Tucked into a quiet street in Montesano is the Lemon Hill Café, a restaurant and bookstore that opened its doors in June 2022. A family-run business that feeds on tradition while feeding the bellies and minds of patrons, it was named for a lookout at the top of a hill in a Hawaiian neighborhood.
Sisters Jenn Skoglund, Heather Sande, Michelle Skoglund, and their mom Laura Skoglund created the shop inside a 100-year-old vacant building, investing all of their love for food and literature, and using their ability to bring people together.
What began as a catering company run by Jenn blossomed into Lemon Hill Café through willpower and a whole lot of elbow grease. When her career at Boat Street Kitchen & Bistro in Seattle ended due to the business closing in the midst of the pandemic, Jenn finally had the time to make her years-long dream of her own cafe or bakery, a reality. "Something warm and inviting that was full of interesting things, copper pots and old cookbooks," she shares. She found the space in Montesano and made the move down to Grays Harbor, where her sister Heather and her family have lived for years. Mom Laura moved from Tacoma to be closer to her grandchildren, and although Michelle is in Ocean Shores, the family works together as a team to build the business.
After choosing their location due to all the natural light pouring through the several windows, Jenn and her family had a lot of work to do to get the dilapidated building ready for a business. Water damage, gaping holes, and no working electricity might scare most buyers off, but these women and their families knew the spot was worth the work. Re-plastered ceilings, rebuilt window frames, new plumbing and wiring, a gutted bathroom, new floors, rebuilt fence and patio, and $1,200 worth of paint brought back to life an old worn-down lot. Filled with bookcases, cool tones, and beautiful wallpaper that was chosen at least eight years ago, according to Jenn, the Lemon Hill café is now full of warmth and comfort.
Lemon Hill Café's Chef Serves Up Inspired Dishes
Though not professionally trained, Jenn has been cooking since she was four years old. She was very lucky to have talented people along the way to learn from, she says. Perhaps the most important being her mom, Laura. "She's a wonderful cook on her own and had no qualms about me creating vast messes in her kitchen, wasting ingredients when I screwed something up, or letting me help with a recipe even though I probably made it more time consuming in the end," she adds. "She has also forever been my official taste tester."
Jenn's old boss from Boat Street Kitchen & Bistro, Susan Kaplan, taught her much of what she knows about French cuisine. "Yes, she did make me taste things like duck gizzards, caul fat, and goose liver, but I have forgiven her for that!" Jenn smiles.
Another big influence was Lynne Vea from Sur la Table in Kirkland, who told Jenn she, "Was too talented to just chop vegetables." Now Jenn does all the cooking, baking and menu creating for Lemon Hill Cafe, getting to share her love of food with those who walk through her doors.
Lemon Hill Café Menu and Offerings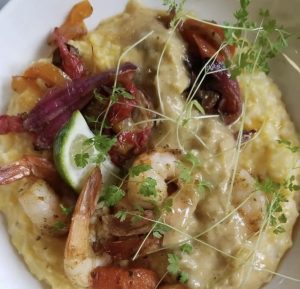 The Lemon Hill Café serves French cuisine—highlighting Moroccan, Creole, and Caribbean flavors—practices sustainability, and provides ethically-sourced ingredients. They offer a special goûter—light meal—menu for children under 18, catering and cakes to order too.
Although Jenn was initially worried her menu may not speak to the majority of the Montesano population, she has found community in a town that has flocked to support the new restaurant. Even before the café opened its doors, the people of Montesano stepped up. "Everyone in town have given us well wishes and expressed an interest in seeing us succeed," Jenn shares. "Coming from the big city, I am a bit jaded and expected everyone to be closed off and unwilling to share the secrets of their success with us, but have since learned that it's a welcoming community and they just want the best for everyone."
Besides the expansive collection of books to choose from and the regular menu, Lemon Hill also offers local candles and bath products by Spruce & Crow and Among the Wildflowers and cards made by local artists Nicole Wilder and Heli Ojamaa. Artisans, craftsmen, farmers, and authors should not hesitate to reach out to Lemon Hill Café to be a part of the team, either through email or in person
Future plans include a monthly cooking class and literary-themed farm table dinner as well as possible wine and book tastings or happy hour talks.
Visit the Lemon Hill Café website or  Instagram to keep up to date.
Lemon Hill Café
136 1st Street S, Montesano
360.582.6031