The Grays Harbor County Fair is coming up and it's a great place to learn about the many different 4-H projects that local kids, their parents, 4-H leaders and volunteers work hard on all year. For Emelia Conley, who rides horses and is part of the Country Pride 4-H Club in Grays Harbor, joining 4-H was in her blood.

"I grew up in 4-H!" shares Andrea Kochrian, Emelia's mother. "I loved being a part of a group who were able to learn together and have fun at the same time. Through 4-H, I have life-long friendships that mean the world to me, and wanted Em to be able to have the opportunity for the same as well."
Emelia, who is an incoming seventh grader at Hoquiam Middle School, has been riding horses for over 6 years, and has been part of the Country Pride 4-H club for 5. "I love horses and started out in the horseless horse project" explains Emelia. "I have been riding for over 6 years and like learning, showing and having fun with my horses."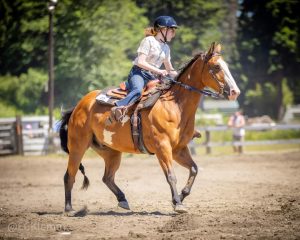 The horseless horse project in 4-H allows youth that love equines but don't have access to one, to learn all about training, breeds, management, grooming, animal health and safety, judging, good horsemanship and more.
Grays Harbor Fair 2022
Now Emelia has her own horse, two in fact. Gus, a 10-year-old paint that she is bringing to the Grays Harbor County Fair this year and Poppy, a 24-year-old Arabian. Now that she has her own mount, Emelia has been trying a little bit of everything when it comes to equestrian disciplines, another opportunity 4-H affords.
"We have been doing English and western performance and started doing gaming a little last year," she explains. "This year at the fair we will do those three and also try trail as well." English and western performance judge Emelia on her ability to execute a set pattern in the arena with Gus. Gaming includes timed events like barrel racing. For trail, Emelia and Gus will work together to maneuver a series of obstacles like a bridge, tarps, poles and gates.
Emelia says 4-H has taught her many things, including to better take care of her horses and how to be a better rider. She is excited for fair, but it's definitely work. "Trying to keep everything clean at the barn for herds," is her response when asked what's the most challenging part of County Fair. Herds, or herdsmanship, is an award an entire 4-H club can win by having the cleanest and best-run animal display at the County Fair. This includes timely feeding and watering of the animals, cleaning their pens and the walkways through the pens, as well as the clubs knowledge on their animal project.
Emelia is most looking forward to talking to people and letting them meet Gus. So, head to the Grays Harbor County Fair happening August 10-13 and be sure to look for Emelia in the horse barn. To learn more about 4-H, visit the Washington State University Extension website.