While most equate 4-H with animals or maybe things like fiber arts and growing vegetables, there is a 4-H club and program for just about anything you can imagine your child might be interested in. Including technology. Grace Smith, a 4-H member since 2018, is involved in the 4-H Techchangemakers program as well as the annual Grays Harbor County 4-H Camp. With a goal on a medical career, she has found 4-H to provide her with priceless experiences.


"I chose to be a part of the Techchangemakers Program because I loved the thought of getting to be involved in something medically-related to helping others become more successful in their everyday lives," Grace shares. "I want to go into the medical field for my career and this was a unique way to have an impact in my community and give me some experience in the field as well."
Grace is well on her way to her career goals. An incoming senior at Elma High School, she is also doing Running Start through Grays Harbor College and will graduate high school with an associate degree in biology. Her plan is to attend Western Washington University in the Fall of 2023 to get her bachelor's degree in behavioral neuroscience and a minor in communications.
Through Techchangermakers, Grace worked with a team of 4-Hers to put together presentations on various technologies that adults are often not up to speed on, including how to navigate the internet. "We presented these topics as classes each week to members coming out of Summit Pacific Medical Center's chemically dependent program to help transition them into modern technology," Grace explains.
"The past two years have shown us just how much of our world functions digitally and how important it is for adults to understand how to use technology to make their daily lives more functional," she continues. "Our goal was to make the daunting tasks of 'understanding technology' a simpler concept for those in our technology literacy classes and give them the skills to be successful online. This hopefully will help break down some of the equity issues in the medical field with the classes we did on telehealth and how to navigate that resource as well."
Grays Harbor 4-H Camp
Grace Smith is also involved in the Grays Harbor County 4-H camp, which happens annually in the summer. After being a camper, Grace knew she wanted to return as a counselor. "As a camper myself, the counselors make the week so special and it was always one of my favorite weeks of summer, so I wanted to give back to the next generation of our community and make their 4H Camp experience special too!" she shares.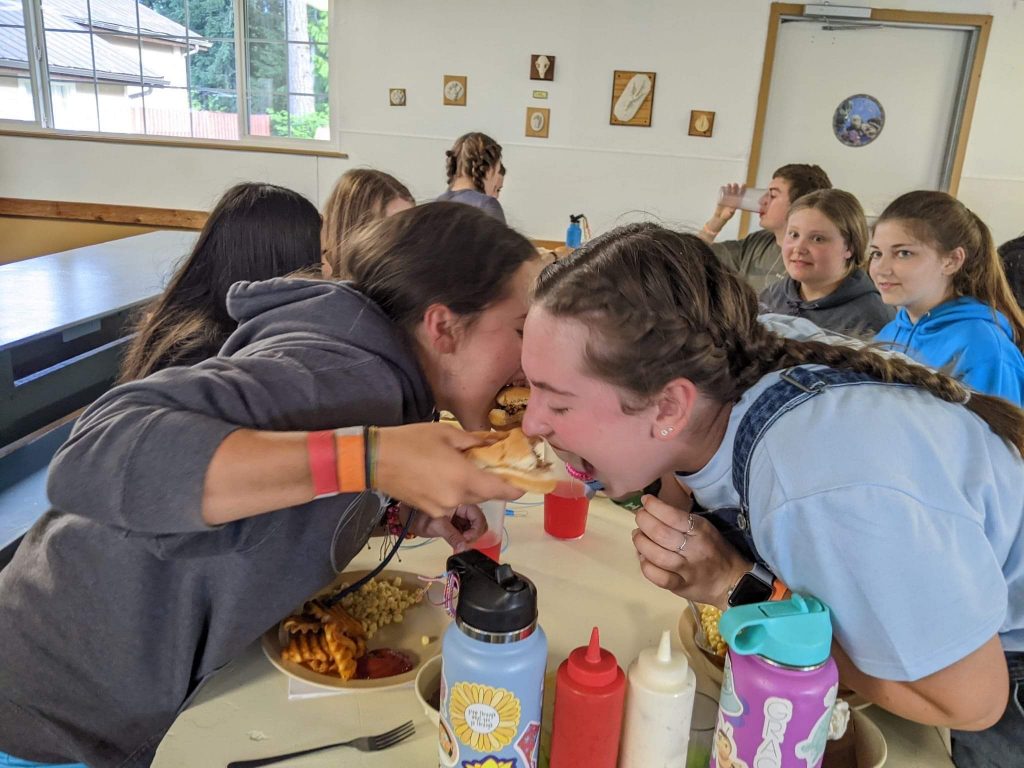 It takes a lot of work to plan a week of fun for that many kids. Grace and the other staff members have been meeting since January to organize and plan. Grace says they have also been teaching counselors the skills they need to be successful at camp. "We've gone over everything from how to help a homesick camper to how to tie a friendship bracelet," she explains. "I am beyond excited to be a counselor this year and make so many amazing memories!"
And of course, like all 4-Hers, Grace is excited for the Grays Harbor County Fair to be back in full swing. "I look forward to seeing all of our community together and supporting students in all the different projects they worked so hard on at this year's county fair. I am so thankful to grow up in a community that supports its youth so well and genuinely puts in the effort to help kids not just survive, but gives them a chance to thrive!
To learn more about Grays Harbor County 4-H, visit the Extension office website.