October is almost upon us, which means it's time for witches, orange pumpkins, black cats and lots of treats! It all starts with finding that perfect pumpkin for carving, painting or baking. Finish off your decorations with some corn stalks from a local farm and you are ready for trick-or-treats or a scary movie night. Getting your pumpkin from a farm is a lot of fun, because they also activities like corn mazes and games the whole family will enjoy. Here are the 2022 pumpkin patches in Grays Harbor.
Chapman Farms
Daily through October 31: 9 a.m. – 6 p.m.
239 Brady Loop Road, Brady
Chapman Farms is Gray Harbor's destination for all things pumpkin and fall this year! They have tons of fun in store for the whole family. Of course, you will want to pick out the perfect pumpkin, and they have all sorts – from those big orange ones perfect for carving to warty, ghost, mini and pie!
Once you've picked out those pumpkins, stay awhile! You'll want to try the new outdoor straw maze, a perfect event for the whole family, and it's free. If you're looking for other fall harvest picks, you've come to the right farm. Chapman Farms has acorn, sweat meat, butternut and Hubbard squash available and several varieties of you-pick and pre-picked corn, including white, yellow and bi-color. Go early in the season and you might just score the last of the summer's sunflowers too. Ever dried a sunflower? They look amazing in your fall wreaths and table displays!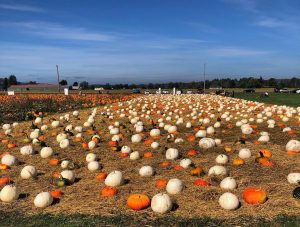 This year, live entertainment is returning with favorite Chris Guenther! He will be there every weekend for your enjoyment, playing country and americana. No tickets or extra fee to listen to Guenther! And as always, Chapman Farms has free admission.
Chapman Farms accepts Visa/Mastercard, WIC/senior checks and EBT snap. For more information, visit the Champman Farms Facebook page. Dogs on leash are welcome. Make sure you pick up after your dog and keep an eye on them while visiting the farm. If you do bring your dog, Chapman Farms loves it if you post on social and tag them!