Rodeos have existed since the 16th century and are much beloved throughout the Americas. Ever since horses and cattle were imported in the early 1500s, competitive competitions followed closely behind. Locally, after a three-year break for COVID-19, the Grays Harbor Mounted Posse Indoor Pro Rodeo is back. Head over to the Grays Harbor County Fairgrounds March 24-26 for all the trappings of a great, all ages, yee-haw weekend.
Northwest Pro Rodeo Association and Grays Harbor Mounted Posse Keep Rodeo Vibrant
The upcoming rodeo event is in its 27th year and active part of the Northwest Pro Rodeo Association (NPRA). The NRPA began in 1950 in Oregon then grew to include the entire Northwest by 1956. The largest regional rodeo organization in the Western United States, their current circuit of riders are working towards being able to compete at the Grays Harbor Mounted Posse Indoor Pro Rodeo.
The Posse's Marv Cole says that this year's event sounds like it's going to be pretty large. "People really missed it for the last three years," he says. The Fairgrounds has hosted a recent gaming series for equestrians, which met one weekend a month for the last four months, but this will be the triumphant return of the rodeo as a whole.
Grays Harbor Pro Rodeo: So Much More Than Just Cowboys
Rodeo and the western cowboy lifestyle are more than just horses, cows, tournaments and competitions. They're a way of life for many folks. With this in mind, the Posse organized vendors, music and food that will set up in the Fairgrounds Pavilion during the weekend's fun. There will be western-themed goods, saddlery, clothing and much more as well as tasty treats to keep the shine on your spurs. This year's vendor spaces are currently full, but email GHMountedPosse@outlook.com to learn more about joining them in 2024.
Also returning this year is a rather usual celebrity: famed rodeo clown JJ Harrison. "He started out at our place," recalls Cole, "then moved up the ladder. He's really good and interacts with the crowd really well." Harrison has spent time as a middle school science and social studies teacher but loves the wild and crazy energy of life as a rodeo clown. With a performance that's part silly, part acrobatic, part mayhem and part not-getting-gored, it's definitely not to be missed.
Saturday night after the rodeo will be a 21+ dance with live music by the fan-favorite Humptulips. Entry to the dance is included with ticket price and likely to sell out fast, says Cole. For those wanting to attend the dance without visiting the rodeo, there are occasionally extra tickets available for walk-in entry.
Welcoming Riders, Ropers and Bronc Busters to the Fair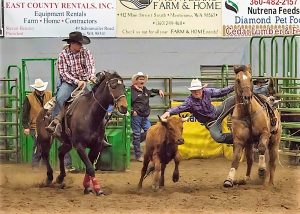 While competition riders are still finding their feet after the pandemic, Cole hopes their Indoor Pro Rodeo will rope in two series of bulls this year. When the Rodeo was bustling, it wasn't unusual to see three sessions. There are typically 10 plus riders signed up to brave these massive, athletic, unpredictable beasts.
They'll also be hosting bareback and saddle bronc riders, hearkening back to true Old West sporting days. In these categories, judges score both the bucking horse and the riders ability to control it. The Posse has increased prize money totals and final participants will be determined by NPRA points and standings.
Rodeo tickets will be available through the Fairgrounds office and participating sellers listed on posters around town. There's not an online or phone option on purpose, says Cole. "Selling tickets brings people into local stores," and that's the family spirit of the rodeo in action.
Friday and Sunday the rodeo will likely have a few walk-in spots available, but Saturday's big events often sell out well in advance. Full details will be posted on the Grays Harbor Mounted Posse Facebook page as they're finalized. There you'll find information about ticket vendors, any last-minute changes or additions to the Rodeo, and weekend highlights.
So dust off your boots and hat, wrangle into your old-school jeans, grab the family and head to a real blast-from-the-past at the Grays Harbor Mounted Posse's Indoor Pro Rodeo. Even first-timers will find it nostalgic and a slice of Americana that's older than our country itself.
Sponsored