Potatoes were a staple of early 20th century cuisine, eaten all day and in many ways. Grays Harbor history includes a lot of potatoes, including the increasingly popular Saratoga chips, now known as potato chips.

Growing Potatoes in Grays Harbor County
Washington is currently the second-top potato producing state, according to the Washington State Potato Commission. At the turn of the century, most produce in the region was grown locally. Many Grays Harbor County farmers planted potatoes. In April 1898, farmers from Wishkah Valley reported to the Aberdeen Herald that potato acreage had increased despite frosts. Humptulips reported harvesting 45 tons of potatoes in 1902, a record.
Big potatoes were big news and used to promote the region's bounty. In November 1896, to compete with big-potato "yarns" from upper parts of the county the Herald boasted of two American Wonder potatoes, measuring four-and-a-half-pounds each. Grown by John Stevenson at Aberdeen Gardens, both were nearly a foot long and sound to the core.
With potatoes so common, potato races were featured at Fourth of July events. In 1914, at the second annual Grays Harbor Splash in Aberdeen, Francis Thern took first place at the potato race and Ellen Polosik second. Montesano, billing itself as "the city that does nothing by halves," had their own potato races at their 1904 celebration.
Potato Chip History
Now readily available in a wide array of flavors at stores, the humble potato chip had a long journey to its current place of importance. According to legend, potato chips were invented by George Crum, a noted Black/Native American chef, at a popular resort in Saratoga, New York in 1853 after a customer complained that his fried potatoes were not crisp enough. While this did not happen, Crum popularized potato chips and they were commonly called "Saratoga chips" in early days.
At first potato chips were an exclusive food for the rich and only available at restaurants. Tiffany even sold a silver potato chip server! Gradually chips became more popular and affordable. Potato chips were typically sold in wax paper and locally made. Fried in lard, they spoiled easily.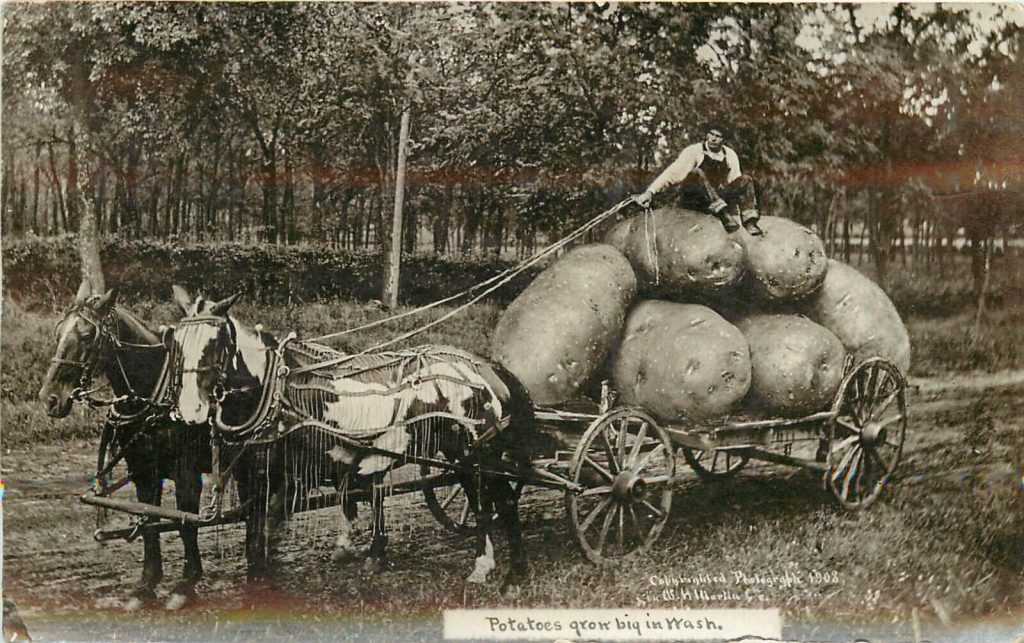 Grays Harbor Saratoga Chips
The earliest reference to Saratoga chips in the Aberdeen Herald was on May 4, 1893 in a recipe for a beef and bacon/ham stew. "Garnish this," they wrote, "with a hedge of potato chips." Another early reference was on February 21, 1901 in a recipe for fried smelts. Breaded and fried, the author recommended serving it with "sauce tartare and Saratoga chips."
Saratoga chips were on the menu when the Hoquiam Fire Department hosted the Aberdeen Fire Department at Hoquiam's Ancient Order of United Workmen Hall in April 1902. Their wives served Saratoga chips alongside clam chowder, sandwiches, cake, coffee, pretzels and beer.
Saratoga chips were also recommended items on party menus. An October 10, 1913 arti3cle for a front-porch "Watermelon Party" proposed serving Saratoga chips alongside watermelon cones, salmon a la Newberg with parsley, rolls and a watermelon cake that was a pink and white layer cake with black currants. Or, suggested a July 29, 1913 article, "a generous supply of potato chips" went perfectly with a Fourth of July "frolic" picnic luncheon of cold sliced ham dressed with parsley, potted chicken, deviled eggs, cantaloupes, sponge cake and mint paste.
Historical Potato Recipes
Saratoga chips were just the tip of the potato iceberg. Spuds could be eaten at every meal and were regularly mentioned in cooking advice columns from the Aberdeen Herald, such as Anna Thompson's "The Kitchen Cupboard." Sliced potato puff using leftover spuds with curried lamb for dinner, anyone?
Potatoes could be made into potato cake, chowder, nests, omelets, pancakes, rolls, rusks, salad, soup and French-fried potatoes. Mashed potatoes could be used to make corned beef hash or be mixed with turnips to thicken mashed turnips.
Other recipes for this versatile vegetable were more unusual, such as nut croquettes, which were balls of riced potatoes mixed with cream, stuffed with nuts, breaded and deep fried. Crumbled potatoes were made by coating strips of potatoes with breadcrumbs. These strips were fried, then baked and served on lace paper with parsley. Or mashed potatoes could be used to make potato doughnuts, as Nevada Briggs wrote for a KC Baking Powder ad in September 1, 1916, "Every housewife who bakes her own bread knows that if a little potato is added to the sponge, the bread will not dry out as quickly." And who wants dry doughnuts?
Versatile Vegetable
These advice columns also gave other uses for potatoes. Rubbing sliced raw potatoes could remove mud stains from clothes and glass bottles could be cleaned by mixing raw potato pieces and water and shaking the bottle. To clean rust off knives, a July 15, 1909 article recommended women "use wood ashes rubbed on a newly cut piece of Irish potato. This will remove spots when nothing else will."
Potato Legacy
In the 1930s national food companies edged out local and regional potato chip makers. Declared an "essential" food during World War II, potato chips were not rationed. Troops munched on chips even at the front. Flavored chips became popular in the 1950s.
While the ways Americans have eaten potatoes has changed over the years, this tasty vegetable remains a cornerstone of the national diet. Every year potatoes are celebrated on National Potato Day, August 19. From potato chips to French fries, the mighty spud still reigns supreme.