You don't have to be an expert kayaker to spend a day kayaking in Thurston County. Kayaking in Budd Bay from the launch at West Bay Park provides for an easy, all ages day of fun. Experience wildlife, incredible local restaurants and Instagram-worthy scenery, all while gliding through the calm waters of Budd Bay.
Exploring Budd Bay
Pacific Northwest kayakers know all the good spots to take in our natural beauty, and Budd Bay is one of them. Whether you are looking for a short, 45-minute tour, or a 4-hour journey, you will be treated to all the delights of the area.
With its shimmering waters, bordered by lush forests and rolling hills, the bay offers a visual feast that's unrivaled. As you paddle through its tranquil expanse, you'll be treated to inspiring vistas that include the majestic outline of the Olympic Mountains in the distance. Whether you're a seasoned kayaker or a novice adventurer, Budd Bay's calm waters and gentle currents make it an ideal location to embark on a kayaking journey that caters to all skill levels.
Look for seagulls, seals, eagles and other wildlife while you explore. October through July, but particularly in the spring, watch for whales including orcas and humpbacks as they stop off in Washington State on their migration.
Kayaking in Olympia at West Bay Park
West Bay Park is the perfect place to launch kayaks in Olympia. With the parking lot less than 30 yards to the put-in location, and just a slight decent, you'll be the water in no time.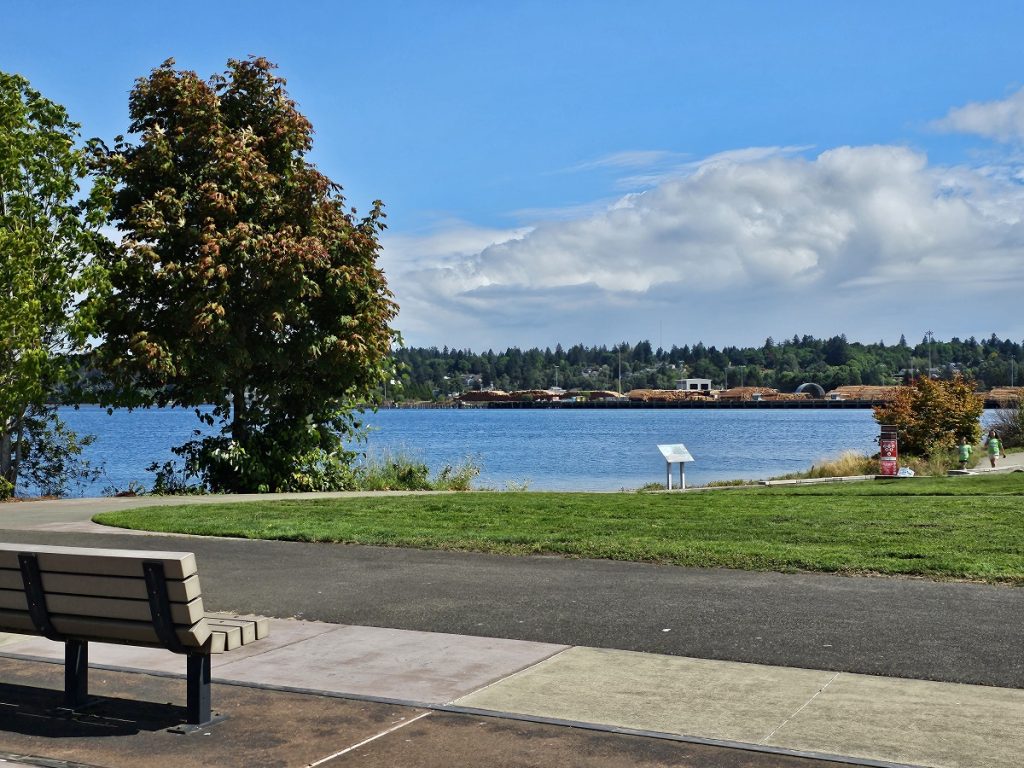 Local kayaker tip: check tide schedules and plan on arriving at high tide to put in. This keeps you in the sand and rocks rather than mud, making it much easier to launch. You also won't have to haul your kayak out a few more yards to reach the water.
Along with ample parking, West Bay Park has sandy can toilets, picnic tables and concrete, year-round walking paths.
Kayak Safety Tips
West Bay Park's launch point offers a safe and easily accessible entry into Budd Bay's waters. The calm nature of the bay, combined with the relatively sheltered conditions, provides an excellent environment for both beginners and experienced kayakers. As with any outdoor adventure, it's crucial to adhere to safety guidelines, including wearing proper personal flotation devices (PFDs) and being mindful of weather conditions before setting off.
Where to Eat in Budd Bay
There is nothing like getting a taste of local cuisine before, after or during your Olympia kayaking trip. As you paddle through the bay, consider making your way to iconic destinations such as the Olympia Oyster House (320 4th Avenue E, Olympia), Anthony's Hearthfire Grill (1675 Marine Drive NE, Olympia) or Tugboat Annies (2100 W Bay Drive NW, Olympia). These renowned eateries provide a unique experience where you can dock your kayak and indulge in the freshest oysters, seafood and locally sourced dishes while enjoying stunning waterfront views.
At Anthony's, try their wild Alaskan cod or barbecue garlic prawns. Olympia Oyster House favorites include oyster stew, OH Po Boys and Dungeness crab. Tugboat Annies offers a taste of classic Pacific Northwest cuisine, complete with seafood chowder and hearty comfort food. Not a seafood fan? Each restaurant has a variety of delicious options to please any palate.
Kayak Rentals Near Budd Bay
Need to rent a kayak? Just head to Tugboat Annies. Their Kayak Manual will teach you everything you need to know before, during and after launching. To set up your rental, just give Tugboat Annies a call at 360.943.1850.
Places to Stay Near Budd Bay
Making a weekend of your kayaking adventures? There are many fun, local places to stay that will give you a taste of the romantic history of the area, such as The Marie Bed & Breakfast and the Swantown Inn. If you are looking for more modern accommodations, check out the DoubleTree.
Experience Olympia via Kayak
Kayaking in Budd Bay, Olympia is a wonderful way to experience the Pacific Northwest and all its delights. From whales and seals to stunning landscapes and incredible restaurants with expansive, fresh seafood menus, it's all waiting for you via the calm waters of Budd Bay. Head to West Bay Park and have a South Puget Sound experience you won't soon forget.
For more information more about things to see and do in the Olympia area, please visit the Experience Olympia & Beyond website.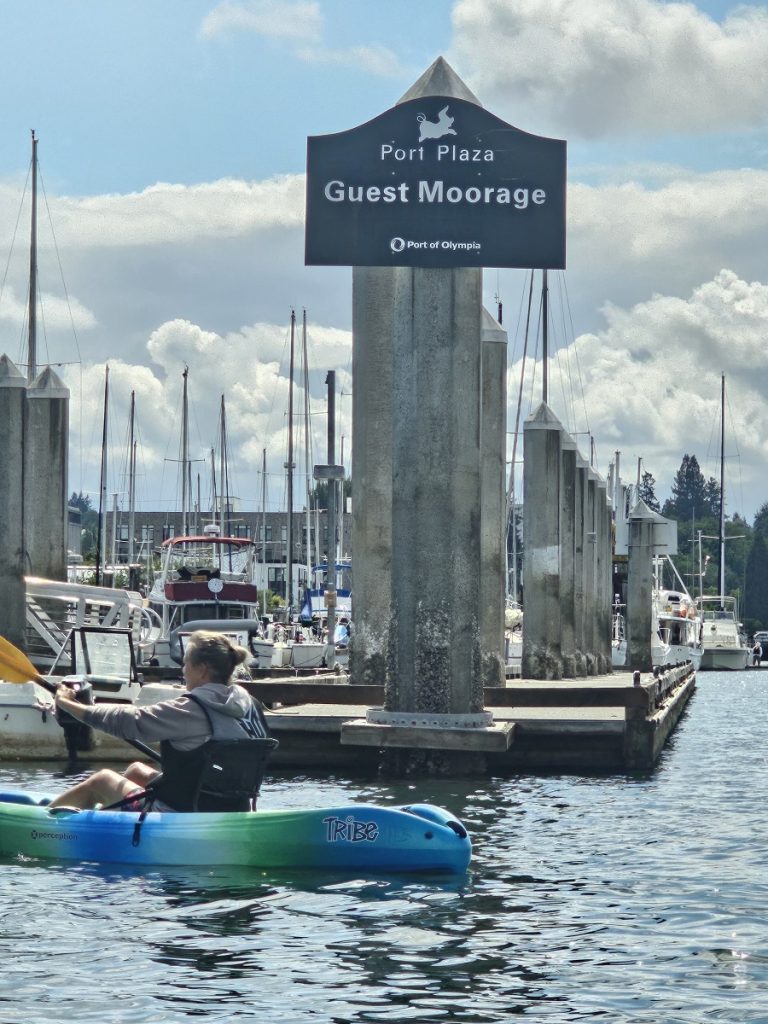 Sponsored