By Margo Greenman

I'm in my car driving west on highway 12. It's earlier than I'd like it to be, but the coffee in my Thermos keeps me caffeinated and awake. It's these early morning drives that make me wish I were a local.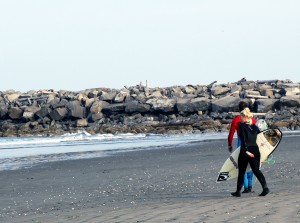 As I pass by the "Welcome to Aberdeen" sign my stomach jumps a little. I'm getting close, but I'm not there just yet. I wait until I've crossed over South Bay before letting myself get too excited. That's when I know I'm nearly there.
Passing by Brady's Oysters and other familiar shops and landmarks I finally make my way to the main drag. To my right stand inviting looking hotels and bed and breakfasts, to my left are several charming oceanside neighborhoods. As I drive deeper into town I pass by the Surf Shop and Steepwater (two local surf shops where you can buy or rent boards and wetsuits), a few of my favorite restaurants, and the popular and busy Westport Marina where fishermen, tourists and locals alike gather simultaneously for both work and play.
Eager to get to the beach, any stops I make in town will have to wait until later. I make my left for Westhaven State Park and notice a grin sneak onto my face. I've made it to Westport. I've made it to the surf.
All of Washington's coastal towns offer beautiful beaches and opportunities for adventure, but none provide a surf experience quite like the one you will find at Westport. On a good day, when it's really working, Westhaven State Park – or, "the jetty" – is packed with surfers of all skill level. From the beach you can watch surfers way out in the distance as they wait patiently for a good wave to roll in, or nearer to the shore you can hear the excited laughter of youngsters testing their balance alongside a local surf instructor.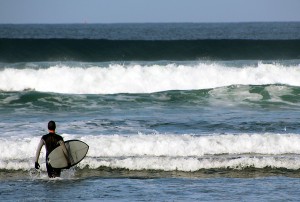 After parking my car and making sure that my Discover Pass is visible, I discreetly change into my wetsuit. You can fumble around like I do, using your car door and a towel to create a makeshift "changing room," or grab your suit and head to the newly renovated bathroom and shower area at the park which features several private stalls ideal for changing in.
Because it is an exceptionally sunny day in Westport I decide to leave my hood and gloves in the car, but am still sure to strap on my booties. Suited up and surfboard in hand, the moment I've been waiting for is finally here. Excited, I head toward the sandy path that leads down to the beach. About halfway down the path is a viewing area. From here I can see that it's going to be a great day of surfing. Although, I already knew that, having checked the surf forecast before leaving my house.
I continue down the path, half running, half trying not to drop my 7' 2" Gerry Lopez board, and slow to a stop just as I approach the water's edge, pausing to strap my leash to my ankle. It's time to jump in.
The water is icy cold but my wetsuit keeps me warm. Once I'm up to my thighs in ocean water, I lay down on my board and start paddling out. Waves come barreling at me, crashing over my head and pushing me back toward the beach. I catch my breath and continue to paddle.
After a few difficult minutes of rigorous paddling, I notice the waves stop crashing. The water is calm. I sit up on my board. Fellow surfers sit atop their boards next to me, peering out across the water, waiting. A good wave is visible in the distance. You can see the blue water rolling without ever breaking the surface. Surfers line up in position. Everyone wants to catch this one. I turn my board so that I'm pointed toward the beach. I start paddling hard, harder, until my arms feel like Jell-o. I feel the force of the wave as it pushes my board forward and my legs, like a reflex, spring upward into a steady stance. My body and the board move down the face of the wave, until everything slows down and I collapse into the white water. My head bobs up and I catch my breath, ready to do it all over again.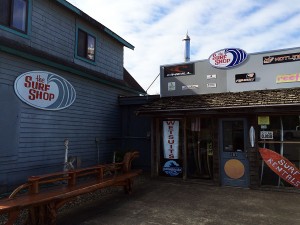 After a long session in the water I realize that my stomach is rumbling. A long day of surfing always builds up my appetite. After getting out of the water, rinsing off my board and wetsuit, and changing back into my street clothes, I head into town to grab a bite at one of my favorite Westport restaurants. Half Moon Bay Bar & Grill is great for happy hour (their fish tacos are delicious), the Mermaid Deli & Pub offers a huge menu of gourmet sandwiches and brews, and Bennett's Fish Shack boasts some of the best clam chowder around.
Exhausted and well fed it is now time to make the long drive back home and I again find myself wishing that I were a local. Until next time, Westport.