By Justin Damasiewicz
The Montesano High School girls soccer team has 10 freshmen and just one senior listed on its varsity roster. For some teams, that ratio may put them at a disadvantage. However, with a combination of talent, trust and teamwork, the Bulldogs' comparatively inexperienced squad has flourished this season.
The Bulldogs capped an undefeated regular season on Tuesday, October 28 with a 1-0 road victory over the Rochester Warriors. Montesano finished the regular season with a 14-0 record in Evergreen 2A/1A League play and a 16-0 mark overall. The Bulldogs allowed just four goals all season, one of them an own goal.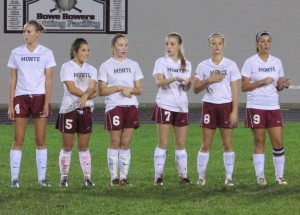 Montesano earned a first round bye in the 1A District 4 tournament and a spot in the state tournament by finishing as the league champions. On Thursday, November 6, the Bulldogs will play a district semifinal game at Kalama High School. The results of the district tournament will determine state tournament seeding.
Some of Montesano's key players on both ends of the pitch are in their first year of high school. Haylee Perkinson tends goal for the Bulldogs, and one of their top scorers, Samantha Stanfield, is a freshman as well.
Montesano's coaches and players agree that teamwork and unselfish play has helped this young Bulldogs team be successful.
"A team that gets along well together, and plays hard together, and practices well, and gets along together off the field, that's worth maybe a couple of wins a season," Montesano head coach Mike Malpass said. "They will work harder and play harder for each other. We don't have any individuals on this team. No real egos. It's always about the team and not any one person – a great group of kids"
"I think the best part of being with this defense is just working together and really getting to know each other," junior defender Jennifer Johnson said. "There are a lot of new girls with us, so we're getting to know each other and we work really well together. It's so important to us that we're such a close team and that we all care so much about each other. That's what makes a team, and that's what makes us work together well on the field."
"It's been a positive experience, but it's been scary at times, because you have to meet the level of play. But it's been exciting," freshman defender Morgan Kersker added.
A pair of freshman midfielders, Lauren Denholm and Hallie Stubb, agreed that the support of their teammates has helped them develop their skills this season.
"It's been good because all of the people around you help you when you make a mistake, and they help you learn how to do things right," Denholm said.
"Like Lauren said, everyone around you helps you and gives you compliments and tries to make you better," Stubb added.
"What I've seen is two teams, varsity and junior varsity, come together, players of different abilities and different levels," Malpass said. "A year or two between players is big at this age, so you can have players that are a little bit timid and as little bit concerned, but instead of having two teams it's like having one big squad. They practice a lot together. That's been great."
If you include the junior varsity roster, Montesano's freshmen and sophomores outnumber its juniors and seniors 21 to 8.
Despite their youth, many Bulldogs players have a lot of high-level soccer experience under their belts. Thanks to dedicated youth soccer coaches, such as 20-year-coach Todd Lindley, many of Montesano's players have benefited from quality instruction and deep playoff runs.
Stubb, who played for the Lindley coached state champion U-14 Montesano Renegades last year, said, "I think state really helped us out, because the intensity was just as high and players were on fire to get the ball, and that's just how high school is."
"For a successful high school program, you've got to have feeder programs," Malpass said. "I coach rec, U-9 and U-10 boys and girls. You've got a good grass roots set up with good coaches, like Todd and others, otherwise it stops."
"I thought it was really important, with Todd, that he played us at a select level (a higher level of competition in club soccer), because it helped us get ready for the intensity level of high school soccer," Johnson, who also played for Lindley before high school, added. "We were going up against really good teams that played like high school teams and that helped us get ready for high school soccer."
Malpass, who coached Montesano's boys soccer team last season, always knew that this Lady Bulldogs team had potential to do great things, but would not have predicted the level of success they have had.
"We've got a good group that is coachable and they listen," Malpass said of his new squad. "So for me, being a first year coach with the girls, it's been a great experience. At the beginning, would I have said we'd be undefeated at this point? Probably not, but they've deserved every win. It's not through any luck. They have exceeded my expectations, but am I totally surprised? No."