For Kyle Hurd, tempo is a big part of who he is and what he does.
First, there's the tempo he keeps as he's running on Aberdeen High School's cross-country team. Then there's the foot-tapping tempo he keeps as he's strumming his guitar or blowing his French horn for school and community bands.

And then there's the tempo he keeps to stay up with his full schedule, from runner, to musician to student. As a running start student at Grays Harbor College, Hurd is busy keeping up with his college classes.
"I don't watch a lot of TV," Hurd said prior to a recent practice.
Even with his busy schedule – his days begin with a 7:00 a.m. session with Aberdeen High School's jazz band and finishes with late afternoon cross country practices – this is one busy-bee (Bobcat?) that excels. In the classroom, he's carrying a 3.9 cumulative grade point average. Next June when he graduates from high school, he'll also graduate from Grays Harbor College with his AA degree. In cross country, Hurd will be shooting for his fourth straight trip to the state cross-country meet.
It's a busy mix of studies, music and sports.
"He's at a level mature wise he can handle it," said April Meissner, Aberdeen's track and cross country coach.
Meissner then added with a smile, "And at the next moment he meows the national anthem. Go figure."
She figures Hurd will get a college music scholarship.
"He's very musically talented," Meissner said. "He's talented in running, smart, sings, plays guitar. He does things sometimes for the school plays. He'll play in the orchestra pit. I think he can get a music scholarship."
When Hurd was in fifth grade, he made an important discovery. He found out that he liked and was good at running. He turned out for track the first time when he was just 11.
"I started doing it and I guess I was good at it," Hurd said. "It was really fun. All my coaches, especially Cheri Voss, always encouraged me. That's what set me into motion."
Hurd's success has come with a price. He's trained – hard. His summer workouts, which usually begin a week or two after the track season ends, consist of about 42 miles of running a week. He'll chug 12 miles on his long runs once a week and he'll do 6-mile runs five days a week. On his 6-mile jogs, he keeps about a 7:00-minute to 6:30-minute mile pace.
"It all depends," Hurd said. "When I try to do speed it gets hard after 5:30 mile pace. Even if you're in really good shape, it's hard to keep that pace. I try to switch it out. If I don't want to run at that speed, I'll go to a hill workout."
Hurd has been an encouraging example for his teammates – especially Daylin Barragan, a junior with ambitions of making it to state.
"Kyle's an amazing runner," Barragan said. "I love how he doesn't show off about it either."
Barragan's goal is simple – be Hurd's shadow as they run in practice and meets.
"My goal is not to let him out of my sight, not have him lap me, whenever we're running," Barragan said with a smile. "I always have him right there because I know I'm doing good if he's right there. He really does push me a lot and he's someone I really look up to when it comes to running."
Like Hurd, Barragan is a hard worker who's willing to do put in the miles during the off season.
"He was in my class two years in elementary and he was just an amazing kid," Meissner said.
Barragan couldn't turn out for cross country last year, but he still ran on his own.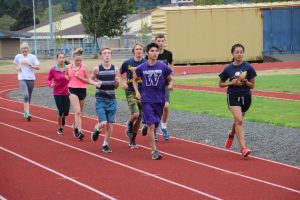 "He's very dedicated," Meissner said. "He wants to improve. He likes to run with Kyle, who kind of pushes him up the hills. He does a lot of tempo stuff with him. Daylin is happy to go on his shoulder and go."
For Barragan, running is his safety net, his release and rescue.
"It's the one sport that can really get you out of like anything," Barragan said. "You have problems in life and you start running and everything goes away. I'll always run."
For Meissner, who is in her third year as Aberdeen's head cross-county coach, running is filled with life lessons. It's about working hard and having a good time.
"What I found in cross country is that you preach having fun, working hard and that this is the place for you," said Meissner, who has also coached track 13 years. "It's a different sport because you're as good as you want to be."
She lets her runners set their own pace.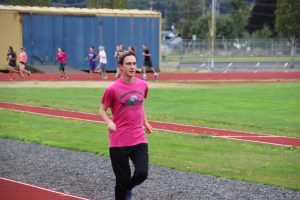 "When I send them out on a six-mile easy run if they want to walk the six miles okay," Meissner said. "If they want to go at it at a medium effort okay. But I always tell them whatever you do here it's going to reflect on what comes in the future."
At their next meet, if they want to walk when their parents, family and friends are in the stands watching, then okay, walk.
"I told them it's kind of up to them on how successful they're going to be," Meissner said.
She sets up a family atmosphere emphasizing having fun, which includes walking the beach after a meet in Seaside, Oregon. "I try to make it fun for them so it's like a real family atmosphere," Meissner said. She puts her runners in charge of pushing the accelerator. It's been a winning formula.