Every few years, when the conditions are perfect and all seems right with the world, the north coast of Grays Harbor becomes a mecca for birdwatchers from around the Pacific Northwest. Out along the sandy stretches of beach in Ocean Shores, snowy owls rest, hunt and relax a few feet from the breaking waves.

For residents and visitors to the area, the return of the owls is a social event, giving us a chance to come together and appreciate nature. Getting a glimpse at non-native creatures using our dunes as their seasonal home lets us reconnect with the migration spirit of the animal kingdom and gives us a chance to share these animals with our families.
Will the snowy owls return this winter and create fantastic memories? That depends.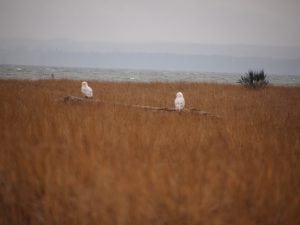 Damon Point is a 61-acre peninsula on the southern tip of Ocean Shores, Washington. Known for beach combing, kite flying and birding opportunities, the past decade and a half has seen an increase in visits from snowy owls. While the owls have been noticeably absent for the past few years, the winter of 2012-13 saw an invasion of these silent raptors, spoiling us with their presence. That winter, up to a dozen snowy owls were observed resting and gliding over the windswept dunes, capping off a run of nearly a full decade with snowy owl observations.
Hundreds of people came from around the state to watch these owls, forever solidifying a deeper appreciation for nature, wildlife and the awesomeness of our backyard. Owl watching and birding, thanks in part to snowy owls, has become a family tradition and a favorite outdoor adventure.
The odds of snowy owls returning for the winter of 2016-17 are better than the last few years with owls already being spotted on the southern end of Vancouver Island in British Columbia. Currently, large groups of owls are sitting east of the Canadian Rockies, but could leave any day if the weather and conditions are right. Cassy Suratos, a birding enthusiasts and a budding Pacific Northwest wildlife naturalist, has high hopes for the snowy owl's return to Grays Harbor in the winter of 2016-17. A resident of Tacoma, Cassy has made numerous trips to the coast each year, scanning for multiple bird species, including the often illusive snowy owl.
"Looking at weather and snowy owl observations from around North America, there is a chance Damon Point will be visited this year," explained Cassy. "There is nothing quite like seeing a snowy owl along the Washington Coast. Contrasting against the gray and browns of the beach, dunes and sky, the white of the snowy owl is brilliant, beautiful and a life changing event."
Snowy owls typically remain in their breeding grounds in the northern reaches of Canada, but every few years, some of them venture south, following the cool air and food sources. Predicting their migration patterns is difficult, since very little has been done to study and track the magnificent birds. For the past few years, Project Snow Storm has been tracking the owls and learning more than ever. They discovered that like us, some owls are home-bodies and rarely move a quarter-mile from where they were first tracked. Others roam across hundreds of miles in a few weeks, flying on non-stop adventures. Their data, which was posted in early 2016, showed that one owl flew across huge swaths of land and sea, covering over two thousand miles in a winter, while another from the same area barely moved from a territory of less than one square mile.
Since the owls occasionally travel south and one own has been recent spotted so near to us, birders around the region are cautiously optimistic that the owls will return to Ocean Shores. The owls currently in the western half of North America are active and roaming, meaning they could start pushing further south into our coastal communities. With the temperature dropping and lowland snow becoming more frequent this winter, we might just get lucky. While it has been a few years since they have been spotted in the region, many birders are feeling we are due for the return of the snowy owls.
"Damon Point, without a freeze in the last few years to kill off mice and other small rodents, would make for a great feast this year," replied Cassy, when asked if she thinks the owls will return. "We won't know until they do come back, but I know I will be looking for them every chance I get."
The best way to monitor the locations of snowy owls in Grays Harbor and around the country is to visit ebird.org. This website allows birders to update sightings and share the information with anyone interested. You can also make sure to keep checking in with our the GraysHarborTalk Facebook page to see if and when the snowy owls return. When they return, make sure you follow all the rules and regulations for proper bird watching to ensure that everyone can enjoy them, from a distance.