They call it the Eagles Wall of Fame, a tribute to Elma High School wrestlers who have placed at state in the school's rich wrestling history.

Large plaques with the wrestler's name and place at state cover the walls of the Eagles wrestling room. It's a shrine to every wrestler from Elma High School who accomplished that feat.
It's a tribute, a salute for a great achievement. For many, the plaques sing a song of triumph. But for Justin Sample, a junior on the Eagles' wrestling team, he hears another tune. He hears "your turn".
Sample is related to many of those honored on the Eagles Wall of Fame. He comes from a wrestling family. "Everybody wrestled," Sample says when asked who in his family wrestled. "On my mom's side and on my dad's side."
Wrestling is in Sample's genes. His uncles, cousins and his dad all wrestled at Elma. Tanner Sample, Justin's cousin, was a multiple placer at state and is now an assistant coach at Elma. Aaron Sample was a two-time state champ.
That tradition pushes Justin.
"They actually do help me out," Sample says. "It motivates me to be good."
Last season, Sample had the quest for his goal cut short, stripped away by an injury. About three weeks before regionals, Sample tore the meniscus in his knee. Not knowing the extent of his injury until after the season, Sample pushed through the pain, losing at regionals.
If he had a healthy knee, he can't help but think things would have turned out differently. But Sample doesn't like playing the what-if game. After having surgery last March, he's worked hard to prepare for this season.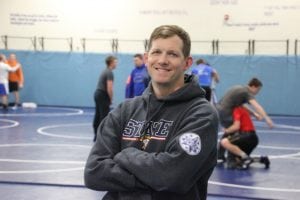 Sometimes an injury can knock the drive out of an athlete. But not Sample.
"He didn't let it get him down," said Adam Catterlin, Elma's head wrestling coach. "He came back really strong. He was just determined to make up for it. He's been doing all the right things."
Sample takes his role as team captain seriously. "He's just an outstanding individual," Catterlin said. "He's a born leader. Leads by example. He did everything in the off season."
He went to wrestling camps, conditioned and lifted weights. "He just worked really hard and set the example for everybody," Catterlin said.
At the Eagles' first tournament of the season, Sample showed some of that grit. In one match, he trailed 9-4 in the third period but rallied to tie the score 9-9, forcing an overtime. Sample then won by a pin and went on to win his 145-pound weight class.
"Sometimes athletes will kind of baby an injury and use it as a crutch or as an excuse," Catterlin said. "And he didn't do any of that. As soon as he could get to rehab and working out, he did. He was chomping at the bit."
Sample feels a responsibility to carry on the tradition for the Eagles and for his family. Wrestling has been a big part of his life growing up. He was just 6 when he started wrestling on a team. Now, he's 16, giving him 10 years of experience on the mat.
Now, the family names on the Eagles Wall of Fame aren't just a prod to push, to achieve. They serve as a reminder.
"Justin is just carrying on the family tradition," Catterlin said.
Catterlin knows something about that rich Eagle tradition. He's a proud Eagle himself, winning a state title his junior year at Elma and placing second as a senior before graduating in 1997. Today he is a fire fighter, but notes he was just 4 years old when he first stepped into the Eagles wrestling room.
"I'm also from a big wrestling family," Catterlin said. "My uncle has the first two state champion plaques on the wall."
After high school, Catterlin was an All-American for Highline Community College, placing fourth at nationals. He still continues to compete in MMA and jujitsu.
"Anything I can do to get on the mat," Catterlin said. "I keep doing it to inspire the kids."
To pass along that desire, to inspire young kids to get involved in wrestling, Catterlin and his high school wrestlers put on a clinic for grade school kids during the next two weeks, leading up to Christmas. After a two hour practice, Catterlin and his wrestlers work with the young kids, teaching them wrestling basics.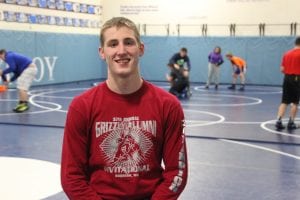 "It's part of the mentoring process," Catterlin said. "Just being good role models and good mentors for young kids. Also it gives them a chance to coach and see the other side of things. It's worked out for us in the past."
Besides the challenge of wrestling, Catterlin is also drawn by the lessons the sport teaches. It's about learning perseverance.
"Wrestling teaches you to get off your back," he said.
And to keep on trying.