In 2015 Lucinda and Craig Day Sr. chose a quaint house on Chenois Ave in Ocean Shores as their second home. They loved the quiet, beachy feel of their neighborhood and met many of their friendly neighbors while they were moving in. Living in Lynwood with their 14-year-old daughter Cassandra, Ocean Shores was a nice retreat from the city and they planned to visit often. And, if you pass by the Day home, peek into the corner of their yard. There sits a cheerful, lovingly crafted and stocked public Little Library.
Lucinda's father, Junior, was an avid reader and lover of books. Early on he instilled a joy of reading in her that she holds to this day. Always having a book around, Lucinda enjoys many types of literature from Reader's Digest condensed books to, one of her favorites, the Left Behind series by Tim La Haye and Jerry B Jenkins.  Her husband, Craig, shares in her passion for reading, keeping himself surrounded with many non-fiction reads such as books on woodworking, computers and anything "how to".
They fostered love of literature with their daughter Cassandra at a young age, reading to her and having her engaged with books even before she herself could read. She often went to bed with a book, not always knowing what the words in the book meant, but knowing that books were special. With that early nurturing, Cassandra began to read at a very young and her appetite for reading shows in her reading ability and comprehension. One of her favorites is the Harry Potter series. She read the latest offering, Harry Potter and the Cursed Child, in just one day. Cassandra began high school this year and still finds time to read voraciously between school work and her participation with the high school drill team
Craig is now retired. He led a very active life as an area manager for Fitz Auto Parts and several restaurants over the years. A few years ago, Craig was stricken with cancer. Throat cancer ravaged his larynx and forced removal of his voice box. He now uses a speech device to communicate. Through it all, his passion for books still comes through in any conversation.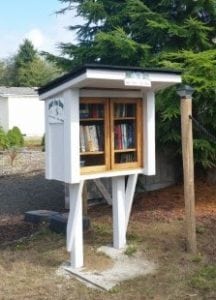 Another interest that Craig shared with Junior, Lucinda's father, was wood working and cabinetry. Junior passed away when Lucinda was just 20 years old. Sadly, he also was touched by cancer. Lung cancer took away her father far too soon, but the impressions he left behind are still being lived and honored. The family found comfort in reading during difficult times. For them reading can serve as an inspiration or a distraction. Reading could take you anywhere you want, they discovered. And sometimes away from where you are.
After settling in to their part time home in Ocean Shores, Craig, Lucinda and Cassandra found the perfect way to honor Lucinda's father and Cassandra's grandfather for sharing his love of books. They had seen "Little Libraries" in other communities and knew it was the right connection of cabinetry, woodworking and books that would be a perfect fit for their family. They set about getting the library ready with pieces they already had. While scouting Ocean Shores garage sales for books, they shared their story with a woman who was hosting a sale. She thought it was a unique way to honor someone and give back to the community that had welcomed their family as well. She donated around thirty books from her sale to their cause and the Day Little Library was launched.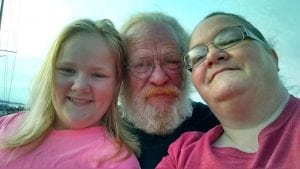 Cassandra helps choose books for the library and sometimes enjoys one of the selections for herself before sharing. Knowing that she read the Harry Potter book in a day, we're sure it won't be long before the book finds its way to the Little Library shelves. Friends and neighbors contribute to the collection as well which is now offering DVDs and other choices to enjoy. The community and neighborhood has embraced the Little Library and the Day family.
Craig, Lucinda and Cassandra found the perfect way to honor Junior. Not only did the Little Library embody his love of woodworking and books, but it inspired a sense of community and connected the Days to their neighbors. They hope to encourage others not only to read, but to get involved in their neighborhoods. To share what they love with each other, just like Junior did. And, while they might have been new to Ocean Shores in the beginning, the Days were quick to share their passions with the neighborhood and became a positive part of the community right away. And, so they give back. Even in the littlest of ways.