Elma High School girls' basketball coach Lisa Johnson faced several unknowns at the start of the season.
Not only did she need to replace three starters from last year's team, a group that came within one victory of advancing to the regional round of the state tournament. But she was also tasked with meshing a young group of Eagles together.

This year's Elma squad features four freshmen, three sophomores and three seniors.
"It's an interesting team make-up," Johnson said. "We have the seniors who have played a lot of basketball, the sophomores who are coming off their first-year in the program and then the freshmen who are new to all of this. We are basically trying to get three completely different groups who have never played together all on the same page."
Luckily for Johnson she does have a cure-all for the team.
Her name is Peyton Elliott.
"Peyton's started for us the last three years and has been a captain for two years," Johnson said. "She's pretty much played every position on the floor for us at one time during her career."
Point guard, wing, post, even center – Elliott has played them all and is equally comfortable in the paint as she is out on the perimeter.
"I don't really have a favorite position," Elliott admitted. "I just want to be out there on the court playing. It doesn't matter to me. Just put me in and I'll go with it. I'll play wherever they need me to play as long as I'm out there."
During previous seasons that usually meant Elliott, a second-team all-Evergreen League pick as a junior, was stationed down low, asked to provide the Eagles a strong inside presence.
"She's about 5-foot-7, but she doesn't play like it," Johnson said. "She thinks she's 5-10. She's our blue collar worker. You can put her anywhere on the court and you know she's going to give 100 percent no matter the situation."
It doesn't seem to matter the position or the sport to Elliott who excels athletically regardless of the season.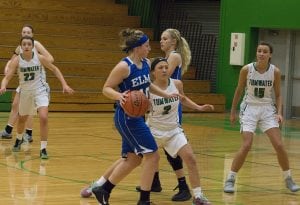 A three-year starter and first-team all-league catcher, Elliott helped the Eagles capture the Class 1A state fastpitch championship during her freshman year. This past soccer season she was a first-team all-league midfielder and led Elma to the state tournament.
She's hoping to complete the trifecta by guiding the Eagles back to the state basketball tournament for the first time since 2011.
"I'm confident she'd be successful in any sport," Johnson said. "She's had a huge impact on Elma athletics."
Averaging a team-best 12 points a game, Elliott has settled in nicely as the team's starting point guard this year, leaving the inside play to sophomores Molly Johnston (6-0) and Brooke Sutherby (5-11) and freshman Quin Mikel (5-11).
"I'm really competitive. So, I want to have the ball in my hands as much as possible," Elliott said. "It's a challenge because it has been a while since I last played point guard, but having three players who are all around six foot this year has made the transition (to point guard) a lot easier."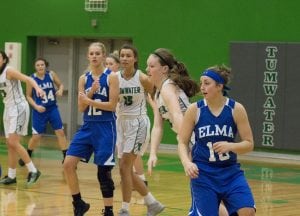 A tough non-league slate, which included games against 2A Tumwater, Fife and Centralia, and an appearance in the annual Seaside Holliday Classic Basketball Tournament in Seaside, Oregon, has proven to be extremely valuable for the young Eagles as they attempt to build team chemistry.
Elma finished third at the Seaside Classic, defeating Astoria of Oregon, 54-43, in the trophy round, getting a solid all-around performance from Elliott (10 points, seven rebounds) and big games out of youngsters Johnston (10 points, eight rebounds) and Kali Rambo, a freshman who paced all scorers with a game-high 14 points.
Ask Elliott what her fondest memory so far about Elma basketball is and she will talk about her sophomore season when the team struggled during the early portion of the year before they were able to piece everything together late and make a run in the district tournament.
With five regular season games remaining, Elliott is hoping a similar scenario plays out this year. The Eagles are currently second in the 1A Evergreen League with their only league loss coming to three-time defending champion Montesano (64-53).
Elliott scored a team-high 17 points against the Bulldogs, but Montesano's strong outside shooting was too much for the Eagles to overcome. The rematch is scheduled for January 26 at Montesano in a game that will likely decide the league championship.
"It's been a process. We had a rough start to the season," said Elliott, pointing out the Eagles lost four consecutive games after defeating Toledo (55-37) in the season opener. "We didn't really know what to expect this year because we had so many new players. It took some time, but we're starting to play together."