Growing up in Grayland the daughter of a retired restaurant owner has certainly inspired my fondness for cranberries, razor clams and cheesecake. For me, the fall brings thoughts of cranberry harvests and the razor clam season. And razor clam season means homemade clam chowder. As the weather cools, a big bowl of soup sounds delicious. So, I called a friend and we made a lunch date. If you are hankering for some chowder, Grays Harbor County has plenty of places to eat your fill.
Breakwater Seafood and Chowder House
Aberdeen's Breakwater Seafood and Chowder House is a classic restaurant and seafood market.  They are well known for their panko crusted fish-n-chips and clam chowder. It's my son's personal favorite. You can dine inside, outside or order take-out. The deck at Breakwater is a great place to sit outside, view the river and enjoy lunch with a friend. The chowder is filled with clams, potatoes, onions and other veggies all finely hand chopped with care. My palate enjoys the hints of pepper too.
Breakwater Seafood and Chowder House
306 S F St
Aberdeen, WA 98520
Monday-Sunday: 10:00 a.m.-7:00 p.m.
Ocean Crest Resort
At Moclips, Ocean Crest Resort rests amidst the trees high above the sandy shores of the Pacific Ocean. Inside the resort, guests often find refuge from what was once called the "chinook winds." The restaurant here serves Grandma's famous clam chowder, a Pacific Northwest tradition. It's presented steamy hot and is worthy of its fame. The day my friend and I stopped in for lunch our waitress was friendly, and she delivered the chowder and dessert quickly – I could not pass up the chance to have a crème brulee, I don't often find it on a menu.
After our lunch in the restaurant, we had time to explore.  Ascending the long wooden walkway to and from the beach was just the right amount of exercise after lunch. Travelers can stay for a few nights or just make it a day trip.
Ocean Crest Resort Restaurant
4651 WA-109
Moclips, WA 98562
Monday-Friday: 8:30 a.m.-8:00 p.m.
Saturday-Sunday: 8:30 a.m.-9:00 p.m.
Fishin Hole Family Restaurant
Montesano's Fishin Hole Family Restaurant is becoming one of my east county go-to places. It's located just a few miles from my house. They serve breakfast, lunch, and dinner seven days a week. The friendly staff keeps the restaurant clean and service is consistent. The chowder recipe is inspired by the owner's grandmother. The soup is packed full of clams, potatoes and just the slightest hint of veggies. It is served with oyster crackers. The creamy texture is a timeless delight.
If you are an avid angler, you will love the fishing décor throughout the restaurant. Look for the 89-pound King Salmon caught on the Kenai River by the owner Sonny Bridges Jr., on a fishing trip with his dad. It's hanging out in the "Gravel Bar." This is a great place to get together and share fishing stories with other avid sports fishermen and women. You can also watch the game here. I hear the strawberry waffles are a special treat too.
Fishin Hole Family Restaurant
103 Brumfield
Montesano, WA 98563
Monday-Thursday: 7:00 a.m.-8:30 a.m.
Friday: 7:00 a.m.-10:00 p.m.
Saturday: 6:30 a.m.-10:00 p.m.
Sunday: 6:30 a.m.-8:00 p.m.
Hearty Galley Restaurant
Hearty Galley Restaurant is an old-fashioned burger place that harkens back to the 1970s. For generations visitors and locals have come here on their lunch break, after charter fishing, beach walking, or strolling the dock area. Today, this family-owned restaurant is known for their hamburgers, milkshakes and delicious breakfasts. The chowder arrives in a fun "stormtrooper" themed bowl and the cola is served in vintage Pepsi/Looney Tunes drinking glasses. Jak's Habanero Hot Sauce, made fresh in Leavenworth, is offered with other condiments and is a satisfying addition to the chowder.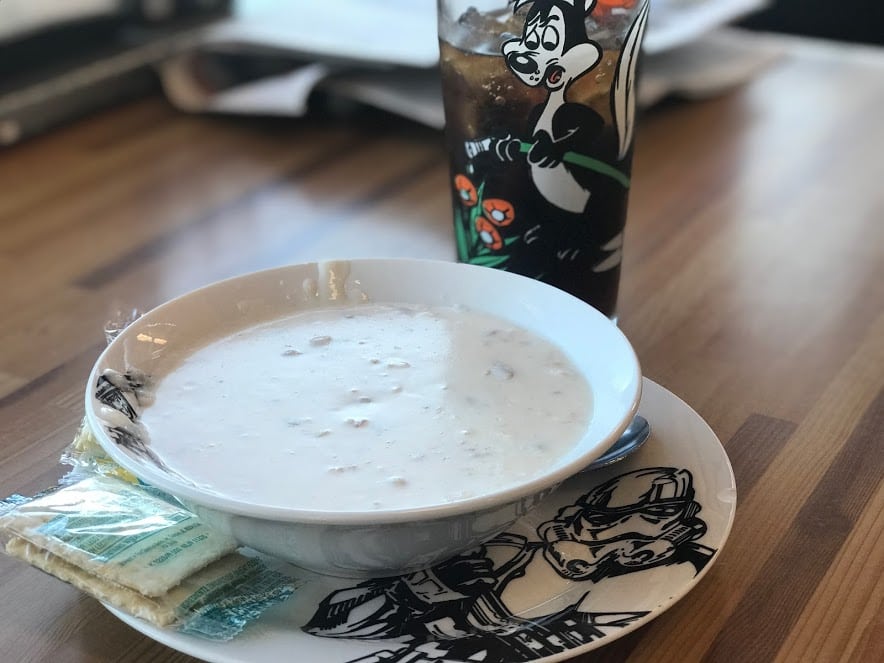 This classic in-and-out diner offers a fun and casual atmosphere. There is a collection of nostalgic Star Wars and Transformer themed toys on display, giving you something to look while you savor your chowder. They offer dine-in or carry out.
Hearty Galley Restaurant
2411 N Nyhus St.
Westport, WA 98595
Wednesday-Sunday: 7:00 a.m.-8:00 p.m.
Tuesday: 11:00 a.m.-8:00 p.m.