Being on the edge of the world has its advantages.  With the vast Pacific Ocean spanning as far as the eye can see, the Port of Grays Harbor on Washington's Pacific Coast is the closest US mainland port to the Pacific Rim. Since its inception in 1911 as the second port district formed in Washington State, the Port of Grays Harbor has established itself as a reliable economic engine for the local community. "We operate both like a business and as a public agency, our responsibility is to our stakeholders, the local taxpayers. We take this role very seriously," says Kayla Dunlap, Public Affairs Manager. Indeed, the port's mission statement makes it clear that the betterment of the region is the primary focus of their operations.
Once the leading exporter of logs on the entire West Coast, the Port of Grays Harbor now handles automobiles, over-high, over-wide equipment, liquid bulks, and dry bulks as well.  Diversification of cargoes has resulted in roughly 80 percent of the port's revenue generated by activity at its four deep-water marine terminals. It is of no surprise then that most of the port's activities revolve around the shipment of goods, particularly exports. This requires advanced infrastructure which is one of the port's strongest selling points. "The port leverages private investment in the region with its strategic arrangement of roads, rail, and docks," says Deputy Director Leonard Barnes.  "As a public port district, we rely on our public infrastructure and strategic location to attract partners that want to invest in our community, do business with our local businesses and employ our citizens for the long-term."
Private investment at the port has pumped hundreds of millions of dollars into the local economy and has helped generate thousands of jobs over the past decade or so. This trend is expected to continue as there are more pending projects in the pipeline which, if all come to fruition, would amount to over a billion dollars of total local investment.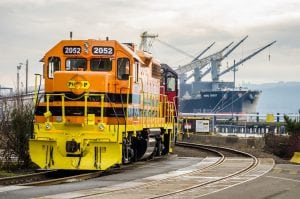 Pasha Automotive Services handles the shipment of automobiles and over-high, over-wide equipment through Terminal 4, where logs and other general cargo items are handled as well. Passersby will find it hard to miss their presence, as there are thousands of cars parked outside on any given day.  Pasha currently processes a wide range of import and export automobiles destined for both domestic and international markets. Pasha continues to pursue various import and export opportunities at their Port of Grays Harbor facility.
At Terminal 2, AGP, a grower owned cooperative based in the Midwest, exports a variety of dry bulks and is the number one exporter of soybean meal on the West Coast.  AGP broke ground on a processing facility in Aberdeen, South Dakota last spring.  The project is expected to come online in the fall of 2019 which could mean an increase in product handled at their Terminal 2 Storage and Export Facility.
Liquid bulk is handled at Terminal 1, where Contanda Terminals LLC and REG Grays Harbor operate. Contanda currently only handles methanol but they are looking to expand storage capacity to handle other liquid bulks. REG Grays Harbor operates a 100 million gallon per year biorefinery and is also looking at options for expanding adjacent to their existing facility.
Terminal 3 is the site of a proposed potash export facility. BHP is considering Terminal 3 as one of two final sites on the West Coast for a potash export facility that would unload and store potash transported by rail from the Jansen Mine in Saskatchewan, Canada, for shipment to international markets via oceangoing vessels.
Beyond the shipping operations at each marine terminal and the more than 75 full time longshore workers who handle the cargo shipments, a number of local business operations are also involved in the international trade that occurs at the Port.  Brusco Tug & Barge provides ship assist services for every vessel calling the Port.  Genesee & Wyoming's Puget Sound and Pacific Railroad crews deliver over 2 million metric tons of product to and from the terminals via rail.  Hundreds of truck drivers transport cargo from logs to autos to liquid bulks to and from the storage facilities.  Local vendors sell equipment and services that keep each of these operations running.  It becomes easy to see the wide spread regional economic benefit of being on the edge of the US Pacific Coast.
More than 100 vessels are expected to call the Port in both 2017 and 2018. These numbers reflect a staggering amount of growth over the last decade and the expansions planned and new development proposed for the future haven't been this optimistic in years.  "It is a very exciting time for Grays Harbor," said Barnes.  "What these international trade projects could mean for new local jobs, on top of increased longshore, rail and marine-side jobs, as well as the positive impacts for local schools and municipalities from the level of private investment is impressive."
While Grays Harbor continues to celebrate and benefit from its strong timber history, new hope and stability from diverse industries is reinvigorating a sense of purpose and establishing a new regional identity for generations to come. The Port of Grays Harbor gives us one of the most compelling reasons to be hopeful for the future of our region. It is a gateway to much more than the Olympic Peninsula, serving as a model for international trade and cooperation.
For more information, visit the Port of Grays Harbor website or call 360-533-9528.
Sponsored