After nearly 20 years practicing urology at the University of Southern California (USC) in Los Angeles, Dr. Charles Best returned to his family roots in Grays Harbor. Since 2016, Best has provided quality, full-service urology care through Grays Harbor Community Hospital (GHCH) in Aberdeen.
For years, Harbor residents had to travel to Olympia or further for urology services. That changed in 2010 with Dr. Reznicek. And when Best took over the practice a few years later, he expanded urology offerings even further, improving care for kidney stones, prostate resections and bladder problems. "We treat both men and women, managing the kidneys, the bladder and the prostate for all associated problems," explains Dr. Best.
Best works with a phenomenal staff, including Nurse Practitioner Marjorie Nuñez. The two worked together at USC for nine years, and Nuñez was thrilled join the staff in Aberdeen last summer. Generally, she sees most of the new patients and follow-ups, freeing up Best to handle the procedures.
"When it was just me, we had a four-month wait time, because I was seeing 25 patients a day," remembers Dr. Best. "Now, with Marjorie on board, it's a much shorter wait time. We're seeing more patients in the clinic, which is good, because we see patients from three counties."
When Should You Visit a Urologist?
A common misconception is that urology focuses primarily on prostate checks. While prostate exams are important, Dr. Best explains that they actually form a relatively small part of his practice. In fact, the clinic offers a full menu of services, including treatment for incontinence, cancers of the kidney, prostate and bladder, kidney stones, sexual dysfunction, testicular cancer and urinary tract reconstruction.
Common reasons to visit a urologist include:
Difficulties with urination
Blood in the urine
Recurrent urinary tract infections (UTIs)
Kidney stones
Incontinence
Cancer of the kidney, bladder, prostate or testicle
"A lot of people have difficulty urinating and just figure they are getting old," says Dr. Best. "It doesn't have to be that way. You don't have to wear diapers or pads all the time just because you leak when you cough."
In fact, in addition to surgical options and medications, Dr. Best also offers in-office Botox treatments for urinary incontinence. While most people think of Botox as a cosmetic treatment for wrinkles, it is also highly effective in treating problems with overactive bladders. "Our experience is that 90 percent of our patients with overactive bladders have gotten better with Botox," reports Dr. Best. Most of these patients no longer need medication or are able to reduce to a low dose medication on top of the Botox. About half of the patients only require a single procedure. Others will repeat the procedure every six months.
State-of-the-Art Treatment for Kidney Stones and Prostate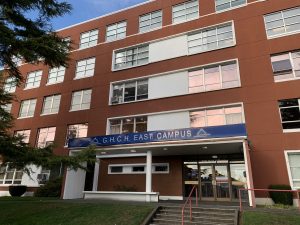 In addition to bladder treatments, Dr. Best also brought advanced treatment options for large kidney stones and prostate resections. Before his arrival, the clinic could treat small kidney stones, but patients with larger stones needed to travel to Olympia or beyond. Now, Dr. Best can treat even the large stones endoscopically, with a tiny camera inserted through the patient's back.
Similarly, improved treatment for BPH, or enlarged prostate, gives patients a higher success rate than older treatments. The procedure, known as bipolar transurethral resection of the prostate (TURP) means less hospital stay, reduced risk of bleeding and faster recovery. Instead of the two-day hospital stay common previously, now patients can generally expect to return home in just 12 hours.
Cancer Care
Every year in the United States, approximately 130,000 adults are diagnosed with cancer of the kidney or bladder. In addition, 174,000 men are diagnosed with prostate or testicular cancer. Cancer patients in the Grays Harbor area can find all of their oncology care right here at home, with the exception of the cancer surgery itself. "We do the evaluation and diagnosis here," explains Dr. Best. "I also do surgery follow-up, as well as immunotherapy, bladder tumor resections and androgen suppression for prostate cancer. And I share patients with the local oncologist and radiology."
No Need to be Miserable
If you suffer from urinary difficulties or pain, sexual dysfunction or prostate problems, there is no need to resign yourself to enduring through the discomfort or embarrassment. Lots of water solves many problems, says Dr. Best. And for those problems that require more intervention, Dr. Best and his Urology staff are ready to help.
Sponsored