In some imbibing circles, a wine snob is somewhat a pejorative term. But when it comes to the term beer snob, and more colloquially a "beer geek," it is a sobriquet worn as a badge of honor with beer drinker chutzpah!

Such distinction can be noted at the Ocean Pours Taproom (OPT), a newer member of the Ocean Shores business community with a tongue-in-cheek play on its hometown namesake.
Since its arrival in December 2018, Ocean Pours Taproom has garnered a rapid attention and is a destination for beer geeks near and far.
This dynamic is immediately apparent as one enters the diminutive building on Ocean Shores Boulevard amidst the surrounding hotel and motel landscape. The taproom is orderly, but with an inviting pub atmosphere countering the modern and higher tech accoutrements.
All of this is brought to the forefront by the staff under the guidance of general manager and co-owner, Chris Shifman, along with Randy Gardner.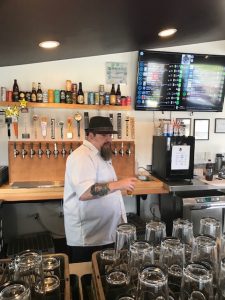 Shifman's expertise anchors the microbrew character of the place as he is Cicerone Certified. Where the wine world has sommeliers or wine stewards, the beer world has the cicerone (sis-uh-rohn). Commanding respect among brewski devotees, the moniker designates hospitality professionals with proven experience in selecting, acquiring, and serving today's wide range of beers.
Shifman and Gardner's decision to jump into bringing about a true-to-fact taproom to Ocean Shores came about through much product consumption while chewing the fat.
That fun and enticing research brought about a big payoff.
On opening day, December 14, local and regional customers awarded OPT with enthusiastic support requiring 269 pints served! The taps have been flowing ever since and OPT has increased their satisfied and growing customer base with added features and service amenities through a unique business model.
A select wine list, food menu available to OPT customers prepared and delivered by the local restaurant Double Barrel BBQ, and a beer garden area capable of handling larger groups during clement weather are all now in the offering.
It is OPT's technical aspects available to all customers that might send a tingle of delight to those beer geeks for a deep dive into the taproom's gravitas. No pun intended tipping towards a beer's specific gravity measurement.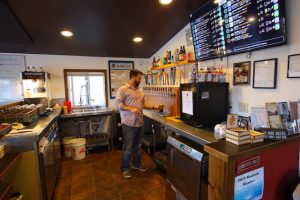 The technical center point is the DigitalPour menu board and public face mounted on the wall behind the service counter. Its colorful line-up lists 16 available brews all from different sources, dominated by Pacific Northwest crafters. DigitalPour's company claim includes that it: updates your point of sale, website, sends out a tweet, updates your Facebook app and the digital dashboard with Cloud Hosted Service for remote access.
"Although we've had out of state beers, there are plenty of brewers in the local area. DigitalPour's located in Portland, too," Shifman said.
He went on to say what benefits that system gives to the front of the house are only part of what it offers behind the scenes, including ongoing keg monitoring and inventory control as well as quick problem resolutions by the company if needed,
The monitor invites the viewer to explore the multifaceted characteristics of each beer on tap. The display features each beverage's name, style, brewer, location and, most interesting to the beer geek, alcohol by volume (ABV) and International Bitterness Units (IBU).
Furthering the customer's decision making, one can determine the glassware used, price, even beverage's color.
There are interesting icons indicating real-time keg levels as "Just Tapped" and "Taping Soon," and so much more, all bound together with the elastic band of interactive social media.
It had always been the intention of both Shifman and Gardner for "community" being the operative word in the outpost's business philosophy.
"We're just not coming in here to open a brick and mortar," Shifman said. "We're not insulated at all."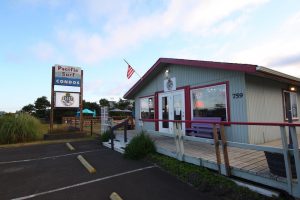 He spoke of the taproom's openness for community input addressing what the area people and businesses might want to bring into the business from party events to food inclusion or any other suggestion.
Already they have been conducting monthly promotions through selected star-marked beer taps letting the buyer know a portion of the taps' revenues will be contributed to local nonprofits.
Asked about any future growth, Shifman said the beer garden is an ongoing project they want to get taken care of first. It has grown into a large outside area bordered by its lighted fence, with plenty of picnic tables and convenient outside relief stations.
In addition, they are now considering a site for another taproom and have been investigating options for that in Grays Harbor County along with a mentioning for bringing together a beer festival under their auspice next year.
Anchored permanently in Ocean Shores, gratitude goes out to Chris Shipman, Randy Gardner, and their staff for establishing this welcoming and enlightened business in our midst.
For more information, visit Ocean Pours Taproom's website.