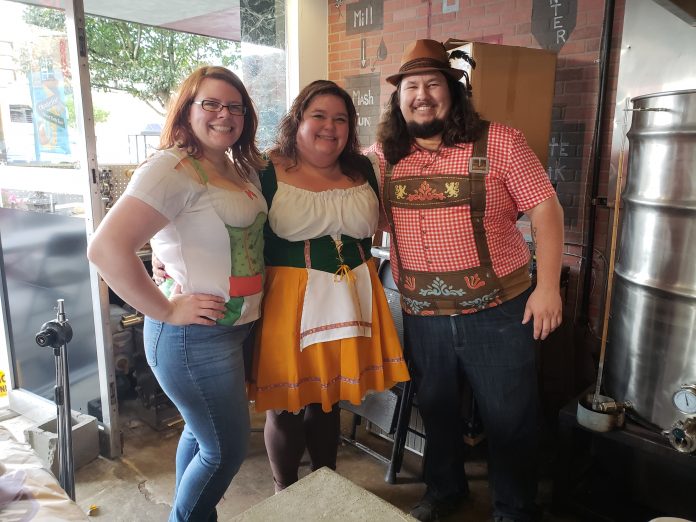 Even though school is starting back up and the weather is turning colder, you still have something to look forward to each year: Oktoberfest! You don't have to be German to enjoy all that Oktoberfest has to offer. Originally a celebration of the marriage of the Crown Prince of Germany in 1810, it's become an annual celebration mid-September through the first Sunday in October. This year, the official dates are September 21 through October 6. Although the Saron Lutheran First Presbyterian Church in Hoquiam will not be holding their Oktoberfest this year, you can still get your fill of German food at two other big Oktoberfests in Aberdeen that bookmark the beginning and end of the celebration.
3rd Wurst Party Ever
September 21: 12:00 p.m. – 10:00 p.m.
Steam Donkey Brewing
101 E Wishkah Street, Aberdeen
Kick off the beginning of the 2019 Oktoberfest in Aberdeen with Steam Donkey Brewing's 3rd Wurst Party Ever. They will have live music throughout the day. There will be games, including the popular Hammer-Schlagen. Hammer-Schlagen is a type of nail driving competition that has its own set of specific rules, including how high the swing can be and what happens if the nail bends. It's a lively event that you are sure to love, whether you just watch or participate! Oktoberfest in Aberdeen wouldn't be complete without stein hoisting or a King and Queen of the keg either, and Steam Donkey is providing both.
They will also be releasing a new festbier for the event, with the Mayor Aberdeen, Erik Larson, pouring the first pour at 12:00 p.m. There will be giveaways throughout the day. Dog Master's will be attending the 3rd Wurst Party Ever, to provide you with amazing German and Bavarian-themed dogs including brats, 'kraut and more.
Admission is free and Oktoberfest is family friendly, open to all ages.
St. Mary's School Oktoberfest Holiday Bazaar
October 4: 5:00 p.m. – 8:00 p.m.
October 5: 9:00 a.m. – 2:00 p.m.
St. Mary's Parrish
306 E Third Street, Aberdeen
To celebrate the end of 2019 Oktoberfest, head to St. Mary's School's Oktoberfest and Holiday Bazaar. The event starts on October 4 with a bratwurst and sauerkraut dinner at the St. Mary's Parrish located at 306 E Third Street in Aberdeen. Live entertainment this year will be provided by Tiffany Maki.
On Saturday, Oktoberfest in Aberdeen kicks off with a student singing performance at 9:00 a.m., followed by the opening of their Kids Karnival at 10:00 a.m. Activities including classic games like dart toss and even a doughnut eating contest. There will be face painting, cotton candy, bouncy houses, train rides and more. Don't miss the family BINGO and the pumpkin slingshot, which is always a kid favorite. Who can shoot a pumpkin the furthest? Find out at the St. Mary School's Oktoberfest!
Eat your fill at the bake sale and at the Bavarian Kaffehaus with gourmet desserts and coffee. Great Bites Café will be selling hearty food. Shop the many hand-crafted vendors and get your holiday gift list checked off early!
The Oktoberfest ends with drawings for their grand prize raffles. The prizes this year's  grand raffle are: a Lake Quinault Lodge Getaway, a $500 gift certificate for Mchugh's Furniture, a $500 gift certificate for 5 Star Dealerships, and a $150 certificate for Grays Harbor Unders with a 32″ Smart TV. If you want a chance to be entered in the raffle please see a St. Mary's student or stop by St. Mary's School.
In the past they have had special guests such as the Aberdeen Fire Department, Aberdeen Police Department, and the Aberdeen High School Goldenaires. Please come and visit to see what special guests will be at Oktoberfest this year. There may also be a special adult surprise this year, but it's in the works and so they cannot share details. Check the St. Mary's School Facebook page for updated information.