By Justin Damasiewicz

Annika Eisele's life is quite a bit different from the life of an average 11-year-old. Her schedule regularly features long car rides, tough competition, almost daily practices and lots of hard work.
With the help of her parents, Chris and Anne Eisele, Annika makes the trip from Aberdeen to the Evergreen Swim Club in Olympia for swim practice five or six days each week. In addition, once or twice each month Annika travels around Washington State to compete in swim meets.
In March, Annika will travel to Federal Way to compete in the Pacific Northwest Swimming (PNS) Region Championships for the second time, where she will go up against swimmers from seven different states (Washington, Idaho, Oregon, Montana, Wyoming, Hawaii and Alaska). In 2013, Annika competed in the annual event for the first time and finished eighth in both the 50 yard and 100 yard butterfly, her two favorite events.
In December, Annika competed in the PNS Championship Qualifiers, and her times in the 50 yard and 100 yard butterfly were in the top 100 in the nation for her age group.
Despite her busy schedule, the Stevens Elementary School sixth-grader does not view swimming as a chore. Instead, she has adapted her routine to accommodate her dedication to her favorite sport.
"Since we have such a long car ride up to Olympia, I've really gotten used to doing my homework on the way up there, coming home (after practice), finishing my homework and going to bed," Annika said. "It's easy because I've gotten into a routine. It's different from what I usually did before, but I'm not just sitting around at home doing nothing. I have something to do."
"I like swimming. I talk about it all the time. A lot of my friends come from swimming. What I like most about swimming is getting to compete against my friends, hanging out with my friends at practice and getting to know new people," she explains.  "I have a lot of friends from Oregon and Idaho. It's a lot of fun meeting new people at the meets."
Annika exchanges email addresses and phone numbers with her long-distance friends in order to stay in touch.
"It's a lot of fun to see her meet kids from north of Seattle, Everett, Eastern Washington," Chris said. "They always see each other at these bigger meets and they stay in contact."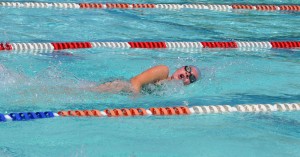 "They really root each other on," Anne added. "You get to the bigger meets not because of how you place, but because of your time. They want to compete against each other, but they just push each other to go harder. It's really cool to see how they root for each other."
Annika started swimming at the YMCA of Grays Harbor when she was five years old. When she was ten , she met some kids at a meet who were members of the Evergreen Swim Club. Annika was impressed by how well the club members performed and decided to join.
"The Y built her foundation of swimming," Anne said. "She needed more competition, so the club was her next move, but the Y was where she really developed her love for swimming. It was very positive and amazing. While the YMCA was a really good positive start, the Evergreen Swim Club in Olympia definitely has molded her and we owe a lot to them."
Annika still swims at the Y on days where her various swimming activities do not take her out of town.
Part of Annika's training also includes lessons with two-time Olympic gold medalist Megan Quann Jendrick and her husband, Nathan. In addition to her private lessons, Annika has gone to five swimming camps led by Quann Jendrick. Chris and Anne both feel that these lessons have been very beneficial for Annika.
When asked what she would say to other kids who are interested in swimming, Annika offered advice that shows wisdom beyond her years.
"The most important thing is probably to listen to your coach, work really hard in practice and try your best in everything," she noted.
Annika's dream is to someday compete in the Olympics. If her dedication to swimming and love for competition has any bearing on the outcome, this inspiring youngster will compete at the highest level someday.
Any young athlete would benefit from following Annika's example and believing her words, "No dream is too big."