By Justin Damasiewicz

In August, four bands will take the stage at the Grays Harbor County Fair in Elma. Country musician Thomas Rhett headlines the group that also features, Humptulips, a local country band, The Atomic Punks, a Van Halen cover band, and Cody Beebe and the Crooks, an alternative country rock band.
Fair manager Mike Bruner and events coordinator Rod Easton are responsible for putting together the entertainment lineup for the event. Both Bruner and Easton are very pleased with the variety of performers they have assembled this year.
"We take a lot of pride in the entertainers that we bring to our community," Bruner said. "The Grays Harbor County Fair is one of the bigger things that happens in Grays Harbor and we want to bring something really cool and good for our community. We work really hard on it and it's one of the bigger decisions we make to pick out the best possible entertainment lineup that we can with the limited money we have to spend."
Rhett will be the first musician to take the Pepsi Stage on Wednesday, August 6 at 8:00 p.m. According to Easton, Rhett has had five number one songs since late 2013. Rhett was Bruner and Easton's first choice and they have been working on getting him booked since shortly after last year's fair.
With the help of a Nashville based talent buyer called Romeo Entertainment, Bruner and Easton were able to book Rhett for about half of what he will be paid for other shows later this year. Their strategy is to use the Billboard music charts and "Hot Picks" to identify rising stars and book them early, before increased demand inflates their rate.
This strategy has helped the Grays Harbor County Fair book big stars on a limited budget, such as: Tim McGraw, Toby Keith, Kelly Pickler, Dierks Bentley, Clint Black and David Nail.
On Thursday, August 7, Cody Beebe and the Crooks will bring its alternative country rock sound to the Pepsi Stage at 8:00 p.m. The Seattle based band, which plays a mix of original songs and covers, will be touring the Northwest for much of the summer. Cody Beebe, the band's front man, has ties to Grays Harbor. Some of his close relatives live in Ocean Shores.
Humptulips, the only local band in the lineup, is no stranger to the Pepsi Stage. In fact, the band played at the fair last year. They will perform on Friday night at 8:00 p.m.
"County fairs have a comfort to them. There's something down home and quintessentially 'American' about them and the Grays Harbor fair is a summer highlight here," Humptulips lead guitar player Don Stone said.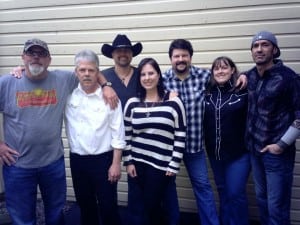 "The setting is great, the atmosphere is always fun and exciting, and we feel like we're getting to play for our extended family and friends," added Stone.  "Last year was a great experience and we're hoping to make this year's show better than ever.  We're looking forward to seeing everyone there – and to the elephant ears, pulled pork, and deep fried Oreos."
"The Grays Harbor County Fair is such a staple in the lives of so many Harborites, as well as those who travel specifically to be a part of the festivities," Humptulips band manager Ashley Greninger said. "For me personally, the county fair always provides that warm fuzzy nostalgia.  From the exhibits, vendors, and animals, to the food, games, and rides, friends and families are making memories that they'll be able to look back on for years to come.   Humptulips having the opportunity to play the main stage Friday evening is extremely exciting!  Seeing the crowd interact with the band, whether they're singing along, dancing in front of the stage, or toe tapping from their seat, it's always fun to watch and be a part of."
"Humptulips is not a risk. They have a great following and they'll bring a crowd," Bruner said. "They're talented, they're popular and they're going to draw people. Humptulips is a good, entertaining local band and they will bring people in the gates, which is our main goal."
Bruner went on to explain that although Cody Beebe and the Crooks have a great sound that people will enjoy and are more well known regionally, Humptulips is likely to draw a bigger crowd because of their local appeal.
Humptulips has a loyal following in Grays Harbor and Pacific Counties, but has also had some success outside of the area. In May, they won the Battle of the Bands at the Ponderosa Lounge in Portland, Oregon. The win has led to other opportunities for the band in the Portland area.
The Atomic Punks will bat clean-up in the entertainment lineup. The Van Halen tribute band will perform after the car races are done on Saturday, August 9 at approximately 8:00 p.m. The Los Angeles based band won the L.A. Music Awards Tribute Band of the Year Award in 2012 and is the only tribute band officially endorsed by Van Halen.
The Grays Harbor County Fair runs from Wednesday, August 6 through Sunday, August 10.