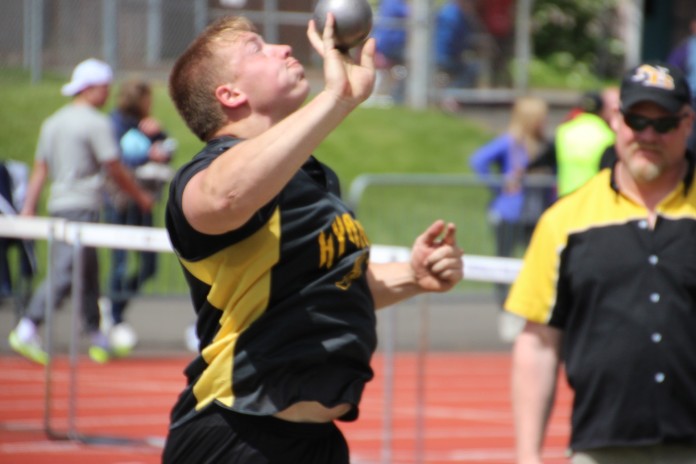 By Gail Wood

Robert Frost, America's renowned poet, once wrote about the road not taken, about choosing between paths and regretting not being able to follow both.
Caleb Bridge has avoided that troubling quandary. He's taken both paths.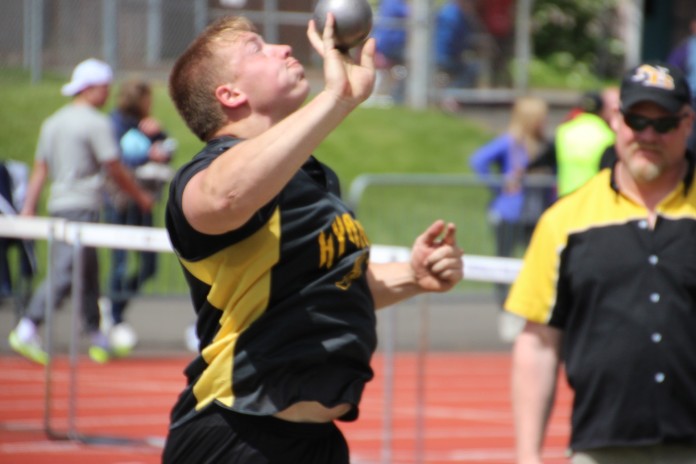 In the classroom, Caleb, a senior at North Beach High School, is a 4.0-student, last getting a "B" in elementary school. In athletics, Caleb, who is 6-foot-4 and 270 pounds, was a two-way, all-state selection in football as a lineman. In two recent back-to-back track meets, Caleb broke a handful of records, including his school and meet records in the shot put and discus.
He's a brainiac who is athletic, a true definition of a student-athlete.
"My parents definitely taught me how important grades are," Caleb said. "They instilled the work ethic into me. It's always been my goal to be a 4.0 student."
His parents never had to say, Caleb turn the TV off and do your homework. "We don't have TV," Caleb said. "We just never got it."
Typically, an all-state, all-league, record-breaking athlete is focused on his sport. That commitment often eclipses the classroom. Not for Caleb, who is on the National Honor Society and is his school's ASB vice president.
And as Caleb has gone down the paths of academics and athletics, excelling at both, he's been following another goal, another dream. Since he was 9, he's dreamed of being a pilot. In eighth grade he wrote a paper for school about his ambition of being a pilot. He's taken another step down that path and reaching that dream by accepting a football scholarship to the Air Force Academy.
"Pretty much as long as I can remember, I've wanted to fly," said Caleb, whose favorite subjects are math, science and contemporary world problems. "I've always been fascinated by planes and always wanted to be a pilot."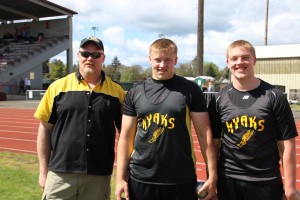 He'll one day fly cargo planes for the Air Force, fulfilling a nine-year commitment to the military after attending the academy.
"Caleb is just a focused kid," said Todd Bridge, Caleb's dad. "He said at the age of 9 that he was going to fly planes. I figured it was a pipe dream. I figured he was going to be a big guy. He wasn't going to fit in the cockpit. He found out that in the cargo class planes they fly he'll be just fine."
Caleb's balance between academics and athletics is the result of hard work and genetics. His grandfather, Steve Bridge, played football at Central Washington University and his dad was an offensive lineman at the University of Washington in the early 1990s. His mom was an A-student at Hoquiam High School.
"Athleticism runs in my side of the family," said Todd, who is North Beach's head football coach and also the throwers coach for the track team. "My wife was a candidate for salutatorian at Hoquiam when she was in high school, so the academic portion comes from her."
Caleb recently had a day he and his dad will always treasure. At the Ray Ryan Memorial track meet, Caleb popped a throw of 54 feet, 4 ½ inches in the shot put, breaking a school and meet record that stood for 59 years. Aberdeen's Ted Bruener threw 52.2 in 1956 and nobody has thrown farther in that meet until Caleb did on his second attempt. Caleb then threw the discus 181.3, a personal best by 10 feet to break another meet and school record.
Caleb's younger brother, Seth, placed second in the discus that sunny day.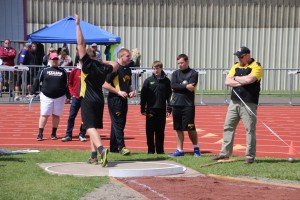 Two days earlier at Napavine, Caleb broke meet and school records in both throws, only to break them again on that Saturday. Todd, who is Caleb's throwing coach, figured his son had broken 11 meet and school records in the two meets. And there to celebrate the moment was Caleb's great grandfather, Gene Bridge.
"I'm not making this up. It was his birthday," Todd said. "He's 88 and 70 years ago on Saturday he was at Iwo Jima with the Navy merchant marines."
Gene got a special birthday gift that day.
"He was watching his grandsons take first and second in the discus," Todd said. "It's a day I'll never forget."
Three years ago when Caleb was a freshman, he and his dad, knowing his son wanted to be a pilot, drove to the Air Force Academy to check the school out.
"We spent the afternoon at the academy and we met one of their graduate assistants," Todd said. "Mind you he was 15 at the time. As he got out of the car, he holds himself and stands with his shoulders back. The guy looked at him and says you're going to be a cadet. You have the look."
That visit helped put Caleb on the Air Force Academy's radar. Coming from a small 2B school, Caleb was overlooked by major college recruits for football.
Caleb, who has lettered in football, basketball and track since his freshman year to earn 11 varsity letters, didn't just learn how to make a tackle, or shoot a jump shot or throw a discus by turning out for sports. He says he leaned about some life skills.
"I've built camaraderie with my teammates," Caleb said. "I've learned how to push myself and how to adapt to stressful or unexpected situations. These are definitely things that are going to help me out later on in life."
And he's learned how to travel down two paths, succeeding in both.