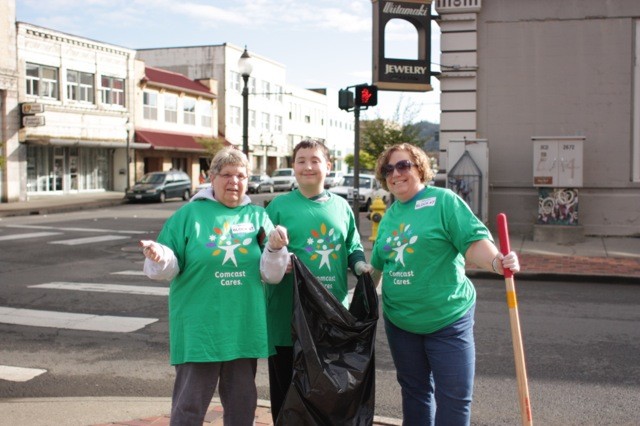 By Chelsea Royer
Downtown Aberdeen is fairly quiet at 8:00 a.m. on any given Saturday. But on Saturday, April 25, orange cones blocked off street intersections. People of all ages milled about the City Hall building, some holding signs and wearing visibility jackets and others wearing green t-shirts that read "Comcast Cares" on the back.
Many participants, often with family members in tow, have been a part of this volunteer effort since it began 14 years ago. Comcast Cares Day is an annual event that takes place at hundreds of locations throughout the United States and Europe. The Grays Harbor chapter has completed multiple projects at various locations since it began, with the latest being a beautification and cleanup event held in downtown Aberdeen.
Split into teams with "Block Captains," the large crew of volunteers spanned 16 downtown blocks to clean up trash, pull weeds, and plant flowers. The workforce consisted of Comcast employees, members of community groups, and caring individuals excited for the opportunity to serve.
Bob Lippert, the Comcast employee at the head of this event explains, "For this event, we are working in conjunction with the Aberdeen Revitalization Group as well as the City of Aberdeen to complete a beautification project. Volunteers are participating in cleaning, sweeping, and beautification projects. They are scrubbing decorative pots and replanting them with flowers, putting up hanging baskets, and doing overall work on the sidewalks and areas in the downtown core. This is where Comcast internal employees step forward to add to the community and give back."
Many small children were decked out in work gloves and ready to help. This annual event has become a family tradition for many Comcast employees.
Kim Gherna, as an example, has been with Comcast for 22 years and has been volunteering all 14 years the event has taken place. Kim brought her daughter, Glory, with her and together they were able to get twice the amount of work done. "It's great to take part in an activity with coworkers and others in the community to make Grays Harbor a better place to live and work," says Kim. "My daughter does anything Comcast that I do – I think it is important for her to make her city a better place."
Past projects for the Comcast volunteers have included home and yard work in conjunction with the local Habitat for Humanity, building a playset for the Children's Advocacy Center and helping make repairs at the YMCA of Grays Harbor's Camp Bishop, amongst many others. Lippert's favorite project thus far has been the playset for the Advocacy Center. "I loved the result of the overall project along with what we did for the kids at advocacy center – seeing the faces of the little kids when they went out to discover what'd we'd built was awesome. It's the heart of what we do," says Lippert.
Stacie Barnum, Assistant Director of Aberdeen Parks and Recreation has been anticipating this event for some time. To her, the cleanup project is more than just making the downtown look more attractive, it's a part of attracting visitors and customers into the local businesses and promoting the town as a place where people can stop, shop, and stay awhile.
"I'm hoping this helps build community pride in downtown and prompts the business owners to feel like the community and city cares about what happens downtown," explains Barnum.
"Hopefully it will inspire some out of town building owners to paint their buildings or put up new signs and be a part of the improvement downtown. I want those who pass through our town to think we care about our community and to see Aberdeen as a place they'd like to stop and visit. I don't expect to change the world, but it's a way to do our part and it's going to jump-start what we are trying to accomplish this year," expresses Stacie.
The cheerful crew in downtown spread out quickly once commissioned. Volunteers Bette Worth and Bobby McCracken were two of the project igniters, donating time, resources, and ideas to the event. Other local businesses, such as Pizza Hut and Starbucks, donated food to the hungry volunteers.
The multifaceted efforts and input from individuals and businesses made for a successful, energetic, community-building activity.
More than clean streets and flowers, the bonding of a day of volunteering was exactly what Aberdeen needed.
This slideshow requires JavaScript.