By Grant Clark
Gene Stanley hasn't missed a Washington State Senior Games competition yet.
The Aberdeen resident has been present for all 19 of the Olympic-style multiple-sport event, the largest of its kind in the state.
He just hasn't been a competitor in all of them.
"I missed the first one. I was afraid. I went and watched them to see if I was able to compete with everyone," the 88-year-old Stanley said with a chuckle. "That was a cowardly way to do it, but I told myself that I'm only going to compete in this if I can hold my own."
Stanley hasn't been absent for a Washington Senior Games since.
Like the previous 17 years, Stanley could be found participating in both track and field and swimming events.
The games are annually held in different locations around the South Sound. Stanley was at Tumwater High School on July 26 to compete in the standing long jump and high jump before heading over to the Briggs Community branch of the South Sound YMCA in Olympia on July 27 to participate in his true passion – swimming.
"I have re-built knees and re-built shoulders and I can do this effortlessly," Stanley said about being in the water. "I'm not a speed demon. I'm pretty much in cruise control. I don't set any records, but I do really enjoy it."
A graduate of Aberdeen High School, Stanley initially withdrew from the sport of swimming a couple years prior to the high school's hiring of legendary coach John "Bus" Fairbairn in 1944. The two, however, would eventually cross paths later in life, which would have a large impact on Stanley's swimming career.
"When I was in high school, swimming in P.E., I never got passed intermediate," Stanley said. "I never made it to the advance level. I was a little bit disappointed. In my mind I should have been moved up. It would have been good for my ego. So, I had to go out and develop my own ego."
That meant exiting the pool.
A lengthy hiatus followed and Stanley figured his aquatic days were behind him. That is until 1959.
"I was a late bloomer going back to college," said Stanley, a retired teacher who taught in Auburn and McCleary. "I went to the University of Puget Sound and they had a swimming meet amongst the sororities and the rooming houses, and our house won. I anchored the winning relay that won the meet for us. That's when I decided that this felt good."
Since that triumph, Stanley hasn't left the water.
It was Fairbairn, who guided Aberdeen to the state boys swimming championships in 1948 and 1949, and would later be inducted into the Washington State Coaches Hall of Fame in 1986, who inspired Stanley to get into the coaching side of the sport.
"He was teaching a swimming course I was at and he came up to me after and said, 'You surprised me how well you did.' I ended up being an assistant for Bus for eight or ten years," Stanley said. "He coached an evening swimming program sponsored by the Red Cross. Bus was notorious for being a tough bird, but he was so smart and sharp. He was just a fantastic coach. It was a tremendous experience."
Stanley has been a regular at the Grays Harbor YMCA for a number of years now, usually swimming five days a week. This past Christmas he heard rumblings of a 100-mile club. His interest was immediately peaked.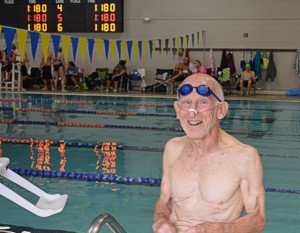 The goal is to reach 100 total miles, which adds up to about 3,300 laps, before the end of the calendar year, a date Stanley should have no trouble meeting.
"I have 84.5 out of the 100," a grinning Stanley said. "I figured I would make it by Labor Day when I started, but it looks like I'll make it before then."
He competed in five swimming events at this year's Washington Senior Games – the 25-yard backstroke, 25-yard breaststroke, 50-yard freestyle, 50-yard breaststroke and 100-yard backstroke.
"You love to win, but I can say I came in first and last in virtually every event because no one else is foolish enough to be swimming in my age group," Stanley joked. "That's pretty much the truth, too. Happily, I've seen people that were far superior swimmers than me that don't come anymore."
Stanley doesn't anticipate slowing down any time soon. He just wishes he hadn't missed the inaugural Washington Senior Games.
"I enjoy it immensely," Stanley said. "It's just a delightful bunch of people. Everyone is encouraging and pleasant."