For some people the term "Ah, go fly a kite!" is more than a brush-off line from a 1930's Little Rascals movie—it's an actual call to the art of kite flying at the beach. Consistent winds on the Grays Harbor coast beckon all levels of flying aficionados year-round with any number of kite designs.
On blustery weekends, the western Ocean Shores sky is festooned with these wind floaters. From single string fabrications to their multiline sophisticates, from traditional four-corner tailed kites to modern behemoths, they share the oceanside vista in aerial dance.
Of the many flying experiences available, kitesurfing, stands out for its physicality and adventurous style.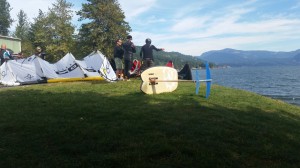 Kitesurfing is a water-surface sport mixing the skills of other aquatic endeavors including wakeboarding, windsurfing, paragliding, and even terra firma gymnastics into one awesome extreme sport.
Kite flying itself has an ancient, fable-laden history and propelling objects using a kite system can be traced back into the nineteenth century. Kitesurfing itself began in 1977 with Gijsbertus Adrianus, a Dane awarded the first kitesurfing patent who can be considered its originator.
Independent worldwide research and efforts to further the idea of kitesurfing entered a modern era in 1994 when a Boeing aerodynamicist, Bill Roeseler, patented then manufactured the "Kite Ski." The system utilized a 2-line delta style kite powering the water ski with a bar mounted winch/break mechanism. Then French brothers Bruno and Dominique Legaignoux added the preformed inflatable kite design with wingtip bridle giving way to the bow kite.
A bi-directional kite board was born out of trial and error via other water sport boards in 1999, completing the assembly and antecedent for today's gear.
Kitesurfing course-racing events flourished internationally as its adherents multiplied. The International Olympic Committee sanctioned the sport, including it in the 2016 Olympics in Rio de Janeiro, Brazil.
On the southeastern end of the Ocean Shores peninsula is a cove formed by Damon Point extending out into Grays Harbor and the western land reach of the Oyhut Wildlife Recreation Area that has found favor with the kitesurfing community.
With its dependable northeast, east, and east-southeast winds, word spread to practitioners here and abroad..
Great for experienced surfers, it is where novices, too, have a safer place to learn kiting skills since mid to low tides expose potential hazards such as rocks, logs, and remnants of the North Jetty.
Kitesurfers watch for weather forecasts with southerly wind projections of 15 to 25 mph or better common at Damon Point. Its geographical position also produces smaller waves when a reported large ocean swell wraps into Grays Harbor.
When it comes to the topic of kite flying and gear, Andy Sias is the local expert on the subject. According to Sias, owner of Ocean Shores Kites, kitesurfing is to land-based kiting as the automobile is to the motorcycle: both vehicles but different in so many ways.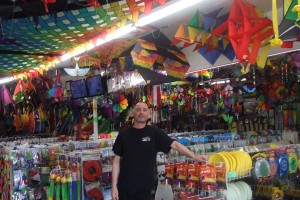 "I've had related equipment such as boards, kites. Gear, of course, we can repair that type of equipment. That's kind of where we would fall in. A guy that's out here flying he breaks a 500-pound line, here we are. I don't sell the $1,500 surf kite. We've got a few smaller ones. Things to get you started, get you trained if that's where your interest lies," Andy said.
"If you've already flown a 2-line kite then the next step is to go to a real 3-line surf type of experience and that we'll call a surf trainer, especially if its water launch capable. If you're a pro surfer, we're not your store," he said.
What's the cost of a basic kitesurfing kit? Andy listed kite, board, bar and rigging would run between $2,000 and $2,500, depending on kite size.
With Damon Point's popularity, kitesurfing can usually be observed on any given weekend.
If there is a personality to look to as a consummate enthusiast it is Aberdeen businessman Dennis Crowley, owner of Crowley Marine, who has posted videos of himself kitesurfing,
"I began kitesurfing on my 57th birthday. I am 61 now. So this is my 4th year," Crowley said. "I have surfed since 1973 and it looked too fun to pass up."
"Damon Point is a great place to kitesurf with most wind conditions except northerly. The ocean side is the option for that wind direction. Wind direction is important for safety because if something goes wrong, you can self-rescue by using the kite as a sail to get back to shore," Dennis said.
"Final note," Crowley advises newcomers, "modern equipment features are much safer now, so invest in newer equipment and take a couple lessons to learn safety procedures. Warning, it's addictive."