Paige Folkers' high school basketball career was all of five minutes old when it happened.
First game, freshman year.
She had sprained her knee before – nothing major, just being an athlete. There's a difference between hurt and injured. Hurt is expected when physical play is introduced. "Tape up or shut up," she would routinely say.

But this time she knew immediately it was different.
Folkers' love for the sport of basketball was superseded by very few things. Family being one of them.
Interestingly, it was through her family that her passion for basketball was sparked. By the time her freshman year rolled around that ember had grown into a four-alarm fire.
Paige's mom, Shayne, was a Reynvaan. The roots of the Reynvaan family tree run deep into the history of Hoquiam High School sports – particularly basketball as a fair share of school record holders sport that last name.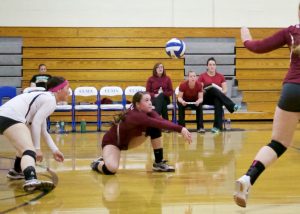 "It's kind of the Reynvaan thing," Folkers said about the sport. "Basketball was everything to me."
Sure, she played other sports – volleyball and fastpitch – but each took a back seat to basketball. When she entered Hoquiam High School, her goal was to add to her family's rich legacy, and perhaps play collegiately after her Grizzly career was over.
Life took a different path.
Before the end of the first quarter of her first ever high school basketball game she suffered her first knee injury – completely blowing out her left knee, costing her plenty of tears, some from the pain, but most from the fact she would have to miss the entire season.
"When they asked me to turn in my jersey," Folkers said, "that was actually the toughest part of it. The knee injury was incredibly painful. This probably hurt more."
Surgery followed, then she basically had to learn to walk again. Through it all she remained positive.
The injury also forced her to miss the following fastpitch season, but she was fully healed to play volleyball at the start of her sophomore year – except she wasn't.
Her initial knee surgery wasn't 100-percent successful. She played the entire volleyball season in discomfort with the occasional spike of pain occurring more frequently as the season wore on.
Once the volleyball season concluded, a second surgery to her left knee took place – this time repairing the damage the first surgery failed to correct.
Folkers ended up with two surgeries, a year a part on the same knee all before her she reached the mid-way point of her sophomore year. It was asking a lot out of anyone, and once again, it meant no basketball. Not even the brief 5-minute cup of coffee she received as a freshman.
Still, she remained positive.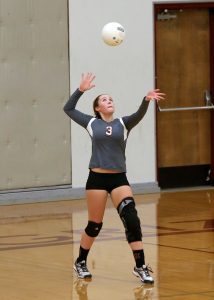 The next year, as a junior, her left knee was spared any further damage. Her right knee wasn't as fortunate. A skiing accident left her right knee in a very similar spot her left knee had been in – torn ACL, the works – and of course, surgery followed.
Her outlook?
"After the first knee injury I thought, 'OK, that's out of the way. There's no way it can happen again.' Then came the second injury. The next year I was so worried about re-injuring my left knee, and then I go out and injure my right. Three years, three knee surgeries," Folkers said. "Nothing I can't overcome."
Yes, still positive.
It would be easy, and completely understandable, for Folkers to dwell on her situation. She was dealt a pretty lousy hand, but as her knees got weaker, her gumption got stronger.
"I cried a lot actually. It was hard to go to games. I felt like I could be out there helping my teammates," Folkers said. "It got to the point where I couldn't go to games anymore just because it was so difficult to be there. But then I just realized I need to focus 100 percent on the two sports I can play, pour all my heart and effort into those. This is my last year and I want to give everything I can to it."
But it isn't just the athletic side of things Folkers dedicates all her passion to.
Ask her to talk about the community and Hoquiam High School and she echoes the same sentiments as if she's gushing about playing on the hardwood.
She spent a week in July participating the Grizzlies' senior leadership program and this fall she will begin her second year as chair of Hoquiam High School's Foodball – a club which collects food and raises monetary donations in support of the local Food Bank.
"I've been very fortunate. I just want to give back to the community that I love," said Folkers, who has been involved with Foodball since her freshman year.
She plans to carry this approach over to a professional career, whether it be as a physical therapist or a counselor.
"I feel like I have been through a lot. I think I can help people because of it," Folkers said. "I'm not really sure what I want to do right now, but it will involve helping people. That's all I really want to do."
Yes, Paige Folkers is still positive.