Naturally, the gas that drives them is their desire to win.
But for four players on Elma High School's playoff-bound volleyball team, there's an added octane, an extra motivation to push them at practice: they're sisters.

There are two sets of sisters on the Eagles team in the midst of district playoffs. Sibling rivalry drives them. There's the Rambo sisters, Kaylee and Kali. And there's the Perez sisters, Katy and Ana.
But you can forget about the gnarly, I'm-going-to-out-do-you kind of sibling rivalry.
"They're very supportive," says Kendra Henry, Elma's head coach. "They're great to have on the team."
They have a pull-together rivalry. Not pull apart. Yet like their famous last name suggest, the Rambo sisters play hard, trying to outdo each other, pushing each other.
"One makes a good pass and the other one wants to make a good pass," says Linda Bryon, the Eagles assistant coach.
Henry adds, "Yeah, they want to be better than each other."
And that's a healthy sibling rivalry, a positive motivating force. Any time competition moves you, or challenges you, it pushes you to get better. That's positive.
"They're great to have," Henry continues. "They're great additions to the team and they both have their strengths."
Ana, who is a sophomore and the starting libero (the rear, defensive player), is receptive to her sister's insights, her suggestions about what to do and where to go on the court.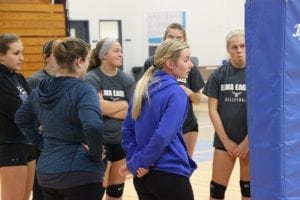 "She helps me out when I need it," Ana said after a recent practice. "I'm a libero and it's hard for me to read the stuff. I listen to her."
Even though Ana played varsity last year as a sophomore and Katy doesn't start now, the younger sister doesn't have a know-it-all approach with her sister. They admit there is a rivalry between them, a slight "I-want-to-beat-you" attitude. But when Ana is on the court, it's more of a I'm-pulling-for-you perspective for Katy.
"It's in between," Ana said with a smile. "Sometimes I want to beat her so she lets me beat her."
However, when they're at home playing a board game, all chivalry is lost. It's all about bragging rights.
"We are competitive then," Ana said, smiling at sister. "We don't play board games much. But in any kind of activity we're competitive."
When Kaylee was asked if there was a rivalry whenever she and her sister played a board game, she definitely said, "Oh, she'll lose."
To which Kali, who was standing right next to her, adamantly said, "Oh, whatever."
Whatever the game or whatever the challenge, Kaylee figures she usually beats her sister. Again, when she heard her sister say this, Kali rolled her eyes and said with exasperation, "Oh, whatever."
There is a competitive edge between the Rambo sisters. And even though they don't hang out a lot together outside of practice, each having their own friends, they do go hunting and fishing together with their dad. Then in the spring, they're teammates again, playing softball together for Elma. Naturally, Kaylee plays third base and Kali plays shortstop, putting the sisters side-by-side, inning by inning.
"We get along," Kaylee says of there play on and off the court.
Kaylee, who starts along with her sister in both softball and volleyball, is like a coach on the floor. She doesn't let Kali get by with anything but her best effort.
"She doesn't get away with anything." Kaylee says. "I tell her not to slack off. She doesn't get to do that."
The door is open to prod and push because she's the older sister. And Kaylee's pushing is limited to Kali, not extending to the whole team.
"Yeah, she might cry about it, but she'll get over it after a while," Kaylee says. And rather than tell her sister to be quiet, Kali listens. And she usually responds.
"Most of the time," Kali explains when asked if she follows her sister's direction. "Unless she tells me to be quiet. Then I don't listen." Kali's clear her sister isn't her coach.
Kali is one of three freshmen starting on the Eagles' volleyball team. The other two freshmen with game are Jalyn Sackrider and Quin Mikel. The Eagles' youth bodes well for the future and in her first year as head coach, Henry saw the potential in this team.
"Yeah, there was tons of potential," reflects Henry, a 2012 graduate from Black Hills High School. "They even have more right now. They can keep on growing. They're a great group of girls."
Henry says her team has a balanced approach and doesn't have to rely on just one player. "It depends on the game who leads us," Henry said.
Kenna Stoney, a junior setter, is often the key to a winning rally. "Kenna does a really great job," Henry shares. "She's our setter, but does a good job of killing and controlling everything. Everyone else is pretty balanced."
This spring when the Rambo sisters take their last swings together on the softball field as teammates, Kali has made some plans.
"I'm going to continue living," Kali said with a chuckle in her voice, smiling at her sister.
And some day, there will come a time where the Rambo and Perez sisters will reflect and think, "Wasn't that a fun time?"
Elma Eagles face Castle Rock on Saturday, November 5 at the 2016 Southwest District 4 1A Volleyball Tournament for a chance to advance to state.