There's a classroom at Grays Harbor College that houses a piano.
Occasionally during his downtime, and whenever the mood strikes him, Artimus Johnson, a senior at Hoquiam High School who participates in the college's Running Start program, can be found here.

Interestingly, Johnson's class load, however, doesn't feature a single music course.
"I just like to go there sometimes and play," said Johnson, who started piano lessons at a young age. "I guess it just relaxes me."
It's an activity one would not expect out of one of the area's top two-way football players, but Johnson is hardly your typical high schooler.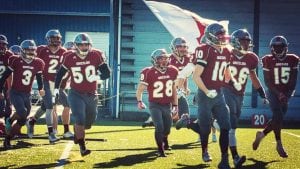 "He has all kinds of energy," Hoquiam football coach Rick Moore said. "He has a real bubbly personality, but he's also really intense. He wants to be perfect in everything he does. He's just an incredibly likeable kid."
A three-sport athlete, Johnson excels whether on the field or in the classroom.
His focus at Grays Harbor College has been in the school's Certified Nursing Assistant (CNA) program with hopes of one day becoming a family practitioner.
As a captain on the Grizzlies' football team, Johnson is a terror regardless of whether he lines up at outside linebacker (his traditional position) or at running back (his new role on this year's team).
Regardless of where he's making plays from, Johnson's outlook remains the same.
"I think I play more for my teammates than myself," Johnson said. "I just like seeing them be happy."
Johnson has given the Grizzlies plenty to be pleased with this year as they are headed back to the postseason after finishing second in the 1A Evergreen League.
Hoquiam will begin its quest towards a third consecutive state playoff appearance when they travel to Vancouver on November 4 to face Trico runner-up King's Way Christian (7-2) in a state preliminary game.
Prior to this year, Johnson's experience as a ball carrier was limited. His forte was on the defensive side where his rare combination of speed and strength made him a huge asset on Hoquiam's league championship team last year which would go on to win the program's first state playoff game since 1978.
But this year changes were made.
Yes, he's still causing chaos as a linebacker, but now he's one of the Grizzlies' top offensive weapons.
"He had never run the ball before for us," Moore said. "He's started at outside linebacker for us since he was a sophomore. When we were at camp (at Central Washington University) this summer he showed everyone he has some skills running the ball. I told the Central coaches to watch him because whatever college gets him is going to get a gem of a player."
Johnson has certainly shined in his new-found position.
It's been one highlight after another for the senior. He rushed for 234 yards in a 35-7 win over rival Aberdeen, caught two passes for 139 yards, including a 96-yard TD reception, in a 41-14 drubbing of Tenino, had 128 yards on the ground in the first half alone in the 46-7 dismantling of Elma and posted 225 rushing yards and two scores on just 16 carries in the Grizzlies 52-22 hammering of Forks.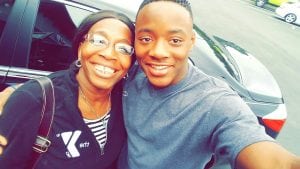 "He's always going up field," Moore said about Johnson's running style. "He's coming into his own as a runner."
Against undefeated Montesano, a game that ultimately decided the league championship, Johnson ran for 165 yards against the Bulldogs' stingy defense. The yards weren't enough to secure a win, however, as Montesano scored with 12 seconds remaining in the game to post a 20-14 victory.
Following the defeat, Hoquiam came out sluggish in its next game, a non-league contest against visiting Hockinson Hawks, and trailed 26-6 at halftime.
"The Montesano loss was probably still in our heads during that first half (against Hockinson)," Johnson said. "We lost on basically the final play. Once the second half started we got back to playing the way we are capable of."
The Grizzlies exploded for 42 second-half points to come from behind and defeat the Hawks 48-40 with Johnson, who was limited in the first half, running for 132 yards and a pair of scores.
Johnson and his teammates are now looking to carry the momentum over into the postseason with one driving factor.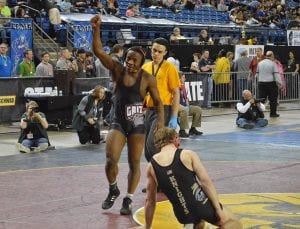 "We want to play Montesano again," said Johnson about a second meeting with the Bulldogs which would take place in the state semifinals should both teams navigate through their quarter bracket. "That's everyone's goal now."
Once football season does finally end, Johnson will shift his focus towards wrestling. As a junior he placed third in the 170-pound division in the 1A classification. He will follow up wrestling with track in the spring.
In addition to competing in the pole vault, Johnson is coming off a junior campaign where he was a participant at the state meet in the 300 hurdles and was a member of the Grizzlies' 4 x 100 relay team which placed eighth.