Potentially, because of their youth, because of their inexperience, this was an accident waiting to happen kind of season for Ocosta High School's volleyball team.

But standing in the gap, as the lone senior on the team, was Emily Arndt. On a team that started three freshmen, a sophomore and two juniors, Arndt was the unofficial coach on the court, the constant encouraging voice. Arndt's experience – she has started since her freshman year – was Wildcat coach Barbara Rasmus' ace in the hole.
"We were really, really young," Rasmus reflects. "Emily's experience was really a Godsend for us. It was very important because she knew where to go."
Arndt's fill-the-gap input on the court and Rasmus' passion and insight as a coach were the fixer-uppers for the Wildcats. Arndt's experience and accomplishments as a setter and libero were the Band-Aid the Wildcats needed to reach the district playoffs.
"She was always giving information, always encouraging, always helping out," Rasmus says. As the lone senior and a team captain, Arndt felt she needed to set a good example for everyone else.
"We definitely had to work on teamwork," Arndt shares. "There were only three returning varsity players so we had to learn a new dynamic, how to work together."
At only 5-foot-4, Arndt wasn't the tallest player on the court and she wasn't a dominate force at the net. "But she was good enough at the net to cover and know how to set the ball when the setter couldn't get to it," Rasmus says.
Arndt became her coach's answer to "who can I play here?". Her versatility, her determination and her leadership turned a wait-until-next-year season into another winning, playoff-bound season for Rasmus and her Wildcats.
And now, with her final season as a Wildcat finished, Arndt puts her focus on what's next. Besides sports – she'll probably swing the bat and scoop grounders for the Wildcats fastpitch team in the spring – Arndt is focusing on grades and carries about a 3.6 GPA. But not at the high school. She's in running start and taking classes at Grays Harbor Community College.
"She works hard," confirms Rasmus.
But those who know Arndt aren't surprised by. She's a take-care-of-business person, a leader, and for the past two seasons, she was Rasmus' team captain.
"She always had a smile on her face. She was always encouraging," Rasmus describes. "She was just one of those players that everyone liked. And they'd do whatever they could for her. She led in a very positive, let-me-show-you type of leadership role," she continues. "She wasn't a real big talker. She wasn't a real motivational type speaker. She was more face-to-face, one-on-one, what do you need help with and what can I do for you."
As inspiring as Arndt's play and leadership was – she earned honorable mention all-league and is a likely winner of team awards at the team banquet in December – Rasmus herself is a deserving candidate for coach of the year honors. Her commitment is inspirational. This season was her 38th year of coaching at Ocosta, her 27th year as head coach. And, what keeps her coming back year after year isn't just an inner drive to win, to reach the playoffs – her teams have reached the district playoffs 24 of her 27 years as head coach and gone to state 13 times – it's also her love of the game and her passion to be a mentor, helping kids mature into contributing adults.
"I love the game of volleyball and I love working with the kids," Rasmus shares when asked why she keeps coming back year after year.
While winning matters, it's not the only payoff for Rasmus. It's the life lessons sports teach that she passes along.
"The game is a teamwork type of game where you have to get along, you have to be part of a team to be able to play the game," she says.
Besides the kids, besides the challenge of winning, there's another factor that makes Rasmus' kettle boil when she's coaching. She's a lifetime Wildcat, a 1969 Ocosta High School graduate and her parents both graduated from OHS, too. Rasmus feels that some of the best lessons can be learned from playing sports.
"Being able to work with a team, being able to handle adversity and coming through when things are tough," Rasmus says, listing the life lessons sports teach. Those are the things you learn through sports that will get you through life."
Looking to next season, Rasmus can't help but be optimistic. Erika Snider and Alivia Marsh, this season's two starting juniors, will be back. "Alivia matured a whole lot this year and Erika just continues to get better and better."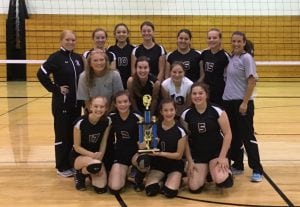 Looking forward, Rasmus will miss Arndt. "She's our rock. She's our MVP," Rasmus shares. "She just holds everything together. And, she's a setter, so she's like the quarterback of the team. She just does a fabulous job. That girl really loves the game."
And so does her coach and the entire crew of dedicated Wildcat players.
Arndt felt this season was a fitting farewell to her high school volleyball career. "It was probably my most fun year because I focused more on having a good time with my teammates," Arndt shares.
It's a goodbye with a smile.