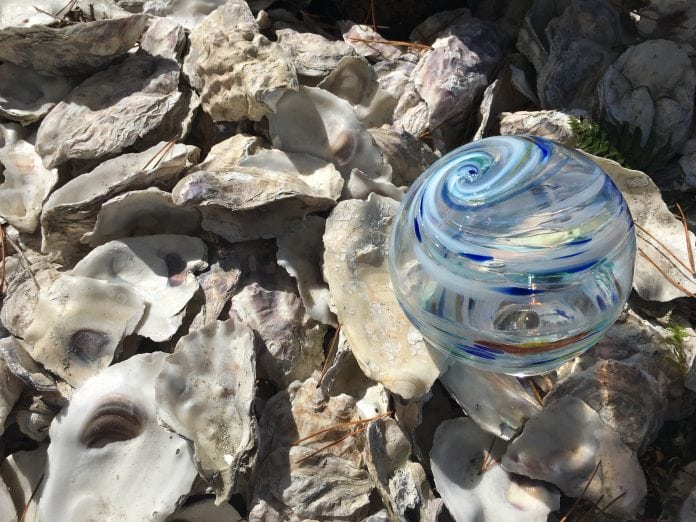 Submitted by Seabrook
On November 28, Seabrook will begin hiding two limited-edition glass floats in and around Seabrook and on the beach each day for visitors and residents to find. Floats will be hidden daily in public locations until December 22 with a total of 50 floats hidden in all.
Glass floats were blown by Grays Harbor local glass blower, Johnny Camp of Opal Art Glass, located in Cosmopolis and each has been stamped with Seabrook.
Eligible glass floats will be marked with a numbered, laminated tag, encouraging the find to report the location to Cottage Rentals for tracking.
Keep an eye on Seabrook's Facebook page for glass float find updates. Where will you find one?
On Sunday, December 4, Seabrook will host artists, creators and makers from around the region for the Holiday Bazaar at Town Hall from 11:00 a.m. to 4:00 p.m. Expect to find silver and jewelry, glass and wood art, cashmere scarves, handmade items, candles, socks, teas, seafood and so much more!
The traditional Breakfast with Santa on Sundays, December 11 and 18, starting at 9 a.m. are a chance to visit with jolly St. Nick and make your end-of-year wishes known! Breakfast buffet catered by Mill 109 is $15 for adults and $8 for kids under 12.
The holiday season features a concert by Grays Harbor singer-songwriter, Ericka Corban who plays all your favorite Christmas tunes on Friday, December 23 at 7:00 p.m. $5
Seabrook Town Hall will also offer a Christmas Eve candlelight service on December 24, at 7:00 p.m.
More information is available at www.seabrookwa.com/events. See you at the beach!