Dr. Trent Sensiba hasn't spent much time in Olympic National Park yet, but you'll find him hitting the trail as soon as summer arrives. The Grays Harbor Community Hospital physician is an avid outdoorsman who enjoys fly fishing, hiking, and camping and he can't wait to start exploring his new backyard. "I hope to get to know the Olympics more next summer," he says. "I'll definitely break out the paddle board."
Dr. Sensiba was drawn to the area by both the natural beauty and the people. "I felt like it was a place where I could make a difference and have an impact," he says. "I enjoy outdoor activities and also enjoy all the people I've met that live here. This is a great area."
As an internal medicine physician, Dr. Sensiba treats chronic conditions like hypertension and diabetes as well as issues related to cardiology and endocrinology. Although he's trained in osteopathic medicine, having earned a Doctor of Osteopathic Medicine degree from Pacific Northwest University College of Osteopathic Medicine, he gears his practice toward more traditional medicine. "I also trained as an internal medicine physician," he says. At his outpatient clinic, he offers preventative care as well as primary care.
In addition to an internship and residency in internal medicine at Skagit Valley Hospital in Mount Vernon and his osteopathic medicine degree, Dr. Sensiba earned an Advanced EMT degree from the College of the Desert, making him well-qualified to deal with emergencies. This is his fifth year of practice, including two years of residency.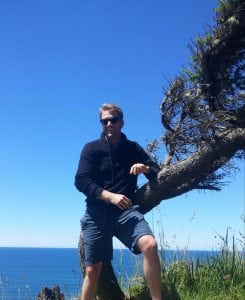 Dr. Sensiba's outpatient clinic is part of the Harbor Medical Group and he also does some work at the hospital. "Ours is a multi-specialty campus," he says. "I work directly with other primary care providers and we recently added more pediatric care."
Since relocated in October 2016, he's found Grays Harbor to be similar to other rural communities where he's practiced in Mount Vernon and Anacortes in terms of the types of issues he treats. "My training in a rural community helps," he says. "It was similar to Grays Harbor in terms of managing and treating chronic conditions," he explains but also notes, "I do have more outpatients now."
However, despite the similarities, he finds seeing patients in Grays Harbor quite different in one key respect. "The demographic here is more diverse than I expected," he says. "We treat people from Grayland to Quinault and I enjoy having a fisherman come in the same day as a retired person from Microsoft. There are a lot of retired people plus younger patients in their 30's."
The nature-loving aspect of the community resonates with him as well. "Most people are down here for a reason," he says of those choosing to live in the Harbor. "You have some who have lived and worked in this area for their whole life. A lot of people here enjoy nature and things like hunting and fishing." This appreciation for, and engagement with, nature is a perfect fit for the outdoorsman.
The increasing complexity of the American health care system can pose difficulties for doctors, he maintains. "Physicians find it more challenging than ever to walk down the pathway to health with their patients," he says, both because of the financial systems and the amount of paperwork currently required. "Health care providers find it difficult to manage the amount of work they have to comply with," he says. "The computer can be helpful but it can also be a barrier sometimes. Medicine is ultimately a human field and it's important to remember that."
As he settles into his new home, Dr. Sensiba is looking forward to getting to know the community better. "I really enjoy the people of Grays Harbor," he says. "They take a lot of pride in where they come from and it shows on a day-to-day basis. They enjoy taking care of their neighbors." And, he is looking forward to doing the same.
In the coming year, Dr. Sensiba plans to establish the basis for long-term connections within the region. "I want to get to know patients and have relationships that last a really long time," he says. "I want to lay the foundation for that in the next year. I've only been here a short time, but I'm very excited about being here and practicing in this area."
For more information about Grays Harbor Community Hospital, visit www.ghcares.org or call (360) 532-8330.