A total of 10 freshman placed in the top 4 at the girls state wrestling tournament. Aberdeen High School's Tatum Heikkila was among that selective group.

Odds are, however, she was the only one on the podium who was planning on bowling this season.
"I didn't even think about wrestling," Heikkila said. "I switched at the last minute. Craig  came up to me when they had the wrestling meeting and said I had to wrestle. It really was a last minute decision. I'm glad I did." Craig Yakovich is the head coach at Aberdeen.
From pins to pins of another kind, Heikkila proved to be a quick study on the mat as she capped her first season of high school wrestling by placing fourth in the 190-pound weight division at Mat Classic XXX on February 17 at the Tacoma Dome.
Heikkila saw her impressive inaugural season end with a loss by pin fall (2:11) to Yelm senior Ashley Kile in the placing round, but even ending on a defeat did little to blemish the freshman's accomplishments.
"She was kind of bummed after the last match and I was telling her you started wrestling officially less than three months ago," Yakovich said. "She never wrestled before, and she was a freshman. To even get here, let alone finish fourth, is amazing."
Heikkila becomes just the third member of the Bobcats girls squad to place in the top 4 at the state tournament, joining Nicole Hyde, who finished second at 145 in 2007, and Emily Wharton, who was the runner-up in the 190-pound classification in 2016.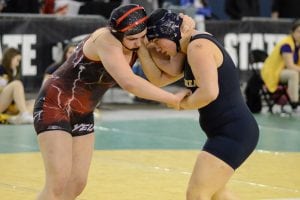 "She's super strong and athletic, and she just slowly figured things out as the year went on," Yakovich said. "She went from running around on her tippy toes, hand fighting to throwing people around. That's a big transition. It's going to be fun to watch what she does over the next three years."
Heikkila registered pins in her opening two rounds before falling to eventual state champion Ofa He Lotu Tuifua of Kent Meridian in the semifinals. She followed up that setback by knocking off Mount Baker's Shelby Sears, 5-3, to secure her place among the top 4 finishers.
"I never told coach I was originally going to do bowling," Heikkila said. "If I did I probably won't have heard the end of it. There's no question about next year. I am definitely coming back to wrestle, and I'm going to improve on my placing. I have my mind set on that. I will definitely do better than this next year."
Heikkila wasn't the only Bobcat to place at the girls tournament as senior Faith Cardenas closed out her high school wrestling career by grabbing sixth place in the 100-pound division.
North Beach High School senior Natasha Fruh took home the third-place medal at 235 pounds.
Fruh, whose brother, Daniel, won the 285-pound Class B state title in 2014, lost in the quarterfinals to Fife's Veronique Abaglo, 8-0, and successfully won her next four matches, including a pair of loser-out contests, to finish third.
Fruh got a chance to avenge her previous loss at state by facing Abaglo in her final match. It was the fifth time this season the two faced off against each other. Fruh overcame a late-near fall to post a 7-3 victory and improve her mark this year to 3-2 against Abaglo.
"She had a goal to win the whole state tournament," Coach Marshall Cox said. "She had a bad second round, but I am so proud of her. I told her some of the best wrestlers in the whole state tournament are those who finish third. It's easy to fold it up (after a loss). You have to go through and avenge that loss and she did it."
Fruh finished the season with a record of 30-4. She joins Jennifer Law, who placed three times between 2009 and 2011, as the only member of the North Beach girls team to place at state.
"She's just been amazing to coach," said Cox, who had a program-high three girls on the team this year, but expects as many as 10 next season. "She's going to be tough to replace, but next year after she graduates she's already said she is going to come back and help volunteer coach."