Maddie German, Hoquiam High School's standout sophomore catcher, was one of seven players from the 1A Evergreen League named to the 2018 Washington State Softball Coaches Association All-State team.

German, who was also the recipient of the 1A Evergreen League's offensive most valuable player this past season, finished her remarkable year with a .494 batting average with 5 home runs and 35 RBI.
"I was so surprised and honored," German said. "There are so many talented catchers in the league and for me to be picked, I'm truly humbled."
As impressive as her seasonal hitting statistics were, German was even more dangerous at the plate during league play as she hit a gaudy .586, helping the Grizzlies (11-10) secure a berth into the district tournament.
However, the most remarkable stat German put up during her sophomore campaign may have been the total number of times she struck out during the season, which was a mere four times.
"This league is so good and to be MVP is pretty cool," German said. "I just love the game and every part of it."
In a year chalked full of highlights, German lists the Grizzlies' regular season finale non-league win over Ocosta as her favorite memory. Hoquiam won the slugfest, 21-20, with German smacking two home runs and driving in four runs during the offensive showdown.
"There were 12 home runs hit in one game and that just doesn't happen in one game. When I hit the second one, I just started laughing," said German about her first multiple home run game during her high school career. "I knew right away it was gone and just laughed."
German, who was a second team all-state selection as a freshman and helped the Grizzlies finish third at the state tournament in 2017, will be one of several returning starters for Hoquiam next season as the squad only graduates two seniors.
"My whole season was full of ups and downs. Not making it to state was pretty heartbreaking, but next year will be a whole new story," German said. "Losing two seniors will be rough especially a first baseman and pitcher, but I'm really excited for next year. We have a lot of talent on our team and I feel next year with a new positive attitude we will be pretty good."
Montesano and Elma Well Represented on All-State Softball Team
Montesano High School placed four players on the Class 1A all-state team, including outfielder Abi Parkin, who was a first-team recipient.
Parkin hit .463 during her sophomore campaign, leading the team in runs (43) and hits (44).
The Bulldogs also had a second-team selection in senior pitcher Samantha Stanfield and honorable mention picks in juniors Lindsay Pace and Katie Granstrom.
Stanfield, who was named the 1A Evergreen League's defensive MVP, put up dominating numbers during her final season at Montesano. She went 13-3 on the mound with a 1.63 ERA, finishing with 192 strikeouts over 121 innings pitched. She was equally dangerous with the bat, hitting .389 with 6 home runs and 34 RBI.
Pace hit a team-best .483, collecting 43 hits with 6 home runs and 46 RBI. As a pitcher she went 7-0 with a 2.00 ERA. She also collected 4 saves, while registering 73 strikeouts over 56 innings.
Granstrom, the Bulldogs' starting shortstop, hit .301 on the season, collecting 25 hits and driving in 17 runs.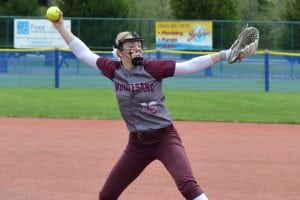 Montesano finished with a 25-4 record and defeated Castle Rock, 7-6, in eight innings to capture the third-place trophy at the state tournament. It marks the fourth consecutive year the Bulldogs have finished in the top three.
Elma High School, which finished second at the state tournament, had a pair of second teamers in junior outfielder Molly Johnston and sophomore infielder Quin Mikel. Both played large roles in helping the Eagles (19-7) advance to the state championship game.
After claiming the district's third and final state playoff berth, Elma rode a wave of momentum into the title game, defeating Cascade (15-3) and Cle Elum (3-1) in the opening two rounds before knocking off Chewelah (6-1) in the semifinals to secure its first state championship game appearance since 2014.
The Eagles fell, 19-9, to Lakeside in the title game.