Are you looking for a place to eat in Montesano? Monte, as the locals call it, is home to several eateries that have been serving hungry customers for decades. And the restaurant scene in town is growing. There's a French-style bistro, a Tex-Mex place, Italian food options, fresh meat and deli services, organic smoothie bars, cozy family restaurants, and even a few good old-fashion American classic drive-thru burger and milkshake joints. Whether you are headed to or from the Washington coast, take a stop along the way to grab a bite. No matter what you are craving, you can find it at these places to eat in Montesano.
Fishin Hole Family Restaurant
103 Brumfield Ave, Montesano
360-964-4109
Be greeted with a smile and know that you are welcomed to join family and friends at the Fishin Hole Family Restaurant. Inside there is a sense that it's always fishing season somewhere. Stroll around or have a seat and view the angler's nostalgia. There's so much to choose from on the menu. Breakfast choices include fish and eggs, steak breakfast, omelets, egg scrambles, smoked-salmon eggs benedict, and waffles with chicken and maple syrup. You can build a burger, order a hot or cold classic sandwich, or choose a lighter salad topped with prawns. Seafood fettuccine, fish-n-chips, pan-seared oysters, and rainbow trout are just a few of the dinner entrees.  Still hungry? Finish up with blackberry cobbler, or pineapple upside-down cake. For more information visit the Fishin Hole Family Restaurant Facebook page..
Bee Hive Restaurant
300 S Main St, Montesano
360-249-4131
In the heart of downtown Montesano sits the Bee Hive Restaurant, delivering classic American food for reasonable prices. Try the traditional logger breakfast, a Denver omelet, or order something sweet off the griddle like Swedish pancakes. If you are in the mood for breakfast, there is something on the menu for everyone. Burgers, seafood baskets, hot sandwiches, soups, and salads are served daily for lunch and dinner. If dessert tempts you, fresh-baked pies and cobbler are available with a scoop of Umpqua ice cream. With a combination of booths, tables and counter seats, this diner is a classic. For more information, visit the  Bee Hive Restaurant website.
Gepetto's Italian Restaurant & Sports Bar
126 E. Pioneer Avenue, Montesano
360-249-4445
This popular place to eat in Montesano serves much more than pizzas. Geppetto's Italian Restaurant & Sports Bar serves good food as fast as they can.  From calzones and cold or oven-toasted sandwiches to Sue's homemade mac 'n' cheese and soups, hungry patrons leave satisfied. Whether you are taking the kids out for dinner or gathering with a large group, Gepetto's has just the right space for you to enjoy a savory meal. Relax in their sports bar and watch your favorite team compete. The full-service sports bar is host to flat-screen TVs, a pool table, and air hockey. For More information visit the Geppetto's Italian Restaurant & Sports Bar website.
Savory Faire Café & Bakery
315 W Pioneer Ave, Montesano
360-249-8150
On the corner of Pioneer and 3rd Street in Montesano, Savory Faire Cafe and Bakery is a delightful café for breakfast or lunch. Enjoy a cinnamon roll or sweet morsel from the bakery case. Eat lunch outside on the patio, weather permitting, or dine inside. They have soups and salads with freshly baked rolls for lunch, and an extensive wine list. They also offer sandwiches served on just-baked bread. The roast beef sandwich served with sautéed onions, and Swiss cheese is this writer's favorite. Don't forget to indulge. Order a traditional house special dessert, amaretto bread pudding or crème brule. And if you are in a hurry, check out Savory Faire's new online ordering menu. For more information, visit the Savory Faire Cafe and Bakery website.
Westside Pizza
113 S. Main Street, Montesano
360-249-4700
Westside Pizza is the best pizza delivery place in town. Order up a traditional Westside favorite like a big kahuna, chicken bacon ranch or build your own. Whether it's a signature pizza, calzone, breadsticks, salad, bone-in or boneless chicken wings, chicken alfredo or creamy penne pasta, this is a favored place to eat. This is a busy place that consistently delivers a meal to please. For more information, visit the Westside Pizza website.
Oishi Teriyaki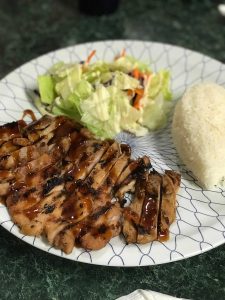 112 W Pioneer Ave, Montesano
360-249-2426
Craving teriyaki chicken, gyoza, stir-fried veggies, or crab rangoon? Oishi Teriyaki serves Japanese and Chinese cuisine in a clean, and comfortable environment. Come in and sit down for table service or take-out your choice of comfort food. Be refreshed by the sounds of the small waterfall and fish pond at this family-run restaurant in downtown Montesano. Oishi Teriyaki has a friendly staff that greets you with a smile. If you haven't been here yet, don't miss this "go-to" local stop on your next trip to Montesano. For more information, visit the Oishi Teriyaki website.
El Rancho Family Mexican Restaurant
216 S Main St, Montesano
360-249-5500
Montesano is home to many comfortable family-style restaurants. El Rancho Family Mexican Restaurant is a popular, friendly sit-down restaurant serving flavorsful Tex-Mex food. Snack on a few chips and salsa while you peruse the menu. Frequent customers pick their favorites and often order fajitas, margaritas made with real fruit, and hand-made rellenos. The menu is packed with tasty choices. If you are looking for a quick, comfortable and friendly atmosphere with carne asada, enchiladas and Mexican pizza, this is the right place for you. For more information, visit the El Rancho Family Mexican Restaurant website
Sponsored