This is not the first time an author has chosen to set a fantasy book in Southwest Washington. The sleepy town of Forks, Washington gained overnight fame after Stephanie Meyer chose it for the setting of "Twilight," which became a best-seller, along with its sequels. Now, author Amber Vonda chose McCleary as the setting for her new book, "Family Crystals," which is also a fantasy novel and the author's first.
Unlike the "Twilight" author, however, Vonda was actually raised in the town she chose for her new book, giving it a very authentic feel. Born in Juneau, Alaska, Amber and her two older brothers and one sister, spent their childhood in McCleary. When her family suffered the tragic loss of one of her brothers, the way the family banded together to see it through stuck with Amber into adulthood.
Now with three children of her own, Amber was faced with new challenges that would bring her family even closer together, including having a child diagnosed with non-verbal autism. She became a stay-at-home mom, focusing on her children and family's needs and keeping busy in her garden. Amber credits her daughter, Izzabella Schaefer, for pushing her into writing a book. The two would brainstorm book ideas daily, until Izzabella finally told her mom she should actually write one.
"She was proud of me for finishing the book," shares Amber, "but quoted, 'I thought you were going to quit halfway through,' she laughed. I proved to her that with hard work and devotion, anything is possible to achieve."
The way her family bands together to face challenges, both when she was young and as an adult, became the theme that runs through "Family Crystals."
Amber chose to set her book in McCleary because it's a happy place for the author, full of inspiration. "McCleary inspired me to put it in my book because it's my home, it's where I grew up with my friends and family, and chose to raise my own children," Amber shares.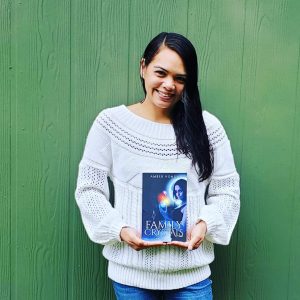 "I love how McCleary has always been a family-oriented and loving community," she continues. "The lush, green scenery is perfect for anyone who wants a quiet, country-living lifestyle. Most of all, the people and local businesses are wonderful and supportive, especially Gordons Select Market who was honored to have me do book signings at their store."
"Family Crystals" takes you on a journey with an ordinary McCleary family that finds themselves in a mythical realm where they must band together to survive. From the author:
"From a handful of crystals to a secret dating from centuries before, the family finds they are connected to both the good and the bad entities within this new world, including a bond of hatred made long ago that has the royal leader of the realm up in arms over Angela's mistaken identity.
The unity, the battles fought with hellish beings, facing life below the waters and on land in the extraordinary Mood Castle, from beginning to end this fabulous family show their powers of love, strength, and magic through thick and thin."
Residents of Grays Harbor, in particular McCleary, will recognize some of the places Amber put into her book. "The residents will recognize our local grocery store (Gordons Select Market) and the coffee stands that provide beverages even on holidays," she says.
And while Izzabella hasn't written her own book, yet, Amber says she writes great stories for school assignments.
You can find Amber Vonda's "Family Crystals" on her Facebook page and Amazon.