Behind a sensational senior class and the scoring prowess of second-year player Mikayla Stanfield, the Montesano High School girls soccer team was able to secure its first trip to the Class 1A state semifinals last season.


Now, on the cusp of the new season and with several new faces in starting roles, the question appears to be – what will the Bulldogs do for an encore?
Between 2000 and 2019, the program made 17 trips to the state playoffs, but were only able to get out of the first round twice (2006 and 2008) and never finished among the top four.
All that changed last year when the Bulldogs went 17-4 and placed fourth in state. The team defeated Lakeside (Nine Mile Falls), 3-1, in the opening round of the state tournament before besting 1A Evergreen League rival Tenino, 1-0 (4-2 PK), in the quarterfinals to punch their ticket to the semifinals for the first time in program history where they fell to eventual state champion Deer Park, 5-1.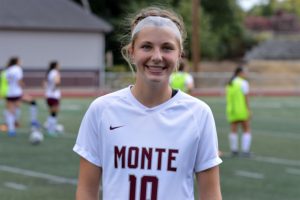 "It showed us the work we put in will pay off," Stanfield said about last year's postseason run. "Even if it did take a little while, it was awesome for us. We all want to be back there this year. We want to get back to that success and improve on it."
The Bulldogs will look to continue their winning ways despite graduating a senior class that featured five first-team all-league selections, including league defensive player of the year Paige Lisherness and Jaiden Morrison, who was second on the team in scoring last year, tallying 21 goals.
"That's the challenge. We've raised the expectations around here," said head coach Fidel Sanchez. "We've been there now. We know what it's like. It wasn't the best experience, but now we know what it's like and we can be ready for it mentally and prepare for it."
Leading the charge again offensively will be reining league MVP Stanfield, who was an absolute terror during her sophomore campaign, scoring a league-best 31 goals on 74 shots and handing out six assists.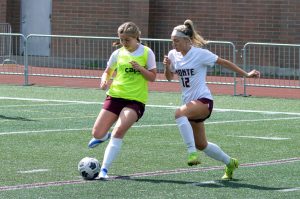 "She's always working on every aspect of her game," Sanchez said. "I knew she could be a special player. When she was younger and coming through the rec program, I knew she could be good. Her work ethic is what made us notice her, and then when she came in as a freshman during that COVID year she was scoring goals against good teams, and last year she just blew up."
Stanfield found the back of the net in all but two of Montesano's regular season matches last season, highlighted by a pair of four-goal performances in the Bulldogs' two triumphs against Hoquiam, helping her team go a spotless 8-0 in league play. She also registered hat tricks against King's Way Christian, Columbia and twice against Eatonville in non-league affairs.
"It was definitely super cool," Stanfield said about last year's seasoning-end honors, "but I had great crosses coming in and had great defenses backing me up. It definitely just wasn't me scoring goals. I had all the support there."
Stanfield believes she will have similar support this season as well as the Bulldogs should have no problems duplicating last year's offensive output, which averaged more than four goals a contest.
Senior midfielder Jaiden King, who knocked in the game-winner PK in Montesano's quarterfinal win, paced the team in assists with seven while earning first-team accolades, while junior Bethanie Henderson was fourth on the team with five goals last year and Vanna Prom was an all-league honorable mention recipient.
"We have some good people coming up," Stanfield said. "People who have put in the work last year and over this summer. They're looking to become starters. Everyone is focused on trying to build off the success we had last year."
Sanchez also pointed out senior Anabelle Estrada and sophomores Adda Potts and Dekotah Parks as newcomers to the starting lineup who should contribute this season.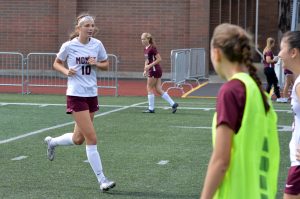 Opponents should once against find it difficult to score on the Bulldogs as the team also returns starting goalkeeper Riley Timmons, who was a second-team all-league performer last year as a junior after posting 11 shutouts.
"We had a busy summer. Went to three tournaments and played against club teams, the best in Washington and we did well," Sanchez said. "We did well in Seattle. We fared well in Vancouver and won the tournament in Olympia. So, this team already has a lot of experience coming into the season. We've played about 14 or 15 games already. We've basically already played an entire season."
The Bulldogs will open the season at home on Friday, September 2 when they host visiting Chelan.