When Saint Martin's University (SMU) professors placed doctoral hoods over the heads of nine Leadership Studies students during this spring's graduation ceremony, they inaugurated the first of many new traditions at the Catholic Benedictine liberal arts institution. Incorporating these impressive academic hoods into the commencement rite reflects more than adding to the regalia of robes and mortar boards. The hoods also recognize the first time the school has conferred doctorate degrees in its 128-year history, bringing new customs along with it.
"This is truly a group of trailblazers," says Interim Program Director Jackie Clark of the University's first Ph.D. program graduates.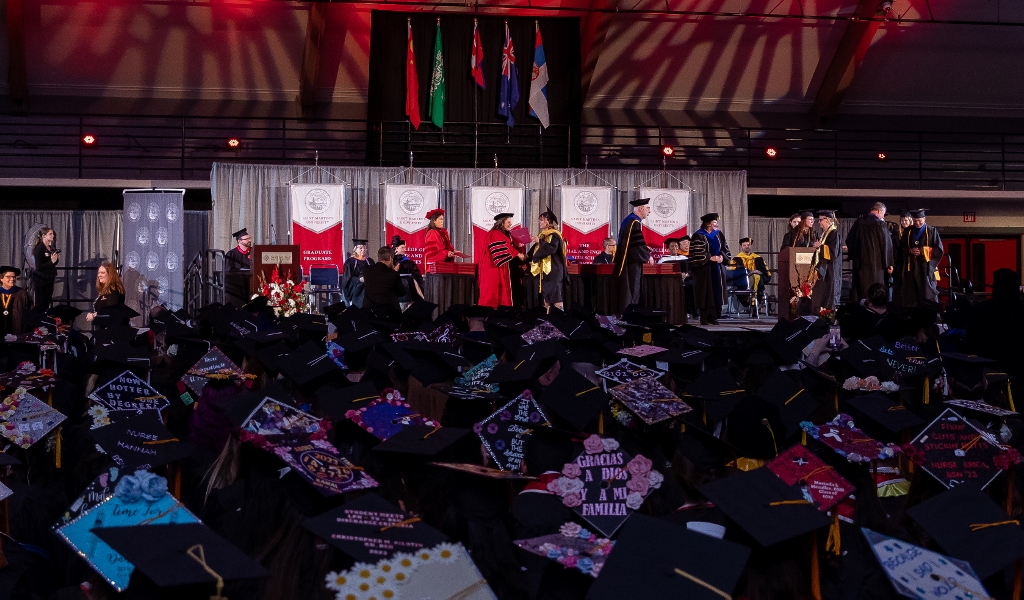 SMU Leadership Studies Students are Professionals from Many Disciplines Who Helped Build the Doctoral Program
Clark shared the University launched the multidisciplinary Leadership Studies Ph.D. program in 2020, with 20 students accepted into the first cohort. Most students are full-time working professionals who study under the direction of faculty from multiple disciplines. The doctoral students also develop their leadership knowledge by associating with peers who bring governance and management experiences from a variety of fields to the classroom.
"We are very proud of the unique structure of interdisciplinary students and faculty in the program," says Clark. "Students come from multiple areas academically and in their work lives. They are all seasoned professionals in their fields."
The students come from counseling and therapy professions, the military, education, state government, and medical administration, and are typically interested in advancing in their careers through a Ph.D. As working professionals, students' time to complete their studies may vary. The average time expected to complete a Ph.D. at SMU is two-and-a-half years for coursework with a self-paced dissertation to follow. As of spring 2023, nine students completed all the requirements and received the degree. Meanwhile, others in the first cohort continue their progress, with more students continuing to enroll each year.
The first group of doctoral students has helped Saint Martin's develop the program over the years by discovering what works and what needs improving to best align with the needs of its students.
Saint Martin's not only now offers Ph.D.-level courses, but is also developing new traditions for these students. For example, in addition to including doctoral hooding at commencement, SMU instituted a colloquium where the Leadership Studies doctoral students present their research to peers, faculty and university leadership before they graduate.
Saint Martin's Leadership Studies Ph.D. Program Offers Flexible Course Schedules Ideal for Working Professionals Seeking Advancement or New Careers
There are a lot of great reasons to consider a Leadership Studies Ph.D. from Saint Martin's. Graduates have many career opportunities available to them, including becoming educational administrators, policy analysts, ministers, local leaders, evaluators, consultants, executive coaches, business leaders, and university or college professors.
The Leadership Studies program is accredited under the University's accrediting body, the Northwest Commission on Colleges and Universities. Students must complete 51 credit hours, along with fulfilling other requirements including authoring a dissertation. The program offers courses with the working student in mind, which involved hybrid offerings often taught in the evenings or over the weekend. "We try to be responsive to working student schedules, so classes are late afternoon/evening and sometimes via weekend intensives with four Friday/Saturday meetings per semester," Clark explains.
She says the benefits of the Ph.D. include career advancement, movement from current career to new career, development of interests in research and teaching, and often an interest in achieving a personal challenge. "It varies a great deal by field of study as well," she says. "Some programs prepare the majority of students for teaching careers, but others are practice-based and augment work in a current career."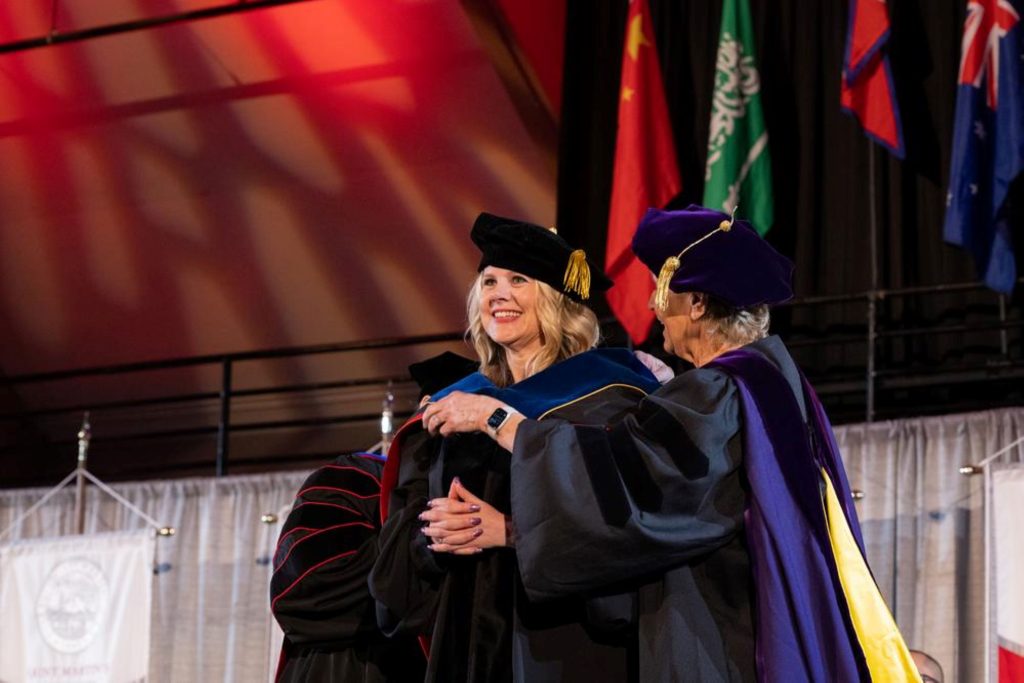 Applications Open Yearly for Saint Martin's Leadership Studies Doctoral Program
Applications for the Ph.D. program open annually. For the 2024-2025 academic year, applications are accepted from August 1, 2023, to April 3, 2024. Application requirements include a master's degree from a regionally accredited institution, three recommendation letters, a written purpose statement, a written scholarly response to a provided article, an interview, and three to five years of professional work experience. The University admits 10-15 students per cohort each year.
The Saint Martin's University Leadership Studies doctoral program webpage has more information. Interested prospective students may reach out with questions to the Office of Graduate Admissions at gradadmissions@stmartin.edu or by calling 360-688-2035.
Saint Martin's University
Office of Graduate Admissions
5000 Abbey Way SE, Lacey
360-688-2035
Sponsored